Live Feed Spoilers: Izzy has the rest of the game figured out
Live Feed Spoilers: Izzy has the rest of the game figured out
By John Powell – GlobalTV.com
It is as easy as a Big Brother Slop recipe. At least Izzy thinks so.
Izzy has her, Cirie's and Jared's path to the final three already laid out. She revealed her plan to Jared in the HoH room using candies to represent houseguests.
"Me, mom and you in the final three," she began moving those three candies away from the others.
She then arranged the rest.
"Now we have got Blue, Jag and Matt. We have Bowie and Cameron. I am already moving on with Red out. We have Felicia and Mecole then Cory and America," she said. "Blue and Bowie would be the perfect goats for our final five."
Izzy then focused on America and the duos who would be left after Red, Cameron and Jag are toast.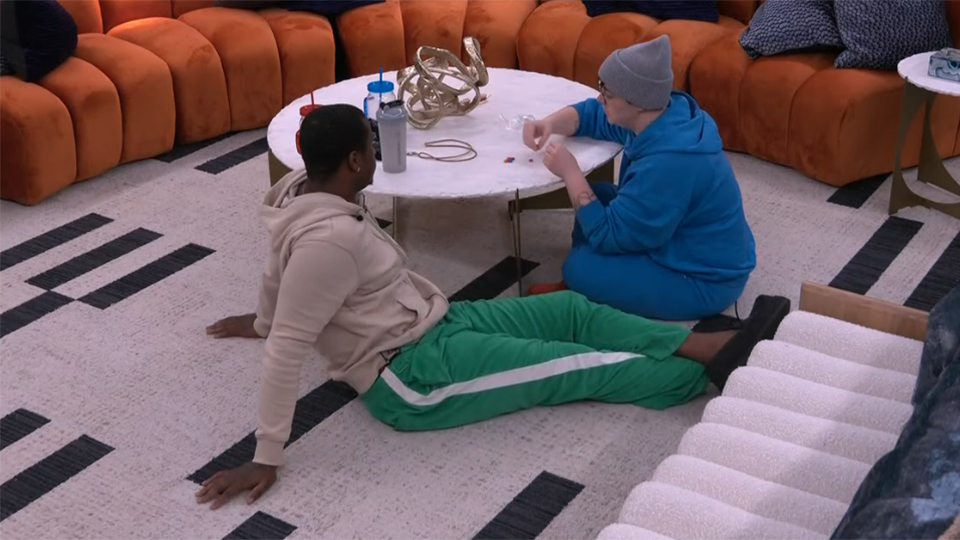 "We know that Cory and America want to be with us longer than they want to be with the others. We have to break up the duos and America can be wherever," she said.
"The only way to break them up is send one of them home," Jared said referring to the duos.
"Felicia is more of a threat than Mecole. Jag and Cameron are the same. We want to get them out next. Then, Matt and Felicia are a thing. It can be America and Cory or Mecole. America can be with either one of them. If we keep Blue and Bowie we are down to five," continued Izzy.
Izzy detailed the final five.
"Blue will always have your back. Bowie will have Cirie's back but I have both of your backs," she said.
She then revealed a red flag to Jared.
"My only concern in taking Cory out before America is you being the only dude left. We wouldn't have the votes to save you if they wanted to get out the last guy. My thing is if we keep Cory instead of America they cannot do that," she pointed out.
"Right, they cannot push that," said Jared signing off on Izzy's proposed plan.
This week, HoH Jared nominated Cameron and Red for eviction. Cameron won the Power of Veto and used it on himself. Jared then nominated Jag in Cameron's place.
Check back for all the latest Big Brother news and interviews.
Big Brother airs Sundays and Wednesdays (8:00-9:00 PM, ET/PT) and Thursdays (9:00-10:00 PM, live ET/delayed PT), featuring the live eviction show hosted by Julie Chen Moonves, on Global TV.
Live Feed Spoilers: Birthday wishes quickly become backdoor wishes
Live Feed Spoilers: Noms have been decided but the true target is still up in the air