Top Five Characters Bill Hader Should Bust Out On SNL Return
Top Five Characters Bill Hader Should Bust Out On SNL Return
It's happening again: a former cast member is hosting Saturday Night Live this week. Bill Hader returns, with Arcade Fire as musical guest.
Bill Hader was one of those reliable, work-horse cast members – like Dana Carvey, Darrell Hammond, Phil Hartman, and from the current cast, Keenan Thompson and Aidy Bryant. The cast members who are consistently good and charismatic, but lack that obscene about of "Star Power," as Lorne Michaels puts it, to put them up there with the likes of Will Ferrell (who hosted not that long ago), Adam Sandler, Eddie Murphy, and current break-out Kate McKinnon. And like the aforementioned Carvey, Hammond and Hartman, Hader is a phenomenal impressionist – but impressionists tend to get stuck with that label, and don't often flourish beyond that. Out of the four mentioned, Hader is the exception, with a never-ending list of credits over the past decade, while Carvey's, Hammond's and Hartman's career all but extinguished after leaving SNL (though sadly, Phil Hartman was never given the chance, having died not four years after leaving).
Despite all that, Hader had a great stable of characters, impressions and sketches during his time at SNL. Here's a list of the best ones that he should bring back for his return:
The Vogelchecks
This classic sketch is beloved by many, because it's basically a bunch of 2000s era SNL veterans cameoing and making out with each other. The Vogelchecks are a family of the overly physical variety, much to the chagrin of Andy Samberg – the son – and his boyfriend – Teran Killam.
[iframe width="560″ height="315″ src="https://www.youtube.com/embed/uEbzD1bBlTQ" frameborder="0″ allow="autoplay; encrypted-media" allowfullscreen]
This sketch features Fred Armisen, Kristen Wiig, Bill Hader, Andy Samberg and Maya Rudolph – none of whom were cast members at the time (though Samberg was host). Oh, it also has Paul Rudd in a very surprise appearance. So the likelyhood of revisiting the Vogelchecks is very low, but boy would it be a heck of a ride.
2. Greg the Alien
This little guy is Hader's perfectly weird side. Greg is an alien living among humans, all the while insisting that he's not an alien. He obviously is. Nobody has looked more like a muppet on Saturday Night Live – and that includes the actual muppets that often appeared on the show in the 1970s!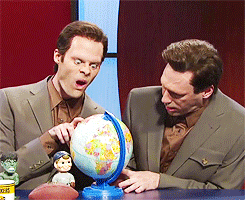 3. Vincent Price
It is St. Patrick's Day on Saturday (a real SNL St. Patricks Day episode – unlike that fake one earlier this season), so what better reason to break out a Vincent Price Holiday Special (sure, they've already done that particular holiday, but… who cares)? It gives the cast an opportunity to do impressions they don't usually get to do – notably, dead actors from old Hollywood, the black and white era of film.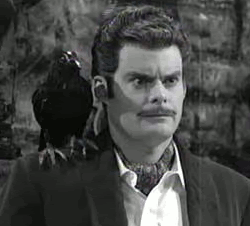 4. What Up With That?
This is really more of a Keenan Thompson sketch, but Bill Hader is an integral part as the ever-silent Fleetwood Mac frontman Lindsey Buckingham. It's a classic recurring Saturday Night Live sketch – up there with the Coneheads, Brian Fellow's Safari Planet and Wayne's World. With Thompson still around, and Hader hosting, all they would need is a Jason Sudeikis cameo and they're set. And it's been so long, it needs to make a comeback.
5. Stefon
Probably Hader's most famous character (heck, it's even got a Funko Pop! Vinyl figure). Stefon would appear on Weekend Update as a New York scene corespondent. He would give very hipster advice and usually lose control of himself at some point. Out of all of Hader's characters, Stefon is most likely to show up on Saturday.

So be sure to watch Bill Hader and Arcade Fire on Saturday Night Live airing Saturday, March  17 at 11.30 et/8.30 pt on Global. Catch up on full SNL skits and episodes online the day after broadcast on GlobalTV.com/SaturdayNightLive