SNL: Watch Kevin Hart's Really Great Shaq Impression
SNL: Watch Kevin Hart's Really Great Shaq Impression
Happy holidays, everyone! Saturday Night Live has wrapped up its fall season and it's time to wait for the next year, which is fortunately only a few weeks away. But until then, we've had a whole lot of great episodes in the first half of this broadcast season – not the least of which was the most recent Kevin Hart/Foo Fighters extravaganza from this past weekend.
Kevin Hart was magnetic and energetic as he always is. His monologue was so Kevin Hart – a manic stand-up routine about his family. Between crapping his pants in a meeting and almost making our with a life-size teddybear, Kevin Hart brought his trademark energy to every sketch. The stand-out sketch was Kevin Hart as Shaq, doing some post-game NBA commentary. This version of Shaq clearly doesn't know where he is or how to properly structure a sentence, much less a paragraph.

Alec Baldwin was back again for a Donald Trump Christmas special. It's Christmas time at the White House, and he invited his inner circle to put their choice of decorations on his tree of haters and losers. The ornaments: traditional Christmas bulbs with pictures of people who are on the outs with the administration. Plus, a very special cameo from Scarlett Johansson, reprising her role as Ivanka Trump!
The Foo Fighters did what they did best (which is not, as one might assume, fight foo, or foos). They played a  tunes, "The Sky is a Neighborhood," from their recent album, Concrete and Gold. Their second performance included a medley of their classic "Everlong" and a couple of Christmas staples, "Christmas (Baby Please Come Home)" and "Linus and Lucy."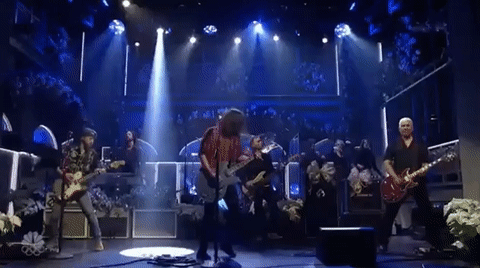 Lastly, a shout out in in order for Michael Che, who was recently announced as Saturday Night Live's first black head writer. Going forward he will be co-head writer with his Weekend Update buddy, Colin Jost (serving his second non-consecutive term as head writer after stepping down in 2015). These guys kill it on Update every week, so it can only a be a good thing for the show as a whole that these guys are taking the reins.
Saturday Night Live returns live in the new year with Sam Rockwell hosting and Halsey as musical guest on January 13. Be sure to catch Saturday Night Live airing Saturdays at 11.30 et/pt on Global, and watch the latest episodes online here on GlobalTV.com!