SNL: Tina Fey and Amy Poehler Help Emma Thompson Wish a Happy Mothers Day
SNL: Tina Fey and Amy Poehler Help Emma Thompson Wish a Happy Mothers Day
Emma Thompson hosted this weekend's Mother's Day episode of Saturday Night Live, with a little help from some other mothers too (who also happened to be SNL legends Amy Poehler and Tina Fey).
It was Mother's Day weekend and SNL pulled out all the stops. With Emma Thompson hosting for the first time, there was an air of class to the occasionally low-brow sketch show. Emma Thompson intro'd the show with a heartfelt monologue about mothers, which turned into a trio-logue when SNL alumni Tina Fey and Amy Poehler joined Thompson to wax-comedic about motherhood, and being mothers.
It's always great to see the two poster ladies of SNL make an appearance. Rarely a season goes by without one, or both, of them joining the SNL cast and crew for a show.
And they weren't the only mothers to guest star on the show. During one of his sit-down stand-up routines on Weekend Update, Pete Davidson brought his mom/roommate on, as his Mother's Day gift to her. Oh, and during his bit, he shouted out Jon Hamm as a potential suitor for his mother. And wouldn't you know it, Jon was with the cast, next to Pete's mom during the credit role.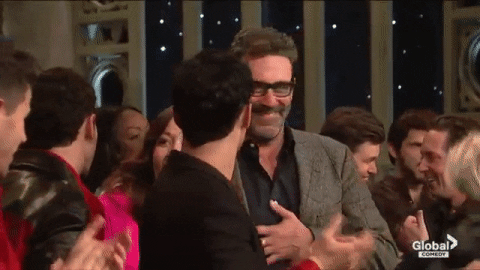 Say hi to your new dad, Pete.
And who's Jon Hamm hugging there? Why, of course that would be the back of one of the Jonas Brothers' heads! They were musical guest on the show, but that didn't confine them to just the band stand. They've been known to do a little acting on the side. And they did a little acting on this side this weekend, too – appearing in the Judge Court sketch. And doing a bang-up job, the little cuties.
All-in-all a snappy episode.  Just one more for the road; next weekend's Paul Rudd-hosted episode is the season finale, and for that one they go all out! So don't miss it or you'll be regretting your choice until the show comes back, all the ways away in September 2019.
Saturday Night Live returns live May 18 with the season finale, hosted by Paul Rudd with musical guest DJ Khaled! Be sure to catch Saturday Night Live airing Saturdays at 11.30 et/8.30 pt on Global, and watch the latest episodes online here on GlobalTV.com/Saturday-Night-Live!