SNL: Sandra Oh Explains Being Canadian
SNL: Sandra Oh Explains Being Canadian
Sandra Oh hosted this weekend's episode of Saturday Night Live, which included a monologue of her explaining Canadianisms, a parody of Jordan Peele's Us and how the Robert Mueller report got bastardized before reaching the public.
Sandra Oh opened the show with her monologue, as Saturday Night Live hosts tend to do. A recent American citizen, Sandra Oh is celebrating her one-year of citizenship. But she'll always be Canadian, and always will have been Canadian first!

The show was hit after hit of quality sketches, but biggest thanks goes out to Ego Nwodim and Keenan Thompson, for their parody of Jordan Peele's new horror-thriller, Us. Peele's film has the characters battling duplicates of themselves trying to steal the lives of the originals, where SNL's parody reminds you of an entirely different kind of identity theft that everyone should be concerned with.

The big story on Weekend Update – which tends to be the big news story of the past week – was the findings reveal in the Mueller report, or lack thereof. Jokes were had, but only so many jokes can mask the real pain. In an attempt to make light of the disappointment, SNL brought in Robert De Niro for likely one last go at Robert Mueller. For the show's cold open, there Mueller sat, reading his report… followed by General William P. Barr reading the same report, and "preparing" it for the President… followed by Donald Trump himself (a constantly returning Alec Baldwin) reading Barr's interpretation and tweeting his response. It was like a game of telephone from hell.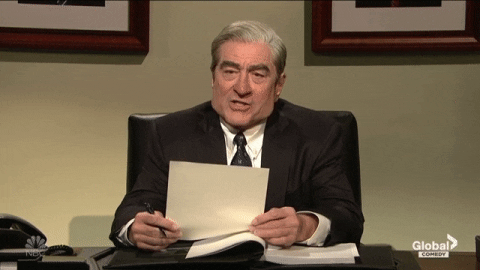 But maybe there solace in hoping that SNL's depiction of events is the correct depiction, and perhaps it's only a matter of time before the un-redacted Mueller report is released to the public?
Maybe, but there's hope and there's delusion. Saturday Night Live is definitely better at the latter.
Saturday Night Live returns live March 30 with host Kit Harrington and musical guest Sara Bareilles! Be sure to catch Saturday Night Live airing Saturdays at 11.30 et/8.30 pt on Global, and watch the latest episodes online here on GlobalTV.com/SaturdayNightLive!