SNL: Ryan Reynolds And Tracey Morgan Disrupt Will Ferrell's Monologue
SNL: Ryan Reynolds And Tracey Morgan Disrupt Will Ferrell's Monologue
This weekend, Will Ferrell hosted Saturday Night Live, with a slew of celebrity cameos to bring him down!
Will Ferrell didn't bring out any of his classic characters this weekend. He didn't need to, because he got support from his community.
Will Ferrell opened his monologue as-per-usual: being excited to be in New York/at SNL, mentioning he used to host, blah blah blah. You know, the same old stuff. But he quickly gets sidetracked when he notices Ryan Reynolds is in the audience. They chat, and Ferrell turns into a nervous goon in the presence of Reynolds. He eventually gets so unnerved that he involuntarily channels Tracey Morgan. And that, well, that eventually gets so inappropriate that it seemed to actually manifest real Tracey Morgan.
How appropriate that Tracey Morgan cameos in a Will Ferrell-hosted episode for the second time in a row! It's kind of cute, really.
And Reynolds showed up on Weekend Update later in the episode as "guy who knows the owner" alongside Alex Moffat's recurring "guy who just bought a boat."
Then the cameos really started to flood in. A Democratic debate sketch featured Maya Rudolph, Larry David, Rachel Dratch and Woody Harrelson, appearing as Kamala Harris, Bernie Sanders, Amy Clobuchar and Joe Biden.
Respectively, of course.
…and Fred Armisen showed up as Mayor Michael Bloomberg, too.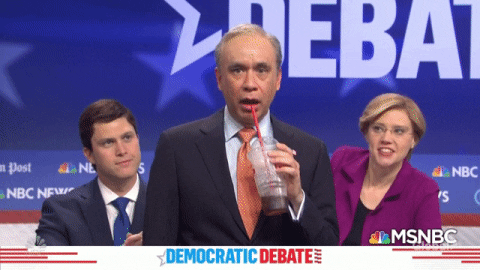 Speaking of these Democrat debate sketches: there's something about the way SNL voices Elizabeth Warren. It's a thinly veiled support for her platform – while everyone up there was caricatures of the real people, Kate McKinnon's Warren was the only one to mention legitimate policy talking points. Truncated and watered-down, but legitimate still. McKinnon still manages to make it hilarious, so the more Warren, all the better.
With Alec Baldwin appearing at the top of the episode as Donald Trump gaslighting the press over his impeachment hearings, that's a load of cameos. In total, eight celebrities cameod on this episode. It was a veritable clown car of celebrities – many of whom wouldn't shy away from the clown label. There hasn't been this many cameos in one episode since Tina Fey last hosted (she pulled 12 cameos, but she's freaking Tina Fey alright?).
And these cameos are only going to continue as the 2020 election heats up. Who knows who's going to get the Democratic nomination, but whomever it is, SNL has already set themselves up for success.
Catch brand new episodes of Saturday Night Live at 11.30 et/8.30 pt on Global! And watch the latest episodes online here on GlobalTV.com/Saturday-Night-Live!