SNL: Jessica Chastain Rocks the Women's March Anniversary
SNL: Jessica Chastain Rocks the Women's March Anniversary
Jessica Chastain hosted Saturday Night Live this weekend with high energy and solidarity as she honoured the nation wide women's march that took place both this and last year.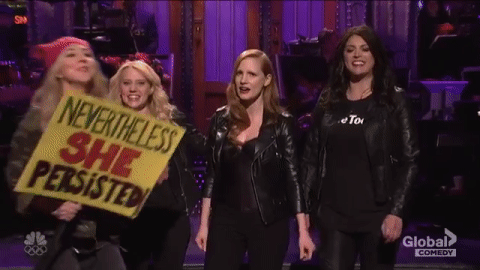 Chastain's monologue was a tribute to the women who stood up and marched in protest of gender inequality. Spurred on by the misogynistic actions of President Donald Trump, the first march occurred just one day after his inauguration in 2017. One year later, people march again in protest. It was great for Chastain to dedicate her monologue to the movement. Accompanied by Kate McKinnon and Cecily Strong, Chastain sang the refrain from Lesley Gore's "You Don't Own Me" as the rest of the cast (humourously) lent their support.
Much of the rest of the show was Trump and social progression focused, from the usual Trump coal-raking the boys on Weekend Update give to a Google Talk about discrimination (where one guest felt discriminated against for how much he looked like Bart Simpson).
In addition to that, a sketch got severely meta when cast members called out to Chastain in the middle of a game show skit, telling her that all will be well (but not really believing it). The game show in question was "What Does It Even Matter Anymore", which asks that very question about Trump's actions. The answer is a resounding "No", which only furthers Chastain into a mental break.

The cold open also went along with the Trump-smiting trend, featuring the White House physician who gave Trump his physical. White House Press Secretary  Sarah Huckabee Sanders (played by Aidy Bryant) introduces the physician who comes out to exaggerate how healthy Donald Trump actually is, and he starts to get a bit creepy about it.

Troye Sivan rocked the very same house that host Jessica Chastain did. He performed "My My My!" and "The Good Side," both brand new songs from his upcoming yet-to-be-titled sophomore album.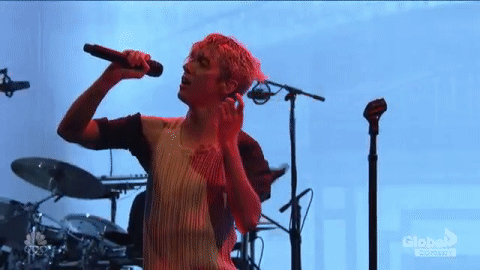 So, with this week's episode wrapped, it's time to start getting stoked for next week's. Because the man who is pretty much responsible for SNL not getting cancelled in the mid 1990s is coming home. Will Ferrell is returning to 30 Rock to host, and it can only be an amazing event – it's been a while since he last hosted, so it will be interesting to see how he gels with the cast members he's not worked with before. He's such a professional when it comes to this kind of thing that it just has to work out. It just has to! Here's hoping several of his sketches devolve into him yelling, very loudly and nonsensically.
Saturday Night Live returns live next week January 27 with host Will Ferrell and musical guest Chris Stapleton. Be sure to catch Saturday Night Live airing Saturdays at 11.30 et/pt on Global, and watch the latest episodes online here on GlobalTV.com!