SNL: Jason Momoa Reprises Game of Thrones Role Khal Drogo
SNL: Jason Momoa Reprises Game of Thrones Role Khal Drogo
Star of Aquaman and Game of Thrones Jason Momoa hosted Saturday Night Live this weekend.
The Justice League-r Jason Momoa sketch-com'd with the best of them on Saturday Night Live. Momoa pulled out all the stops – and off all the shirts. About 50+% of the well-built Momoa's sketches involved him shirtless, or at least partially shirted.
Momoa got his big boost to stardom from his role in the hit TV series Game of Thrones as Khal Drogo. So it's only fair to pay tribute to his GoT character in an SNL sketch. Be warned, though – there are several (though very old) spoilers for the series Game of Thrones in this sketch, as it parades many of the characters whom have been killed off.

Khal Drogo's Ghost Dojo brings back from the dead Khal Drogo as well as Hodor, The High Sparrow and Joffrey Baratheon. For all the Drogo fans out there, this sketch is the closest thing they'll get to his reappearance, sadly. But at least we all get to see Drogo stab again, if for just one last time.
Momoa had the pleasure of hosting a very Christmassy episode – from playing an elf in the traditional SNL Christmas sketch Elf on a Shelf, to being the fourth ghost to visit Scrooge on Christmas morning, to even playing Santa himself. What this means for the Holiday content in next week's episode is uncertain – usually Saturday Night Live only has the one holiday episode per season, but this year, maybe they're doubling down on it, for everyone's betterment.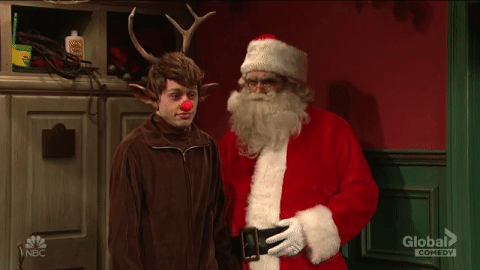 Saturday Night Live bragged another special guest this weekend: Robert De Niro returned to play the role of Robert Mueller, hiding in Eric Trump's closet, waiting to give him a bedtime talk.

Mueller is like a kid at Christmas, what with his report finally starting to see the light of day. It's been a long time coming, and who knows what it actually says, or what it means for Donald Trump's Presidency and family. Though, if this sketch is any logical or realistic assessment of the situation, it looks like Eric is fully off the hook.
There's just one more Saturday Night Live in 2018 – it's been a heck of a year, so let's hope it goes out with a bang on next week's episode!
Saturday Night Live returns live December 15 for the mid-season finale with host Matt Damon and musical guests Miley Cyrus and Mark Ronson. Be sure to catch Saturday Night Live airing Saturdays at 11.30 et/8.30 pt on Global, and watch the latest episodes online here on GlobalTV.com/SaturdayNightLive!