SNL: Harry Styles Shows Off He's A Serious Musician
SNL: Harry Styles Shows Off He's A Serious Musician
Harry Styles tore up Saturday Night Live this weekend with his musical prowess, as both host and musical guest!
Harry Styles wants you to see him as a serious musician. Which he is. But he also seems a bit insecure about it. He felt the need to get behind a piano for his monologue to prove how serious of a musician he is. And sure, he may not have actually been "playing" the piano, but it's the thought that counts, right?
Beyond the monologue, Styles participated in a a number of musical sketches; higher than usually appear on the show. Between the dog opera, the funeral DJs and the aging newsboys stage show, Styles may have the most musical performances in a single show under his belt. And the audience was really having it. Especially what Styles tore away his tear-aways to reveal his "R.I.P." briefs while DJing a funeral. The audience noise rarely drowns out the sketch, but it sure did during that moment.
SNL used Weekend Update as an opportunity to bring back a long-missed impression. Kate McKinnon returned to her Jeff Sessions role to dig that extra jab at the brown-nosing little rodent. He's been in the news recently from his campaign for Senate, which has included a lot of boot licking. So, SNL took that and ran with it.
And this week in cameos: Jon Hamm stopped by for the cold open sketch, a somewhat tedious soap opera spoof of the impeachment proceedings. Hamm portrayed Bill Taylor, a key player in the Trump hearings.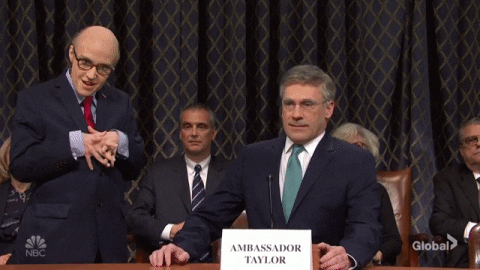 It's going to be a big Saturday Night Live alumni bash for the rest of the year: the two scheduled episodes coming up are going to be hosted by Will Farrell and Eddie Murphy! It's been a couple of years since Farrell hosted; there's always room for him to reclaim his role as honourary king of SNL. And Eddie Murphy will always be welcome, since you know, he's pretty much the only thing that made SNL in the 1980s bearable (and he was probably what kept it from cancellation during the Ebersol years).
Tune in next weekend, November 23 for Will Ferrell on a brand new episode of Saturday Night Live at 11.30 et/8.30 pt on Global! And watch the latest episodes online here on GlobalTV.com/Saturday-Night-Live!