SNL: Game of Thrones Cast Members Crash Kit Harington's Monologue
SNL: Game of Thrones Cast Members Crash Kit Harington's Monologue
It was a Game of Thrones focused episode of Saturday Night Live this weekend, hosted by none other than Jon Snow himself, Kit Harington!
It was the Steve Carell-hosted episode all over again: cast members from the host's show planted in the audience to ask asinine questions about the show they're on (this time, Game of Thrones edition). With Kit Harington hosting, it was pretty much guaranteed that it would be a Game of Thrones heavy episode. And when Kit Harington got on stage to deliver jokes he admittedly didn't get, the audience started to chime in.

As you can see, it was innocent enough at first, with an unrecognizable audience member asking the big question: who wins the Game of Thrones? Then, Emilia Clarke – probably still in New York from her appearance on The Late Show with Stephen Colbert – stands up to ask the exact same question. From there, it gets out of hand, with John Bradley, a group of Harry Potter fans, Kit Harrington's wife and Game of Thrones actor Rose Leslie and even the freaking Night King (a very made-up Pete Davidson) all interrupt Harington's monologue.
And the Game of Thrones-yness didn't end there. HBO isn't going to let their cash cow die just because the show is ending, and SNL predicts that the cable channel will bleed the franchise dry with spin-offs, sequels and prequels (and yes, Kit Harington reprises his role as Jon Snow in this one):

To be fair, Game of Thrones: Special Victims Unit seems super watchable – especially if Ice-T and Mariska Hartigay are involved.
While the latter portion of the show focused on a fictional political grab game, the cold open focused on the real one: Jason Sudeikis returned to SNL to play Joe Biden once again. Biden made news this past week when several women spoke up about inappropriate physical contact. So SNL took that and ran with it.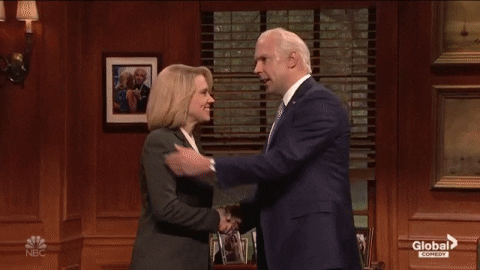 This has probably been the most cameo-heavy Saturday Night Live since last year's Tina Fey episode (face it, she cameo pulls better than anybody). All in all it had Emilia Clarke, John Bradley, Rose Leslie, Jason Sudeikis, Mariska Hartigay and Ice-T show up at some point. You could make a starting line-up, with change. Maybe next March Madness?
Saturday Night Live returns live April 13 with host Emma Stone and musical guest BTS! Be sure to catch Saturday Night Live airing Saturdays at 11.30 et/8.30 pt on Global, and watch the latest episodes online here on GlobalTV.com/SaturdayNightLive!