SNL: Don Cheadle Slams Trump and Supports Trans Kids
SNL: Don Cheadle Slams Trump and Supports Trans Kids
Don Cheadle was on fire this weekend on Saturday Night Live, between his amazing sketch performances and his full out political activism.
It was Don Cheadle's first time at SNL, and he did a bang-up job. He was funny and on point, and brought with him some significant and important political messages.
Don Cheadle's best sketch was the classic SNL go-to Celebrity Family Feud. It was a great lineup: Cheadle was Spike Lee, Kate McKinnon hammed it up as Glenn Close and Melissa Villaseñor brought her Gaga back (and this might be one of the last times Keenan Thompson plays Steve Harvey – rumours are that this might be his last season with his show). It was as absurd as it always is, with Cheadle's understated Spike Lee giving that dead pan kind of comedy gold.

Don Cheadle's biggest contribution wasn't in the sketches, but around them, though – and it was all about what he was wearing. When Don Cheadle introduced Gary Clark, Jr., the musical guest, he wore a t-shirt that read protect trans kids – speaking out against the bullying and abuse of some of America's most vulnerable people.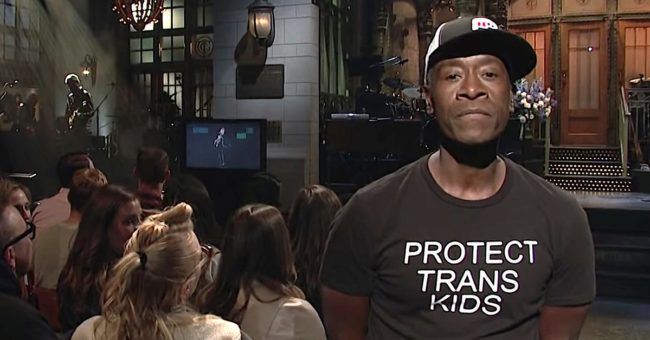 Similarly, Cheadle wore a Soviet Union jersey during the night's goodbyes. Not a big deal in itself, until he turned around to reveal the name TRUMP with the number 45. Again, a simple message with a simple piece of clothing.
Alec Baldwin returned as President Donald Trump to declare a National Emergency, but there was something different about this appearance. It was a lot darker – the bumbling buffoon Trump of sketches past was replaced by, well, a bumbling buffoon Trump, but one who seemed more cognizant and jovial of his sinister intentions than usual. This sketch was simple and quick, and easily hit the target for lampooning Trump's past week. It breathed some much-needed life into Alec Baldwin's Trump – Baldwin himself seemed to have a bit more fun with the role this time around, after stagnating a bit and going through the motions in his past couple appearances. If he keeps up the creativity and interesting choices that he had in this sketch, then his Trump will always be welcomed back.

Another great episode to add to another great season. Hopefully Cheadle will come back soon, because it feels like they only just tapped the well of his sketch com skills.
Saturday Night Live returns live March 2 with host John Mulany and musical guest Thomas Rhett! Be sure to catch Saturday Night Live airing Saturdays at 11.30 et/8.30 pt on Global, and watch the latest episodes online here on GlobalTV.com/SaturdayNightLive!