SNL: Despite "Agony" Alec Baldwin Doubles Down on Trump Impression
SNL: Despite "Agony" Alec Baldwin Doubles Down on Trump Impression
The longest-running not-a-cast-member Alec Baldwin shows up on Saturday Night Live to play Trump yet again, despite the toll he says the role is taking on him.

In an interview with the Washington Post earlier last week, Alec Baldwin made mention of his time playing Donald Trump as being unpleasant: "Every time I do it now, it's like agony."  Despite this, Baldwin made his return as Donald Trump because
he wants to see this whole thing through to the end
.
His "agony" comment made more and more headlines through the week, and sparked a charged twitter-off between Baldwin and President Trump. Trump responded to the comment as expected: childishly, with the exception of calling ex-cast member/current announcer Darrell Hammond "a far greater talent" which, when it comes to accurate impressions, is kinda true.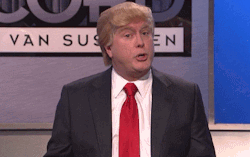 It would be nice to see Hammond in the role again (he was doing it way before it was cool – back in 2004 when The Apprentice was hot), but it's difficult to admit because at this point agreeing with Trump just feels so wrong. And it must be even worse for Darrell Hammond. The really weird thing here, though, is that Trump thinks that if Hammond were playing him, he would be less insulted. Chances are, he wouldn't and in no time would be on twitter screaming about how unfair Hammond's portrayal of him is.
Baldwin's take on Trump this week is refreshing, though. The cold open was, in essence, a monologue for Baldwin, this past week's spat between Baldwin and President Trump having rejuvenated the energy of his performance. Prior to this weekend, his past few appearances have stagnated a bit – showing up in the Trump garb just for the sake of it. But this week's lambasting sketch has a bit more weight behind it. It's been a long month off for Saturday Night Live, and a lot has happened that they didn't get the chance to cover: gun violence, the Hope Hicks thing, Trump's empathy reminder note. But it all got crammed in there, real nicely, too.
On the other side of things, Charles Barkley killed it this week. In his monologue, he acknowledged that he's there "for no reason" (other than maybe to prove that SNL doesn't need big names to put on a good show), gave props and encouragement to activist athletes, and dropped a nice juicy Space Jam reference.

That's right, four times hosting for Barkley. One away from joining the coveted Five-Timer's club. It would be great to see him back sometime soon, too, because he was pleasingly funny and charming.
Well, it's good to have SNL back – it was a long, cold February without it. But there are a few great weeks ahead, with Sterling K. Brown and Bill Hader as hosts, and James Bay and Arcade Fire covering the music.
Saturday Night Live returns live March 10 with host Sterling K. Brown and musical guest James Bay. Be sure to catch Saturday Night Live airing Saturdays at 11.30 et/8.30 pt on Global, and watch the latest episodes online here on GlobalTV.com/SaturdayNightLive!