SNL Brings Out Woody Harrelson and Lin-Manuel Miranda For Democrat Cameos
SNL Brings Out Woody Harrelson and Lin-Manuel Miranda For Democrat Cameos
It was an action-packed episode of Saturday Night Live this weekend!
Hosted by Stranger Things star David Harbour, SNL's political and pop-culture game was huge. Where to even begin?
How about that cold open? In a sketch about the recent Democrat Equality Town Hall, SNL brought out some heavy hitting cameos to fill in as the Democrat Presidential runners. First up was Hamilton's Lin-Manuel Miranda as Julián Castro, who after introducing #LatinoBama, was so close to dropping a verse.
Maybe the whole Hamilton thing is a bit overplayed, but come on, it's Lin-Manuel. If the man wants to rap, let him rap.
The second big cameo of the night was Woody Harrelson, making his second SNL appearance this season. He did such a knock-out job as Joe Biden when he hosted the season premier that they asked him back. And this time was just as good. There's just something about Harrelson's take that is so perfectly off-putting. It's just so Joe Biden.
David Harbour. Man, what an engaging actor. He's got a particular warmth on screen, yet with a bit of an edge. And both came through when they needed to.
For his monologue, Harbour stepped into the Upside Down from Stranger Things when he discovers it in the halls of 30 Rockefeller Center. In the Upside Down, Lorne Michaels is an NBC Page, Keenan Thompson is running the show, and we finally find out where Pete Davidson has been for the past couple weeks.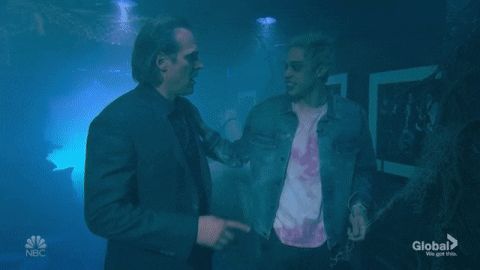 But Harbour's amazingness doesn't end there. No, that's just an appetizer.
His real performance is the JOKER parody trailer for a gritty Sesame Street reboot focusing on Oscar the Grouch called GROUCH.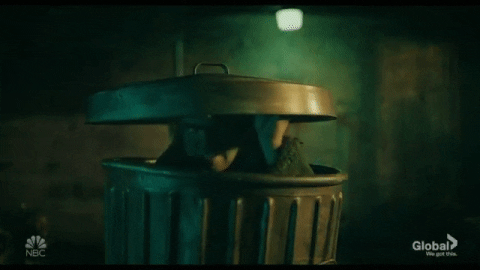 If only this movie actually existed. But we'll just have to settle with this soon-to-be legendary sketch. Which is so good enough.
So Harbour killed it this episode, Pete Davidson returned to the show after being absent all season, and the cameos just keep coming. No offence to Jason Sudeikis, who had been SNL's go-to Biden for the past 12 years, but Harrelson has to be the Biden they stick with – nobody has or will do it better. And next time, hopefully someone will let Julián Castro spit some rhymes, because Lin-Manuel Miranda is among the best to do that.
Tune in Saturday November 5 when Saturday Night Live returns with host Kristen Stewart.
Catch Saturday Night Live airing Saturdays at 11.30 et/8.30 pt on Global, and watch the latest episodes online here on GlobalTV.com/Saturday-Night-Live!