SNL: Bill Hader and Ben Stiller Recreate Michael Cohen Hearing
SNL: Bill Hader and Ben Stiller Recreate Michael Cohen Hearing
This past Saturday John Mulaney hosted Saturday Night Live, which included one of his famous long-lost sketches and special appearances from Bill Hader and Ben Stiller!
It was an all-star episode of Saturday Night Live with Mulaney hosting and Stiller and Hader showing up – not to mention that Mulaney is one of the best writers the show has had (he worked as a writer between 2009 and 2012, you know). So the quality of this particular episode was expected the moment is started – and did it ever start with a bang.
With the congressional hearing last Wednesday, where Michael Cohen turned on Donald Trump finally, it seemed obvious that Ben Stiller would be a part of this week's cold open. That wasn't the surprise the cold open had to offer, though – a pleasant and expected occurrence, Stiller's appearance, but the real surprise was Bill Hader's involvement as anger aneurysm waiting to happen, Ohio Congressman Jim Jordan.

Cohen also used the chorus to Natalie Imbruglia's "Torn" as a part of his congressional address in this reality (which is turning out more and more to not be too far from actual reality). He also slammed Khloe Kardashian, and her recent breakup, by saying "For too many years I was loyal to a man I shouldn't have been. Now I know how Khloe Kardashian feels".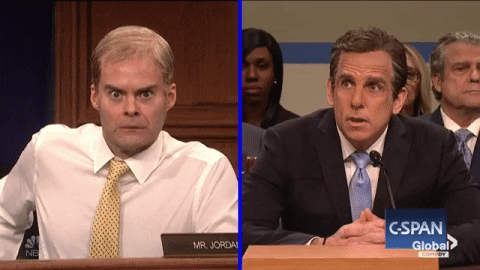 Last time John Mulaney hosted, he had a breakout sketch in Diner Lobster – a sketch wherein a diner patron orders the lobster and it quickly turns into a fast Les Misérables rundown. He had waited ages and ages to get that sketch on SNL, all the way back to when he was a writer on the show, but could never get it to air. Well, he did, and it was a hit. And this time around, he got another sketch that stewed for over a decade, and it was well worth the wait for Toilet Death Ejector.

Despite Hader being at 30 Rock for Mulaney's hosted Saturday Night Live, their collaborate character Stefon did not make a Weekend Update appearance. Hader, Mulaney: what gives? Arguably SNL's most popular recurring character of this century, this episode seemed like the perfect storm for him to appear. Heck, his last appearance was Bill Hader's hosted episode last year, where Mulaney made a cameo beside Stefon on Update.
But you can't win them all, and a charmed audience has no right for complaint after Mulany's five-star episode.
Saturday Night Live returns live March 9 with host Idris Elba and musical guest Khalid! Be sure to catch Saturday Night Live airing Saturdays at 11.30 et/8.30 pt on Global, and watch the latest episodes online here on GlobalTV.com/SaturdayNightLive!