SNL: Ben Stiller and Fred Armisen Help Baldwin's Trump Calm Down
SNL: Ben Stiller and Fred Armisen Help Baldwin's Trump Calm Down
In the recent Claire Foy-hosted episode of Saturday Night Live, Ben Stiller and Fred Armisen make cameo appearances, and Alec Baldwin reappears as Donald Trump!
It's a "tough" time for President Donald Trump – there's apparently a bottomless caravan of immigrants heading toward the White House, people have been making fun of him non-stop and Congress flipped from red to blue. Oh, and Robert Mueller is said to be wrapping up the FBI investigation on him which could potentially lead to extreme life changing legal consequences for him and his family. That little thing.
And on top of it all, he probably tuned in to Saturday Night Live to watch one of his favourite shows to hate, only to see Alec Baldwin's contorted Trump pout filling his screen.
Ben Stiller came back to reprise his role as Michael Cohen from last season – who else should they get? This is also good speculating news, as when the Mueller investigation finally does wrap up, hopefully Robert De Niro will come back as Mueller!
Oh, and predictably in pure SNL-meta-Baldwin fashion, he called himself out when he said (as Trump): "God I haven't been this upset since I flipped out over that parking space." It's just a thing he does when he publicly reveals his rage issues and soon after appears on SNL.
Oh, and even more predictably, SNL brought in their old sort of vaguely ethnic guy Fred Armisen to play the Crown Prince of Saudi Arabia, Mohammad bin Salman Al Saud. It's just a thing they do.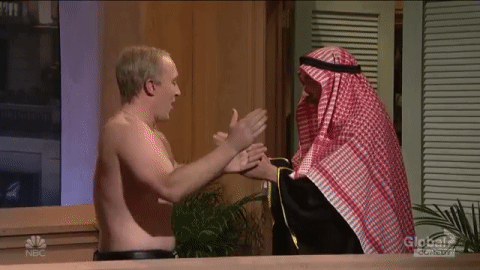 Claire Foy was a simply marvellous host on Saturday Night Live! She really knew how she wanted to present on the show – because that's how it works. A little behind the scenes info, is that the host arrives early in the week, and the writers and cast pitch the sketch ideas to the host and Lorne Michaels, both of whom approve or reject ideas. So Foy knew which sketches she would be best suited at, and that is one of the best qualities an SNL host can have.
But she was used particularly well, albeit briefly, in SNL's Netflix takedown. Foy reprised her role as Queen Elizabeth II to poke fun at the ridiculous amount of unimpressive content Netflix is producing.

Saturday Night Live returns live December 8 with host Jason Momoa and musical guest Mumford & Sons. Be sure to catch Saturday Night Live airing Saturdays at 11.30 et/8.30 pt on Global, and watch the latest episodes online here on GlobalTV.com/SaturdayNightLive!