Saturday Night Live: Seth Rogen, Jonah Hill, Steve Martin Crash James Franco's SNL Monologue
Saturday Night Live: Seth Rogen, Jonah Hill, Steve Martin Crash James Franco's SNL Monologue
This weekend on a very special holiday-themed Saturday Night Live, host James Franco was constantly interrupted during his opening monologue by his friends Seth Rogen and Jonah Hill, and other megastar and classic Saturday Night Live treasure Steve Martin.

Sometimes it's like Franco and Rogen are attached at the hip! Their most recent movie, 
The Disaster Artist
, they did together. Add that to the long list of films and TV shows, which includes 
The Interview
, 
This is the End
, 
Freaks and Geeks
and 
Pineapple Express
, and more, where they just can't seem to get enough of each other. And this isn't the first time Rogen interrupted Franco's 
Saturday Night Live
monologue – he did it the
last time
, too! And Steve Martin? Well, if you watch
SNL
regularly, you know that he just kinda wanders into the studio and on air sometimes.
Franco was a solid host though. He owned every sketch he was in, and was a constant professional throughout. Except one… while he still owned it, his professionalism slipped when he couldn't keep a straight face for the term "Little Pig Boy."

It's tough to fault him here – while it was noticeable, to anyone paying attention, that he was having difficulty not laughing at the hilarious sketch from the start, it was also noticeable how well he was doing at not laughing. But he recovered quickly and was able to finish the sketch without completely breaking down.
The show's opener was adorable: a distressed mall Santa taking Christmas wishes from children. Adorable, and it turned out to be a disaster, in and out of diegesis. On screen, Santa (played by Keenan Thompson) wanted to avoid conflict and shirked questions about Al Franken, Roy Moore, the opioid crisis, coal and other severely politically charged questions asked by children. In reality, many of the young actors playing the children flubbed their lines in the most adorable way possible. The kind Keenan Santa sweetly encouraged them without breaking  character – and one very lucky and talented little girl got to say the coveted "Live from New York,it's Saturday Night!"
SZA's set was wonderful and beautiful. On a gorgeous stage decked-out for the holidays, SZA sang her songs "The Weekend" and "Love Galore" impeccably. What a talent – we'd be so lucky to see her again next season.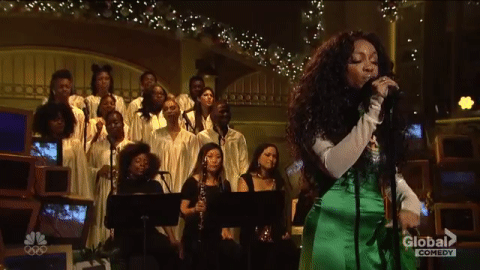 Something to be excited for – that this December 9 episode is holiday themed, but isn't the last episode before the winter hiatus. You know what that means? Next weekend's episode will probably also be holiday themed. SNL has doubled down, yet again, this time on holiday episodes. Rejoice! Rejoice!
Saturday Night Live returns live December 16 with host Kevin Hart and musical guest Foo Fighters. Be sure to catch Saturday Night Live airing Saturdays at 11.30 et/pt on Global, and watch the latest episodes online here on GlobalTV.com!