Saturday Night Live: Saoirse Ronan Brings Ireland to New York
Saturday Night Live: Saoirse Ronan Brings Ireland to New York
It's Irish week at Saturday Night Live with host Saoirse Ronan and musical guest U2! But you probably knew that anyway, simple by the spelling of Saorise's name. If you didn't know: that's a very Irish naming convention. Luckily, Ronan's monologue was all about how to pronounce her first name. Things turned really Irish once the Aer Lingus sketch hit broadcast, unfolding shamrock stereotypes all around.

Ronan was such a lovely host to have. She brought a quality of acting to the sketches that the cast just can't bring, between Keenan Thompson's blunt force hammy delivery and Kate McKinnon's distractingly magnetic personal charm – both are welcome, but not exactly the calibre of acting that you get from someone like Ronan.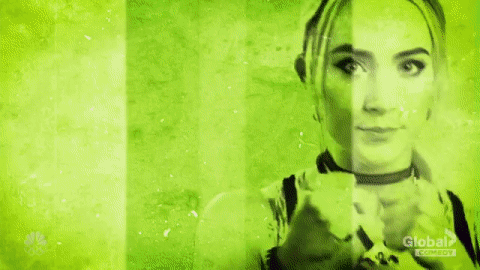 It was a great week for Ronan to be on, too, because the sketches were particularly on-point; nary a stinker among them.
And don't worry, if you didn't get enough of Saoirse Ronan from this episode of SNL, or from her smash hit new film Lady Bird, you can catch her on The Late Show with Stephen Colbert as Stephen's guest this coming Monday, 11.35 et/pt on Global!
U2 absolutely killed their set, by the way. They performed "American Soul" and "Get Out of Your Own Way," both from their new album Songs of Experience. Their performance was as visually stunning and a rock set for the ages.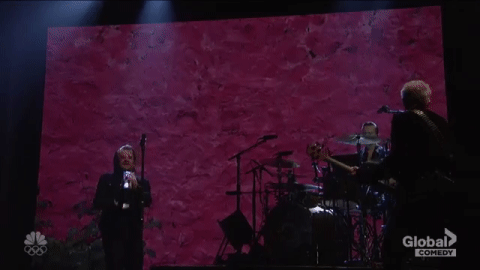 And that guy, what's his name, Baldwec Alin?  Albert Windbo? Alec… Baldwin! Yes, that's right, Alec Baldwin returns to do his famous and, scarily, increasingly accurate portrayal of President Donald Trump. With the recent confession from one of his former guys, Michael Flynn, Trump is in a panic about when the FBI is going to come after him. So, obviously it's Saturday Night Live's job to increase his anxiety (because you know he still watches it). In the cold open, Donald Trump was visited by three spirits, a la A Christmas Carol. Billy Bush, Melania Trump and Vladamir Putin were his harbingers of doom, with Michael Flynn himself guiding him though. Oh, and a fifth spirit appears simple to taunt him. That is, of course, Hillary Rodham Clinton.

The heat's only going to get hotter from here on out, so maybe Trump should step out of the kitchen (in this case, it's a white, spangled, oval-shaped kitchen).
Saturday Night Live returns live December 9 with host James Franco and musical guest SZA. Be sure to catch Saturday Night Live airing Saturdays at 11.30 et/pt on Global, and watch the latest episodes online here on GlobalTV.com!