Live Feed Spoilers: HoH wary of core alliance
Live Feed Spoilers: HoH wary of core alliance
By John Powell – GlobalTV.com
Even with Red winning today's Power of Veto competition HoH Cameron is still concerned about the majority alliance he is part of.
"This game is crazy!" said Red celebrating his win in the HoH room with Cameron.
"Don't I know it!" laughed Cameron. "We have all Sunday to plot how we are going to use the veto."
Red believes they can use the HoH and Power of Veto to gain even more trust with the core alliance this week.
"This is what THIS is about. It could be about building trust. We have to start pointing inside at some point," said Red of the Power of Veto necklace around his neck.
They both are sure that Izzy would never vote for them to win the game but have faith in Cirie. They think she, like them, is ready to bail on the alliance sooner instead of later.
"I trust Cirie explicitly," said Red.
"I absolutely do," replied Cameron.
"I really don't trust Felicia much," said Red.
"Nope," said Cameron.
"I love her to death but I don't trust her. I don't trust Izzy because she doesn't like us," said Red.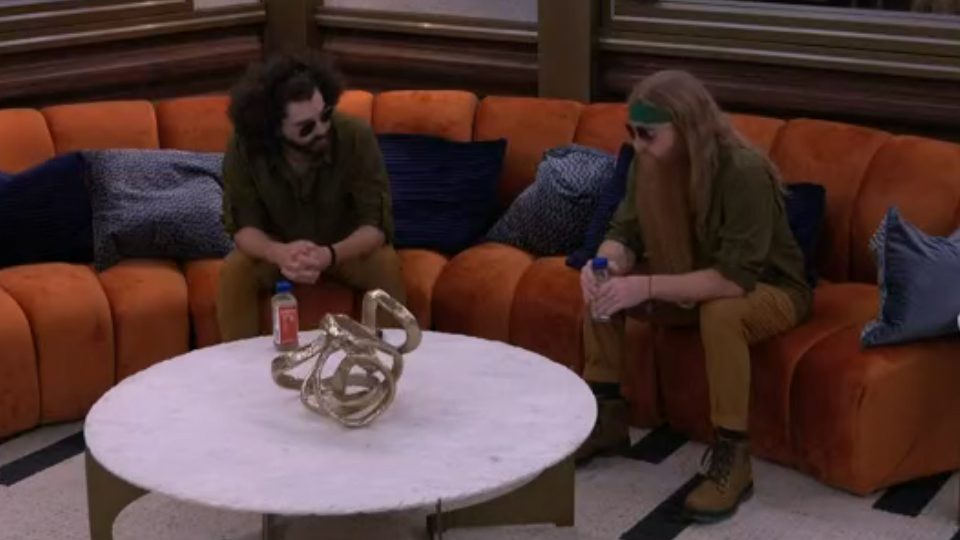 "I think Mecole is a great actor too. I don't think she likes me much either. She tolerates all of us. She is just here doing her own thing," stated Cameron.
Red told Cameron he feels that they should ride out this majority alliance a little longer as it will be harder to get some of those players out later in the game.
Cameron expressed his uneasiness with that alliance though.
"Why is everyone nervous? Why is everyone you are around nervous about me when we are supposed to be in an alliance? Why are they huddled up away from me nervously talking?" he said of what he would ask Cirie if he could.
"She sees what Izzy is doing," said Red.
"I think we have more of a power five if we think about it," said Cameron of himself, Red, Bowie, Matt and Cirie. Cameron thinks they need to keep America and Cory close though as their parachutes.
"If there is b—–t that happens before then we have the ability to pull the trigger," said Cameron of Monday's Power of Veto Ceremony.
Currently, Jag and Blue are on the block.
Check back for all the latest Big Brother news and interviews.
Big Brother airs Sundays and Wednesdays (8:00-9:00 PM, ET/PT) and Thursdays (9:00-10:00 PM, live ET/delayed PT), featuring the live eviction show hosted by Julie Chen Moonves, on Global TV.
Live Feed Spoilers: Pressure Cooker endurance challenge ends with a new HoH