Watch celebrities flood The Price Is Right on SNL
Watch celebrities flood The Price Is Right on SNL
Former Saturday Night Live writer/Bernie Sanders impersonator/one-time host Larry David hosts for his second time, and it's pretty, prettyyyyy great!
David, a writer alumnus of SNL's dark years under producer Dick Ebersol (Lorne Michaels left the show for a short time in the early 1980s, and Ebersol's reign is regarded as the show's worst era, with it's only saving grace being the discovery of Eddie Murphy), had been more or less SNL free for many decades, with his triumphantl return with his amazing Bernie Sanders impersonation in 2016. As a writer, David only had one of his sketches make it to air, prompting him to quit very early. But if you know anything about Larry David, it's that things worked out for him better than he could have imagined.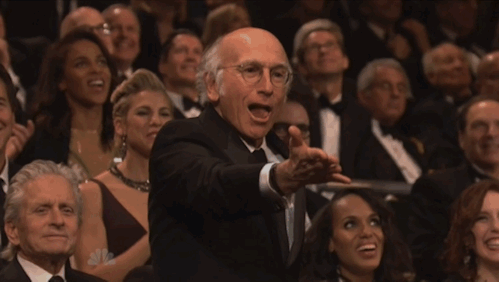 This week Saturday Night Live introduced a hopefully-recurring Celebrity The Price Is Right sketch – because the last time they did the celebrity gameshow thing it was a lovely treat for years and years.
Anyway, they decided to load this one up with real celebrities playing other celebrities. Of course Larry David was already there to do Bernie Sanders, and Miley Cyrus was the musical guest this week (though she didn't proxy for another celebrity – just a The Price Is Right contestant). Alec Baldwin was around – more on that later – and did his classic Tony Bennett, while cast member Alex Moffat was Chris Hemsworth, who got confused about which gameshow he was on and phoned a friend: Chris' brother, the real Liam Hemsworth.

Now, about Alec. Of course he was back for the cold open, showing Trump at his… well, not his worst, but not favourably either… anyway, showing Trump up to his shenanigans again. With the Paul Manafort indictment big in the news and the Trump administration sweating bullets about it, now's a good chance for our lovably Saturday satirists to kick them while they're down. Baldwin's Trump hops in the shower with Beck Bennett's Manafort to make sure he's not wearing a wire, and that's only the first on a long list of workplace infractions that would send any HR person to an early grave. But what did you expect?
Saturday Night Live 
returns live next week November 11 with host Tiffany Haddish and musical guest Taylor Swift. Be sure to catch 
Saturday Night Live
airing Saturdays at 11.30 et/pt on Global, and watch the latest episodes online here on 
GlobalTV.com
!