Kumail Nanjiani shares his family history on Saturday Night Live
Kumail Nanjiani shares his family history on Saturday Night Live
This week we have the pleasure of watching Silicon Valley's Kumail Nanjiani host Saturday Night Live for the first time!
Kumail Nanjiani is the second person of south Asian descent to host SNL, after Aziz Ansari became the first last season. And look at that snazzy suit he's wearing – Nanjiani's got style! That suave man is definitely in the running for best damn dressed host! Nanjiani's monologue was classic, as well: no gimmicks, not bits, just him doing a little greet before the show gets going, just like in the old days.
Nanjiani opens up about his family history, and how it relates to his contested move to the west, during his monologue – and goes on to call out some pretty heinous racist reviews of his recent hit film The Big Sick.

The stand-out moment of the show has to be fan-favourite Kate McKinnon's full-on Kellyanne Conway-as-Pennywise-from-IT where she devours Anderson Cooper from the sewers. It's creepy, topical, spot-on (for both Conway and Pennywise the Dancing Clown) and, of course, absolutely hilarious. It's an example of the quality political and pop culture commentary SNL has to offer these days, blending the two to break into the next-level of sketch comedy.

Oh, and if you missed the cold open, you missed the expected return of Alec Baldwin/Donald Trump shooting his mouth off again, from commonalities he has with truckers to ordering around Mike Pence over the phone. Another classic Donaldwin cold open!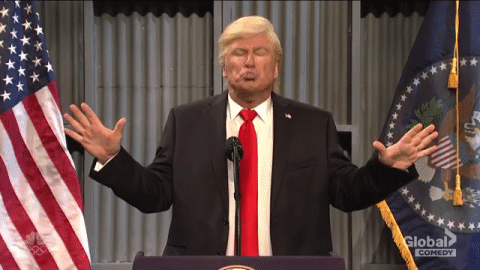 Saturday Night Live returns live November 4 with host Larry David and musical guest Miley Cyrus. Be sure to catch Saturday Night Live airing Saturdays at 11.30 et/pt on Global, and watch the latest episodes online here on GlobalTV.com!