Kevin Hart says goodbye to 2017 for Saturday Night Live
Kevin Hart says goodbye to 2017 for Saturday Night Live
It's the last Saturday Night Live of 2017 and Kevin Hart is hosting to bring some spirit and to close what has been a long, long year and so far a great, great first half of SNL's 43rd season.
Kevin Hart is a comedian at the top of his game and he's been there for a darn long time. With countless comedy specials and box-office hits such as Death at a Funeral, Ride Along, About Last Night and Central Intelligence, Kevin Hart is among the best out there. He's been at 30 Rockefeller hosting SNL before and it's always been a good time.

He's got a really frantic but compelling energy, doesn't he? Kevin Hart has a great presence for sketch comedy, it's a wonder he hasn't done much of it before.
Joining Kevin Hart for the episode is the Foo Fighters, the one-time-grunge-turned-arena rock band that has been dominating radio and charts for the past 20+ years. So a comedian who has been at the top for more than a decade and a rock band that's been there for more than two?
What a way to send out 2017.
Speaking of, a little bit on Saturday Night Live in 2017 for a moment:
It's been a significant year for political comedy and satire. From SNL's outrageous Donald Trump and Sean Spicer sketches featuring Alec Baldwin and Melissa McCarthy to Stephen Colbert's winning late night with The Late Show with Stephen Colbert, to SNL's Weekend Update coming out for a few emergency episodes during the Trump-news-heavy summer hiatus, comedians across the board have been busy, especially in late night television. Saturday Night Live has wielded a double-sided sword of political awareness and distraction bringing up the massive political and social issues plaguing the world and then dismissing them with an innocuous sketch about a gold-plated fidget spinner or screaming about what the proper short-form slang of "pizza" is (the conclusion seems to be "suh" (peet-SUH) instead of the more popular "za," as "za" sounds more like lasagna (luh-ZA-nya)).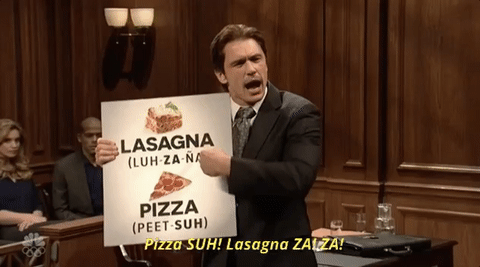 Regardless, SNL has been pulling its weight – head of the charge in political discourse and a suitable distraction when you need it. Chances are that 2018 is going to be another heck of a year. So ladies and gents of SNL, keep doing what you do.
And, in the words of these lovely fellows…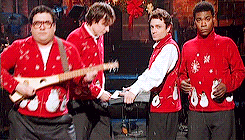 I wish it was Christmas today. Until then, we can enjoy Kevin Hart and Foo Fighters. Happy holidays.
Be sure to watch Kevin Hart and the Foo Fighters on Saturday Night Live airing Saturday, December 16 at 11.30 et/8.30 pt on Global. Catch up on full SNL skits and episodes online the day after broadcast on GlobalTV.com/SaturdayNightLive.