Jennifer Lopez to Host SNL
Jennifer Lopez to Host SNL
It's time for Jennifer Lopez, colloquially known as J-Lo, to finally host Saturday Night Live again!
She used to be a regular figure on SNL. Between hosting and performing, Lopez appeared several times between 2000 and 2010. But that time in 2010 was her last time. Until now!
This Saturday December 7, you can watch Jennifer Lopez host SNL again on Global, at 11.30 et/8.30 pt. 
What will she bring to the table? Well, she's a veteran actor at this point, having bounced back and forth between her music and film career over the past 20 years. Not only that, but is she ever versatile. From action, to comedies, to dramedies, to romantic comedies, and even comedy-dramas! 
Also the last time she hosted Saturday Night Live was the episode that featured the classic Smash Mouth sketch. You know, the one where Smash Mouth is hiding in the girls closet and only comes out to sing All Star when the lights go out?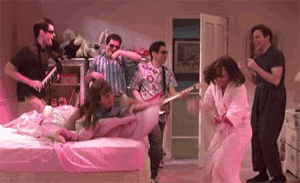 It's safe to say Smash Mouth themselves haven't done anything to top that, even.
Aside from hosting Saturday Night Live, Lopez has secured the next highest profile gig a performer could hope for: the Super Bowl halftime slot. Alongside Shakira, Jennifer Lopez will be entertaining between the tackling and more tackling at Superbowl LIV in February 2020. Just another thing to tack on to her already full resume!
Supporting J-Lo is DaBaby, who is hot off two studio albums this year already (note: DaBaby is in fact an adult). Will J-Lo perform with DaBaby? Probably not, but it's not completely out of the question!
And while American politics heat up faster than global temperatures, so do the cameos on SNL. So far the list of celebrities-as-politicians has been so long: we've had Lin-Manuel Miranda, Maya Rudolph, Rachel Dratch, Larry David, etc. etc. Oh and don't forget Woody Harrelson's amazing Joe Biden, who keeps coming back since he first did it in this season's premier episode. Then of course there's Alec Baldwin, who has become synonymous with Donald Trump since first appearing as him three years ago. With the whole impeachment and election 2020 stuff going on, there's always some foolish politician, or group of politicians, to lampoon.
So tune in to Global to catch host Jennifer Lopez and musical guest DaBaby on Saturday Night Live this Saturday December 7 at 11.30 et/8.30 pt. Don't miss it! And be sure to catch more new episodes of Saturday Night Live airing Saturdays at 11.30 et/8.30 pt on Global, and watch the latest episodes online here on GlobalTV.com!