Gal Gadot Teams Up With Times Square Wonder Woman to Inspire All
Gal Gadot Teams Up With Times Square Wonder Woman to Inspire All
This week, Saturday Night Live opened on a more serious note. Instead of the usual Alec Baldwin as Donald Trump cold open (he didn't appear on this week's episode), country music star Jason Aldean addressed the viewing nation regarding the 2017 Las Vegas Strip shooting that happened last weekend. With a heartfelt message, Aldean extends comfort to the families of the victims, and encourages the country to band together. Aldean and his band went on to perform "Won't Back Down" by Tom Petty and the Heartbreakers – Petty, sadly, we lost last week as well.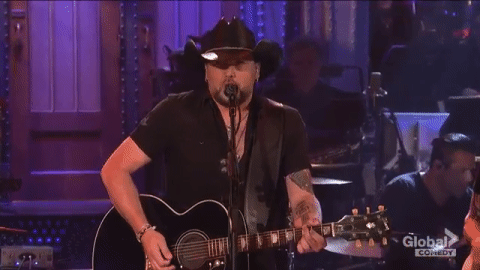 This type of sincere cold open isn't unusual for Saturday Night Live. September 29, 2001 – the 29th season premier – featured then-mayor of New York Rudy Guiliani and dozens of New York City firefighters and police officers in the cold open as Guiliani encouraged a shaken New York to endure and move forward in the wake of the horrible terrorist attacks. Similarly, the November 14, 2015 episode featured cast member Cecily Strong sharing words of solidarity in both French and English after the 2015 Paris terror attacks. Despite being a comedy show, Saturday Night Live has time and again put the laughter aside to show support and grieve with victims of violence.
Host Gal Gadot kicked off the comedy portion of the show with her monologue, which ended up being more of an awkward interaction where she humours a street performer who dresses like Wonder Woman. The two of them have little in common, but just like how Gal Gadot's Wonder Woman inspired and brought people together, Leslie Jones' Wonder Woman sort of does the same.

Oh, and then there was that moment that Gadot reprised her character from Wonder Woman to make out with Kate McKinnon.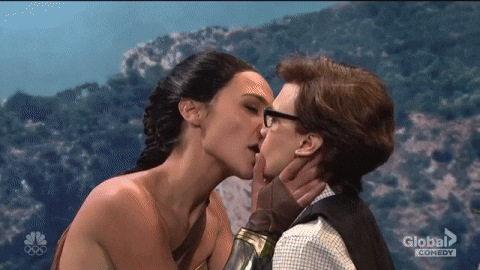 Saturday Night Live played a bit of political softball this week, featuring nary a sketch that one could deem politically topical. Enter Weekend Update to balance the scales. While anchors Michael Che and Colin Jost laid off Trump a little (Jost took a few jabs at Trump's now infamous paper towel pitching, but it was relatively tame compared to the usual raking-through-the-coals Trump receives during the segment), the duo went heavy into gun control laws, each with their own impassioned and comedic rant regarding the somehow heated issue.

Another week worth watching. Good on Gal Gadot and musical guest Sam Smith to provide a steady sophomore episode of the season! Up next week, Kumail Nanjiani hosts with musical guest P!nk!
Be sure to catch Saturday Night Live airing Saturdays at 11.30 et/pt on Global, and watch the latest episodes online here on GlobalTV.com!