Ex-SNL Writer John Mulaney Tapped to Host
Ex-SNL Writer John Mulaney Tapped to Host
This week as host: former Saturday Night Live staff writer John Mulaney!
Mulaney isn't the first former writer to host – heck, he's not the first former writer to host this season (Larry David grabbed that title up real quick). Heck, it's not even Mulaney's first appearance this season (he showed up during the Stefon part of the Bill Hader episode, remember?)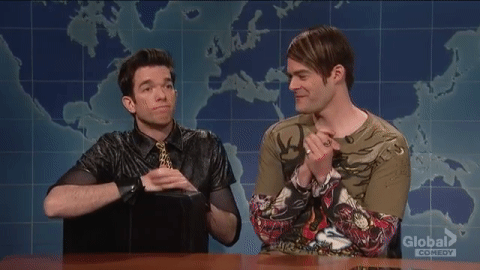 That's a character he co-created with Hader, by the way. Mulaney was a writer on the show from 2008 to 2013. He'd occasionally appear on the show, too. Sometimes as an extra but usually as himself on Weekend Update for a segment called "I Love It", wherein Mulaney would make all the bad news sound really good.

Other than Saturday Night Live, Mulaney has had a lucrative stand-up career, a ton of guest spots all over the sitcom market, and a short lived FOX series in 2014 (which was unfortunately plagued with negative reviews for being a significantly worse version of Seinfeld). Mulaney also had a short run on Broadway with The Oh, Hello Show, which he co-created with his buddy Nick Kroll – it features the both of them as elderly gentlemen (recurring characters of theirs dating back to Kroll Show) being generally crotchety.
It's Mulaney's first time hosting SNL, but it's clear that he's not a newbie to the show – he has more experience on the show than many of the current cast members. Except when it comes to being on camera – he's only done that a handful of times. It's an interesting choice to have Mulaney host the show – it's not for the ratings (he's no Kevin Hart), it's not because he's a seasoned sketch performer (he's no Will Ferrell), and he doesn't have a big project to plug (Chadwick Boseman, etc etc.). But he is a member of the tight-knit SNL family. And families like reunions – so hope for some old familiar faces to appear on your screen. But since he has been a writer for the show, expect some top-quality classic sketch comedy!
Joining Mulaney, as musical guest, is Jack White, who is well known for delivering a face-melting rock performance. So be sure to catch these two guests on Saturday Night Live airing Saturday, April 14 at 11.30 et/8.30 pt on Global. Catch up on full SNL skits and episodes online the day after broadcast on GlobalTV.com/SaturdayNightLive.