Ben Stiller, Scarlett Johansson, Stormy Daniels and so many stars crash SNL
Ben Stiller, Scarlett Johansson, Stormy Daniels and so many stars crash SNL
Do you like cameos? If so, then this week's Saturday Night Live is for you, with cameos from Ben Stiller, Jimmy Fallon, Scarlett Johansson, Martin Short and Stormy Daniels!
Wow, okay, where to begin with this week? It started off hard, opening on Ben Stiller and Alec Baldwin, reprising their roles as Michael Cohen and President Donald Trump, respectively. As Cohen tries to group-call Rudy Giuliani (eventually played by Kate McKinnon), he cycles through Trump's inner circle, including a desperate and afraid Melania Trump (Cecily Strong), a closeted Mike Pence (Beck Bennet), Ivanka Trump and Jared Kushner (Scarlett Johansson and Jimmy Fallon), and finally landing on Stormy Daniels (Miss Daniels, as herself).

It is probably the most cameo-crammed sketch outside of their anniversary specials. And it really worked – it wasn't just for cheap applause or hashtags. Johansson always plays Ivanka, Fallon is the only one to touch Kushner so far, Stiller is reprising his role from the last episode, it seems like Baldwin is in more episodes than not, and Stormy Daniels? Well, that's just a personal shot at Trump to get him riled up. Wait until he "hears about" this (you know he watched it live, though). Just wait, until the tweets start rolling out.
Oh, and Martin Short showed up for that sketch as well, as Doctor Harold Bornstein – Trump's former, kooky doctor.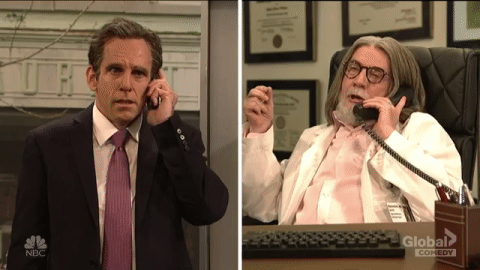 It's almost a shame that the cold open sketch was so engaging – a veritable chat-roulette of Saturday Night Live's inner circle (save for Daniels, each cameo was either a former cast member, is dating a cast member, or is Alec Baldwin – who is practically a cast member at this point). It's a shame because it over shadowed a hilarious line of sketches featuring the incredibly funny and talented Donald Glover. His comedic style was all over the sketches – from the bizarrely endearing FRIENDOS sketch to the sketch where Glover admits a whole lot of unusual acts to the wrong woman because he's wearing dark sunglasses, it's easy to see he was very present in the writing process.
And then there was the A Quiet Place parody.

What a perfect combination pop-culture/political sketch. Not since the Kellyanne Conway/
It
sketch has a parody sketch landed so well. It captures the film and the common reaction to the absurd proclamations Kanye West has been spewing over the past week.
And yes, Donald Glover did have to refer to himself in third person, telling the audience "We have Childish Gambino here" during his monologue. So there's also that.
Saturday Night Live returns live May 12 with host Amy Schumer and musical guest Kacey Musgraves. Be sure to catch Saturday Night Live airing Saturdays at 11.30 et/8.30 pt on Global, and watch the latest episodes online here on GlobalTV.com/SaturdayNightLive!