Adam Sandler Returns to Host SNL After 24 Years
Adam Sandler Returns to Host SNL After 24 Years
If Adam Sandler were still on Saturday Night Live, this would be one of those episodes that you would be told to set your VCRs for. Adam Sandler is coming back to host SNL, with musical guest Shawn Mendez.
Among the best of hosts for SNL are the ones who did it week in, week out for years already. Not the hosting part, but the being on SNL, live, in everyone's living room, every Saturday night part. So when a legacy cast member comes on to host the show, people's tummies get butterfly-y. Sandler is no exception – in fact, this has been a quarter century in waiting. Sandler has been a graduate of Saturday Night Live, without having returned to host, for 24 years. It's been a long time coming, but finally Opera Man has the chance to sing again.
This certainly isn't the first time since his last show as a cast member that Sandler has appeared on SNL. He appeared as recently as the 40th Anniversary Special, teaming up with Andy Samberg to do what they both do best: inane meta songs.
So what will Sandler bring? Well, hopefully some of his classic characters:
News
Opera Man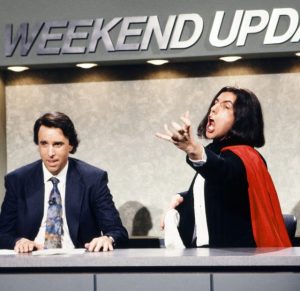 Operaman was everyone's favourite newsman in the early 1990s. Forget Larry King, Operaman would show up on Weekend Update to sing the week's headlines – in opera style, of course. And boy, would there be some doozies for Operaman to sing these days.
News
Canteen Boy
Look. The logistics behind this one are there: Adam Sandler will be hosting, and Alec Baldwin will probably be on the show, too. And even if he isn't he's got to be a phonecall away at this point. So why not go all out and bring back Canteen Boy?
Yeah, we all know why, but couldn't we just pretend it's not a horribly inappropriate setup for five minutes? No? Yeah, that's probably for the best anyway.
News
Himself, singing some goofy song
There's a long history of musical performance on SNL. Sure, there's the weekly guests who happen to be the biggest and most talented musicians in America. But there's also the cast members who know how to play guitar, sort of, and make funny lyrics while doing it.
Before Andy Samberg, there was Jimmy Fallon. And before Jimmy Fallon, there was Adam Sandler. Lunchlady Land, Red Hooded Sweatshirt and of course, his big hit single, The Hanukkah song. Sandler loves doing the whole song and joke thing – he's been up to it a lot recently, when he does his stand-up comedy. So if he's got any sway with Lorne (he does), he'll show off something new this weekend.
There are only three episodes of Saturday Night Live left in season 44. It's fitting that one of the show's biggest stars begins the end with a huge banger of a show.
Don't miss Adam Sandler on Saturday Night Live, with musical guest Shawn Mendez. Watch Saturday Night Live this Saturday May 4 11.30 et/8.30 pt on Global. Don't miss it! And be sure to catch more new episodes of Saturday Night Live airing Saturdays at 11.30 et/8.30 pt on Global, and watch the latest episodes online here on GlobalTV.com!