Zeke Smith Reflects on His Personal Journey – Survivor 34 Exit Interview
Zeke Smith Reflects on His Personal Journey – Survivor 34 Exit Interview
By John Powell – GlobalTV.com
It was one of the most callous and uplifting moments ever on Survivor.
When Jeff Varner thoughtlessly outed fellow player Zeke Smith as being transgender at Tribal Council, the malicious move was greeted with scorn, anger and contempt by the other castaways and host/producer Jeff Probst.
Despite being the target of a cruel attack, Zeke didn't feed into the negativity. Instead, he rose above the hate and gave a remarkably dignified response.

"I think a lot of it comes from the fact that I took my time to collect myself. That wasn't even intentional. I was knocked for a loop that I sorted checked out for a little bit. When I was able to check back in I saw there was a lot of yelling and anger and chaos. I just needed everyone to calm down so I tried to speak really calmly," said Zeke remembering that volatile Tribal Council.
Before Tribal Council that day, Zeke was inspired by the challenge word "metamorphosis" and had been thinking a lot about his own personal journey on and off the show.

RELATED: Jeff Varner Says "I'm Profoundly Sorry" in Post Tribal Exit Interview | Survivor Season 34: Game Changers
"I had actually been thinking about that because I was in a very reflective place. I knew I was making the merge on my second consecutive season as an all-star and I just thought about how far I had come as a person and that just seemed like the thing to share. I had felt like I had really changed. In the end, you want to react in the way that makes your mother proud," he said of his confrontation with Varner.
Zeke has had a lot of time to reflect not only on Varner's actions but also on how to move forward in a positive way.
"I think with regards to Varner, we should embrace those who have expressed the sincere regret like he has. It is how we encourage people to change and turn what might be an adversary into an ally," he concluded.
The supportive reaction from both the media and fans, people around the world pleasantly surprised Zeke who had been emotionally preparing himself to perhaps be victimized all over again.
"For me, I have spent nine months getting ready for the world to see that night and I was prepared for the worst and got the best. I was really amazed and touched at the outpouring of love I received from people all over the world. I feel really humbled and still trying to make sense of it. I had imagined a lot of sensationalistic headlines and people dredging up pictures of my past. I was prepared to be re-victimized but the story was so respectfully reported that I hope it marks a change in how trans people are treated in the media," said Zeke as he explained how he had thought about the possibility of his life becoming an issue on the show.
John Powell: Were you prepared for the news possibly coming to light considering Survivor is such a massive platform?
Zeke Smith: "Sure. I didn't go on national television unprepared from my being trans to be part of my Survivor story. I didn't want to lead with it and then I kinda just got wrapped up in playing Survivor and I didn't think much about it. Before I went out I knew it was something that could come up not on my terms. I didn't ever imagine though it would have come out exactly the way it did but I was always prepared to be part of my story."

RELATED: Play the Survivor Fantasy Tribe Pool | Season 34: Game Changers
John Powell: I remember back to Millennials vs. Gen X in which your father was part of the loved ones visit and he said how you were his hero. Now, that statement seems even more powerful and heart-felt. Have your loved ones always been so supportive?
Zeke Smith: "My parents have had my back my entire life. I have always sorta stuck out in my family. I love to perform and I am really excitable and the rest of my family is sort of quiet and reserved. My parents have always encouraged me to get on stage and perform. I did a lot of theatre as a kid and always marched to the beat of my own drummer and my parents have never held me back."
John Powell: Now as a fan of the series here you are playing the game with some familiar faces. What was that like and did it change the way you played the game?
Zeke Smith: "It was very exciting for me as a super fan. I geeked out pretty hard. The interesting difference between my rookie season and Game Changers is that in my season a lot more people knew about Survivor. People were big fans and approached the game as super fans who wanted to play hard with some sportsmanship which is so radically different from Game Changers where people took things a lot more personally. That was the mental shift I had to make and I don't think I made it that effectively. I think I continued to play like I did on Millennials vs. Gen X and I wasn't able to adequately adapt to the Game Changers style of play."
John Powell: You have been able to sit back and watch the episodes. Do you regret what went down with yourself and Andrea [Boehlke]?


RELATED: Enter for a Chance to Win Tickets to the Survivor: Game Changers Finale in L.A.
Zeke Smith: "My tightest ally was Sarah [Lacina] and we both agreed that we no longer felt comfortable working with Cirie [Fields] and Andrea so we made the decision collectively to go after Cirie and Andrea. Andrea was a sympathetic figure and a physical threat. I think at the time she was playing harder than Cirie. I was fighting an uphill battle after the Varner incident. I had this compelling story and people were really concerned about sitting next to me at the end. I didn't know how much longer I had in the game and if people wanted to make moves, I wanted to make moves with them because that is why I love Survivor. I love people who play and I wanted to play while I still had a shot."
John Powell: So, your sympathetic moment had an adverse effect on the tribal politics?
Zeke Smith: "Yeah, it wasn't a secret. You saw it in the Hali vote people would say it to my face…You are the decoy vote because nobody wants to sit next to you at the end. It was just abundantly clear when people stopped coming to me for strategic conversations. I really had to chase people down to talk strategy and that's the biggest indicator you are in trouble on Survivor."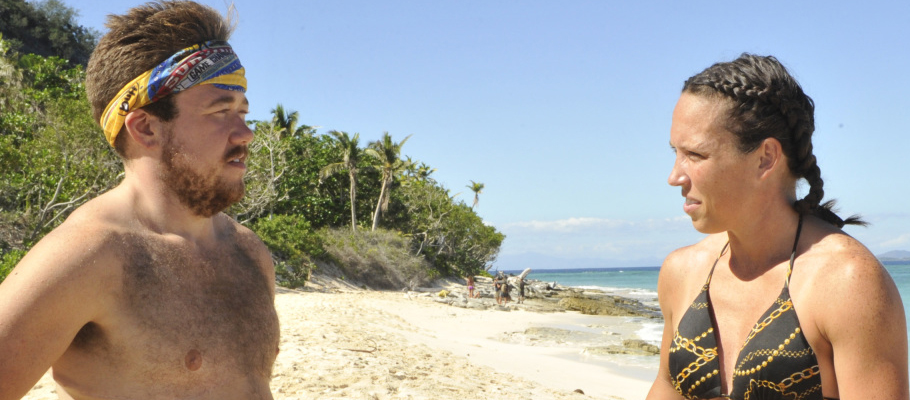 John Powell: What did you think about Michaela's reaction to you being voted out? She seemed to take it really, really hard.
Zeke Smith: "I was really touched. I think with Michaela [Bradshaw] and I we shared this insane journey of playing back to back together. We both got on a plane thinking we were going to be gone for six weeks and ended up being gone for about four months. Neither of us knew what our lives were going to look like when we got home. We didn't really have a chance to get our ducks in a row before we went back out. We had been through a lot and we have been through it together. It was nice to have someone to share that with."
John Powell: Would you ever play again Zeke?
Zeke Smith: "I don't know. I have been doing Survivor for quite a long time and I am excited to take on some new projects. A few years down the line? Who can say?
WATCH: Survivor Episode 9: "Reinventing How This Game Is Played" | Season 34: Game Changers
Next time on Survivor…

Watch Survivor: Game Changers Wednesdays at 8 et/pt on Global.