Tony Vlachos Credits Sandra's "Magical" Gameplay – Survivor 34 Exit Interview
Tony Vlachos Credits Sandra's "Magical" Gameplay – Survivor 34 Exit Interview
By John Powell – GlobalTV
If Kass McQuillen is the 'Survivor Queen of Chaos' than Tony Vlachos is the 'King of Pandemonium'. Perhaps the most forceful and unruly players the series has ever seen, the winner of Survivor: Cagayan (Brawn vs. Brains vs. Beauty) tore up the island again on Survivor: Game Changers but his hopes of another victory were dashed by another returning winner: Sandra Diaz-Twine.
RELATED: Survivor 34 – Ciera Eastin Exit Interview | Survivor: Game Changers
At Tribal Council, Sandra rubbed salt in Tony's wounds.

"That is what you get for plotting against me. That is what you get and the Queen stays the Queen. That is what you get, take your ass home," she heckled as Tony's torch was snuffed.
Despite the insults thrown his way, Tony bears no grudge towards Sandra.
"It is an emotional game and it is nothing personal. What she said sounded kinda mean but she is very competitive. She talks trash. If you got me, you are entitled to talk trash right there and then. I didn't take it personally at all," he said looking back.
Tony also confessed that part of the reason why he isn't bitter is he would have done the same thing himself because of their rivalry on the island.
RELATED: Play the Survivor: Game Changers Fantasy Tribe Pool | Survivor 34 Fantasy Pool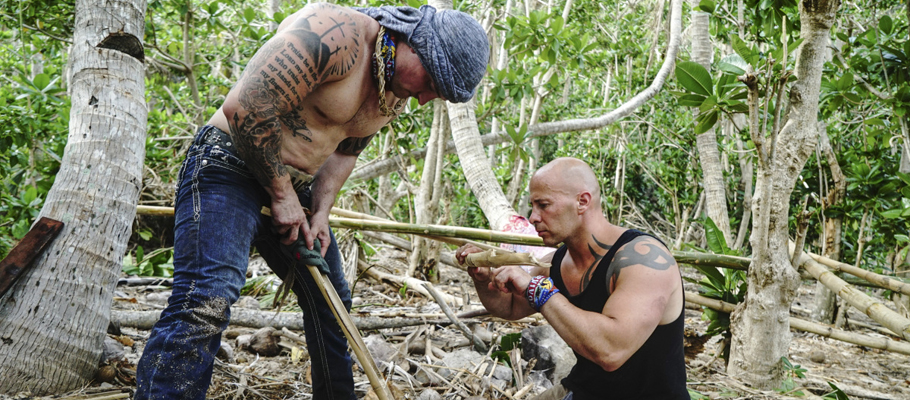 "If it was the other way around, if I would have gotten the best of her and she was walking out, I would have said something snarky myself because at that moment you are like…I did it! Some of that was on display when I was on [Survivor:] Cagayan," he said as he spoke to GlobalTV.com about his second chance to play Survivor.
John Powell: We saw you having a lot of fun out there. What some fans want to know is whether you were there to win or to have a good time…or both?
Tony Vlachos: "It was no different than [Survivor:] Cagayan. I went out there and tried to win the game. It was the only reason I played again but while doing that I wanted to have a great time. That is who I am as a person. I make the best out of situations. I am a jokester. I am a prankster. I go out there and I have fun. I didn't want to veer off that because it would send mixed signals to the other players. They know how I play. They know I go around and I act crazy. I do  idiotic things."
John Powell: Sandra would seem like biggest target out there. She is a two-time winner and the longer she is part of the game, the more trouble she can cause. Why wasn't she targeted over you?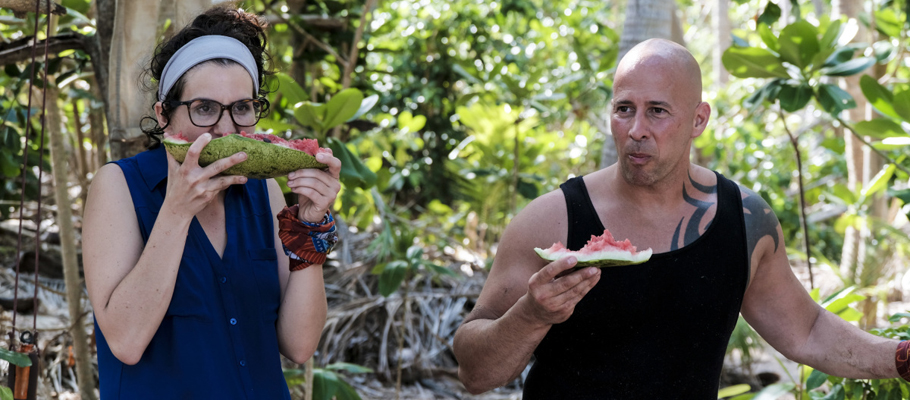 Tony Vlachos: "Well, everything was going well. I had an alliance with Sandra. I had an alliance with Aubry [Bracco], Malcolm [Freberg] and Caleb [Reynolds]. We all agreed and knew we could use each other to protect each other later on after we merge. At the time we had Jeff [Varner], Troyzan [Robertson], Hali [Ford] and those three people are not threatening enough to offer up on the chopping block but I could offer Sandra. I could use Sandra to get myself out of a jam but you cannot do that with Jeff, Troyzan and Hali, because nobody cares about them. We can get those people out whenever we want to. They are not a threat. We had a good thing going until I heard Sandra and Troyzan throwing out my name."
John Powell: As a former winner you took a big risk playing for a second time. Did your Survivor legacy weigh on your mind at any time?
Tony Vlachos: "Before going into it, of course you are thinking about all of that stuff. Oh my, God. I have to live up to this or that. I have to make sure I am always on point and that I don't get blindsided. I cannot look stupid out there. You hit the beach and that all goes out the window. (Laughs) You don't care about any of that stuff. All you think about is playing the game."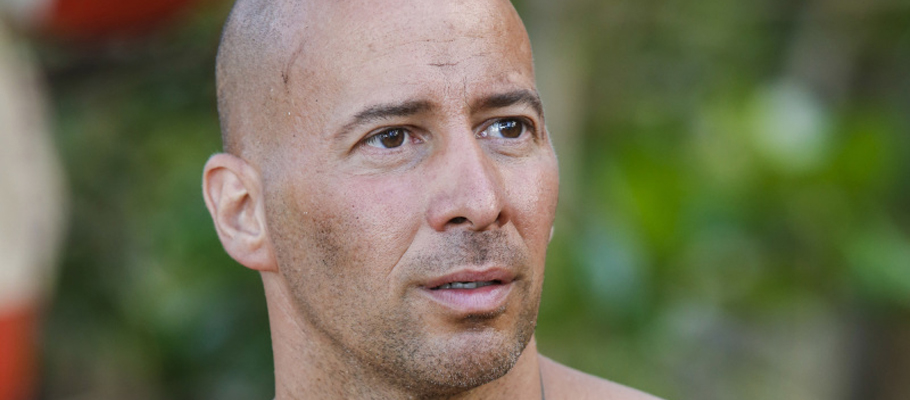 John Powell: Is there anything that you wish they had showed more of or included in your edit?
Tony Vlachos: "They could have showed more of the scrambling I was doing to try and get my tribe to turn on Sandra after I knew she had turned on me."
John Powell: You are known for your mad schemes and pushing the boundaries of the game. Were there any plans we didn't get to see?
Tony Vlachos: (Laughs) "Well, my bunker. It was a well though-out bunker. I knew I needed some kind of cover. I knew I needed to cover myself in branches and leaves but I couldn't do that while I was hiding. What I did was put the debris by the water where I wanted to hide. It put it there days in advance so that the players could see there is debris there and they would think nothing of it. Nothing would look out of place while I was hiding there. The bunker worked perfectly but I didn't get a chance to use it." (Laughs)
John Powell: What surprised you the most about playing the second time around?
Tony Vlachos: "What surprised me the most is how powerful Sandra was. She made people make decisions against their will. A lot of people didn't want to vote for me. You could see it in their faces. They were regretting getting rid of another strong player. Malcolm wanted me there. Caleb wanted me there. Aubry wanted me there. Sandra still had the power to make them go against their own will. I was like…This is why she has won twice. That was magical, man. That was great gameplay."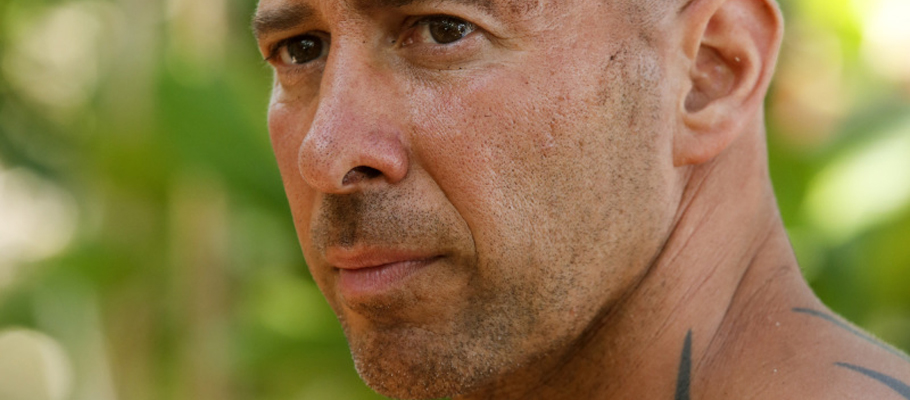 John Powell: Based on your time on the tribe, which player do you think is being underestimated by the rest?
Tony Vlachos: "I would say Sandra. A lot of people don't give Sandra credit. People say she won the second time because she was an under the radar player. That is not true. She calls the shots without you knowing. She is involved in every single vote. Everyone gravitates to her. It is crazy. I witnessed it first-hand. I was a victim of it."
John Powell: After all is said and done, would you play again if you had the chance?
Tony Vlachos: "Right now, I would not. I would definitely decline but who knows two months from now. You just don't know. Now, it is all fresh in my mind. I just watched myself get snuffed last night. It opened up the wound again."
WATCH: Survivor 34 Season Premiere | Survivor: Game Changers – Episode 1
READER ALERT: Don't forget to grab your friends and family to play the Survivor: Game Changers Fantasy Tribe pool before episode 2. Find out who among you can outwit, outplay and outlast to claim the title and bragging rights of Survivor: Game Changers Fantasy Tribe Champion!
Watch Survivor: Game Changers Wednesdays at 8 et/pt on Global.

Next time on Survivor…