Live Feed Spoilers: Big Brother Zombie ponders their odds of resurrection
Live Feed Spoilers: Big Brother Zombie ponders their odds of resurrection
By John Powell – GlobalTV.com
As Thursday's live show approaches bringing with it the last of the resurrection competitions one of the Big Brother zombies is hoping for the best but preparing for the worst.
Either Zombie Cameron or Zombie Jared will be returning to the house and the game this week. Both of their fates are in Cameron's hands as he has won the first three competitions. Cameron can now choose to play the final puzzle himself or force Jared to do so. Whomever wins that challenge will return to the house while the loser will leave the game for good.
Both Jared and Cameron have been shoring up support in the house all weekend long.
Jared spoke to Felicia on the patio about his chances.
"I keep thinking about a path to the end. The final four or the final five. I can see a path," said Felicia.
"It is there. There are just a few obstacles. There isn't even a lot. Just a few obstacles," said Jared.
"Two or three will completely shift the dynamic," observed Felicia.
"This week is my biggest one. This feeling sucks because I have spent so many weeks on the other side of this. The only similar feeling is being on the block. If I was on the block I would feel better," said Jared. "This position sucks because I have to wait for someone to win or lose."
"It is out of your hands as far as your control," said Felicia.
Jared explained that Cameron already said he will play in the final puzzle or at least he wants everyone to think so.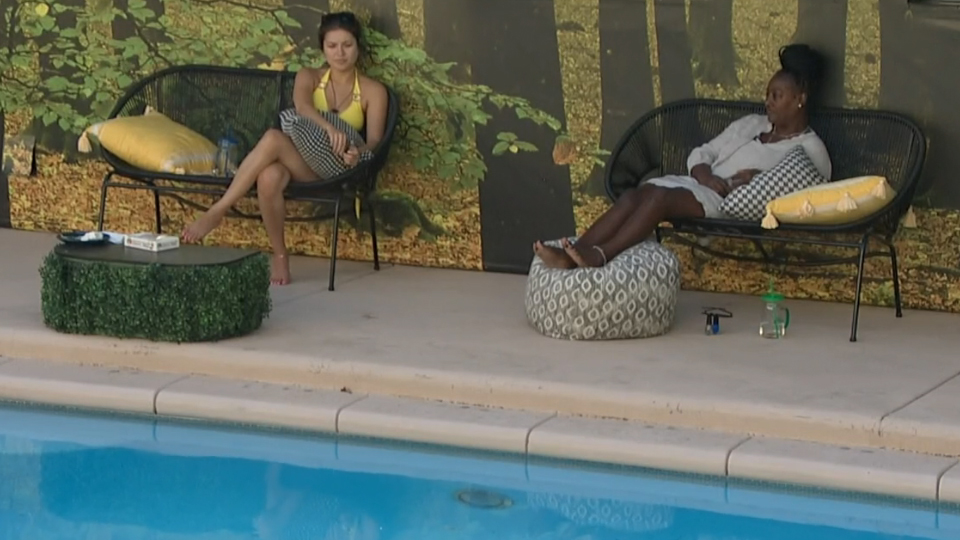 When Jared left to go back inside Felicia spoke to America.
"I think people are banking on Cameron winning this week but there is a possibility that he won't. The competition won't be easy," said America.
"Whatever is going to happen is going to happen. I told Jared there is a sense in the house that Cameron is going to win but that can actually work to his advantage…The jawbreaker is going to be when HE goes and YOU stay. Watch the tables flip and everyone will be in your face," said Felicia.
"That is what I told him. Everyone is buddy-buddy with him this week. Where was that last week?" smiled America.
"I think this whole thing has been good for the both of them. This has caused both of them to sit back and reflect on how they played their games both good and bad. Both of them have learned some lessons," Felicia said of Cameron and Jared.
Check back for all the latest Big Brother news and interviews.
READER ALERT: This week there is a special Big Brother schedule. The show will air Sunday at 10:00 PM ET but there will be no Wednesday episode. The Thursday episode will air at 9:00 PM ET on Global TV.
Live Feed Spoilers: Loss after loss causes Big Brother Zombie to break down