Kellyn thankful for inspirational Survivor journey
Kellyn thankful for inspirational Survivor journey
John Powell – GobalTV.com
This season of Survivor has had plenty of surprises and Kellyn Bechtold was one of them. She began the game as a fish out of water. She was awkward until she found her footing in the game. Slowly but surely, she became one of the biggest sharks circling the island. A friendly shark but a shark nonetheless.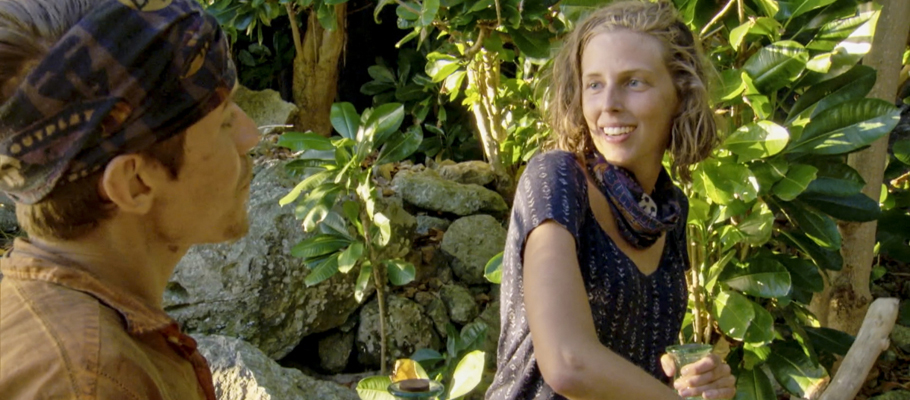 "We (the players) get to talk to some of the people who work on the show before we go out there and I remember saying like….'I am so nervous. I am going to be the first one out because I am such a weakling. I am not going to be able to keep up with the challenges. What if I don't get along with people?' Mostly, I was worried about being weak and not being able to keep up with everyone. I underestimated myself and I wonder what I would have done if I had started the game thinking I would be good at it instead of being scared I was going to mess it up?" wondered Kellyn remembering how she began her adventure in Fiji.
Viewers watched the vulnerable career counselor navigate her way through the game just as she had done in her own life making crucial changes along the way improving her social and strategic games to the point she was one of the biggest threats in the game. Many viewers related to Kellyn's personal journey and for that she is very grateful.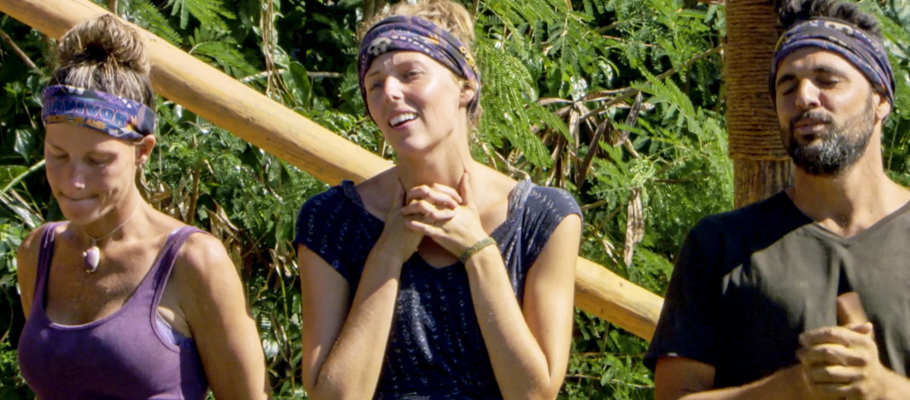 "I have had quite a few women reach out to me on social media just saying I really, really relate to you. Also, out on the island, myself and others connected on being real. Life is hard. Making decisions that are scary can take a lot of courage. I do get the sense that some people have seen my journey and thought about what kind of changes they would like to make in their lives. It is okay. It doesn't have to go perfectly. Obviously my journey didn't go perfectly. (Laughs) I didn't win the million dollars on Survivor but I learned a hell of a lot about myself and have those memories for a lifetime. You just have to be willing to take the risk and know it may not be perfect but it sure will be a better place than you were before. It is such an honour that anyone would feel inspired or touched by my story," she said as we returned to Day 35 and that ridiculous Tribal Council that saw Kellyn force a tie vote.
John Powell: You were voted out last night but you must take some pride in pushing that tie vote.
Kellyn Bechtold: "I was going into Tribal but I didn't realize they were splitting the vote. I was 99 percent sure it was me going home. I didn't know they were splitting the vote until Donathan started to get so feisty and emotional and then they all started talking pretty openly behind me. I could hear them. I had talked to Donathan about putting votes on Dom so he knew what it would feel like to get votes. I figured out what has happening and I was like…If I flip and vote for Donathan I can at least tie it up and then who knows what would happen? I knew it would still be me but it was fun to mix things up and see the people in power sweat just a little bit."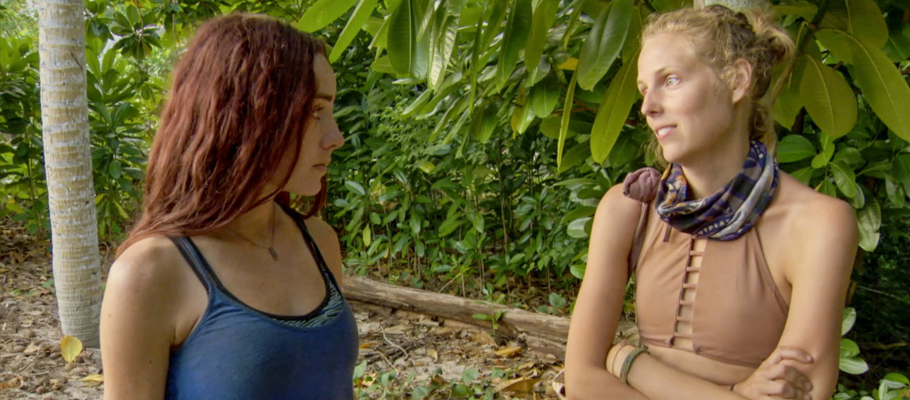 John Powell: On the episode we saw Donathan blow up his game and scramble like a madman. I assume you also tried to swing things your way?
Kellyn Bechtold: "It was really a strange couple of last days for me because I had built some pretty good relationships that aren't shown. Sebastian and Wendell had both come to me separately to say…I care about you but your time is up and you have to go. My angle was that I already lost Laurel obviously with the Chelsea vote. She had proven that she was with the boys. She didn't want to entertain anything with me so my scrambling was trying to convince Sebastian that the boys won't take him to the end. That didn't work. (Laughs) Then, I spent most of my time talking to Dom going through all of the potential jury votes and pointing out how he couldn't beat Wendell. Then, I tried to talk to Wendell about how he couldn't beat Dom. I had no move unless Dom and Wendell would split up because everyone else was just doing what they said. I just couldn't get the numbers. I needed those two boys to be scared of each other and apparently they were more scared of me than each other."
John Powell: We have seen the mutinies against Dom and Wendell fail time and time again. Why hasn't anyone executed a successful coup against them?
Kellyn Bechtold: "Some of it is they have a ton of ammunition. It was very well known that there was at least one idol between Dom and Wendell. It was rumoured there were two. Donathan and Laurel knew they had idols. I guess from their perspective they are trying not to get hit with stray bullets. Also, those boys were pretty convincing. I had also been working with them. I was believing them as well. It is amazing. They have Laurel thinking they are taking her to the end. They have Sebastian thinking they are taking him to the end. They have Angela thinking they are taking her to the end. Good on them for being exceptional Survivor players and having a unique situation where two extreme power players who have a boatload of idols and advantages in their pockets. It is like Walmart. I was trying to open my own little convenience store but things were just a lot easier for everyone to walk into that store instead." (Laughs)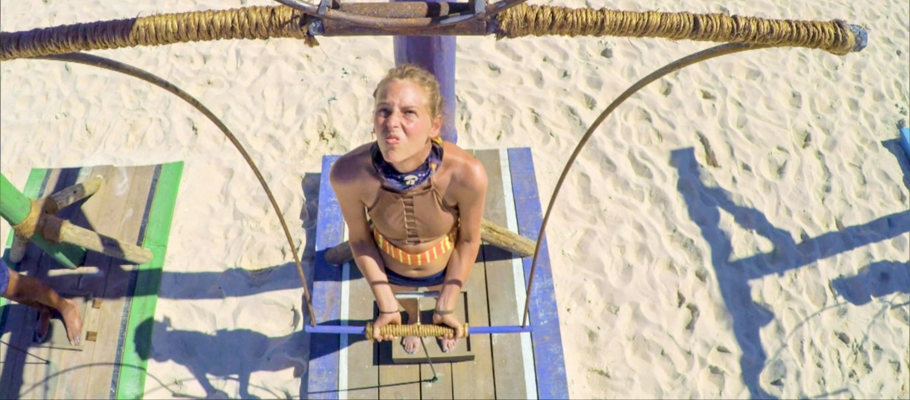 John Powell: Why didn't you ask Michael to show you the Hidden Immunity Idol and did you really ask him for photo ID to prove his age after the show finished filming?
Kellyn Bechtold: "I did not believe Michael. I didn't believe Michael any time during the game! (Laughs) I should have definitely asked Michael to see the idol. He did find it though. He just didn't find it for himself. The craziest thing and nobody has asked me about this, is how I found out about Michael's age. I didn't find out until I was home from Fiji. I got home and my brother said something about Michael being 18. My brother found out during the loved-ones visit. Michael never told me even at Ponderosa. I called Michael and told him I didn't believe him. Good on him. He is a good liar or maybe I am just gullible, I don't know." (Laughs)
John Powell: You have been able to check out all of the episodes back home. Is there any moment, whether it be strategy or just a happening out there that you wished they would have shown?
Next time on Survivor, the season 36 finale…

Kellyn Bechtold: "What I missed seeing since it was such a big part of my experience, was my relationships with people. Sebastian and I were super close. For awhile, Wendell and I were great friends. Chelsea and I had a friendship out there. Michael and I would talk for hours about strategy and the game. I miss seeing those bonds. Pre-merge, Bradley and I hung out all the time. I wish I could have seen more of my actual relationships.
Watch The finale of Survivor: Ghost Island next Wednesday at 8 et/pt on Global and check back for our Survivor: Ghost Island Awards and Season 36 Finale Predictions.
MORE SURVIVOR: