Survivor's Brendan Shapiro Says Fate was Revealed by Emotional Kellyn
Survivor's Brendan Shapiro Says Fate was Revealed by Emotional Kellyn
John Powell – GobalTV.com
Brendan Shapiro, the gym teacher from Virginia, was pretty sure his Survivor: Ghost Island game was over and there was nothing he could do about it.
Sharing a moment with Kellyn Bechtold just a few hours before Tribal Council, Brendan told her it would be his birthday the following day and his one wish would be to continue playing the game he loved for so many years.
"I could see Kellyn get emotional. She is a lovely person. She wears her heart on her sleeve. She got emotional but she turned away really fast in the hopes that I wouldn't see it. I became very concerned as that was all I needed to know. I went to Michael Yerger and described the experience and told him I really thought it was me now," Brendan told Global saying that Michael weighed all the information he had at Tribal Council before making that crucial decision to play his hidden immunity idol for… Stephanie Johnson.

Brendan is quick to give his Survivor rivals credit though for staying true to their alliance, their plan and voting him out. He respects that.
"They had a plan, they were super cohesive, they just decided five beats four and they stuck with that. It is such a contrast from the other beach. I would have given anything to be on that other beach. My Malolo friends must have thought it was Christmas morning over there as they were getting recruited to destroy a Naviti," laughed Brendan who takes comfort in the fact that his exit wasn't caused by any blunder on his part.
John Powell: This is déjà vu for me. Last week, Morgan Ricke was booted through no fault of her own, now it is the same thing with you this week. Does knowing you didn't leave because of a glaring mistake take some of the sting off the disappointment?
Brendan Shapiro: "First of all, let me say this about Morgan, Jacob [Derwin] and [Stephanie] Gonzalez for that matter, I like to think that this season is a bit of an aberration. You have four people who were pretty savvy and strong players that went out really early. Maybe it is just the new era of Survivor. I am feeling a little sorry for myself but also for Morgan, Jacob and Gonzalez as well because I think they are all really good players. You can make the same argument for all of us. We didn't make our bed but we have to lie in it."
RELATED: Morgan Ricke Dishes About her Survivor Experience and Being Haunted by Legacy Curse
John Powell: Although we didn't see it, did you and your alliance try to pull over someone, anyone, to your side?
Brendan Shapiro: "Yeah, we gave it our best shot. I give credit where credit is due. Those old Naviti five, they did a really good job of circling the wagons and I think that was spearheaded by Bradley [Kheihege] and Kellyn, they did a really good job of keeping people tight. As weird as this sounds, over the six days that we spent together, we had very few opportunities to get any of them one-on-one. It was tough."

John Powell: To me you were another Tom Westman, a down to earth, hard-working dad. Did you use those dad skills to your advantage (I know I would) and by the same token, it is hard not to be the dad when there are so many young people on your tribe?
Brendan Shapiro: "I was really worried when I saw the cast and saw how young everybody was. I was definitely going to stand out. I was 15 years older than the next oldest guy so that was a challenge. I did my best to minimize the "dad effect". I didn't want to be giving orders out there. It was my goal just to blend in and be one of the other people. I knew it was a lofty goal given how much older I was but credit goes to them too. There have been Survivor seasons where the older people being ostracized and made to feel like they were outcasts and I never got that feeling, not even for a second. They really went out of the way to make me feel like one of the gang. It was actually less of an issue than I would have expected. Only when we had to pick a leader I felt like I couldn't shrink away from it too much because it would seem conspicuous that this guy who is clearly older than everyone else would avoid a leadership role. Reluctantly, I took the role but I didn't want to make it look like I was grabbing it."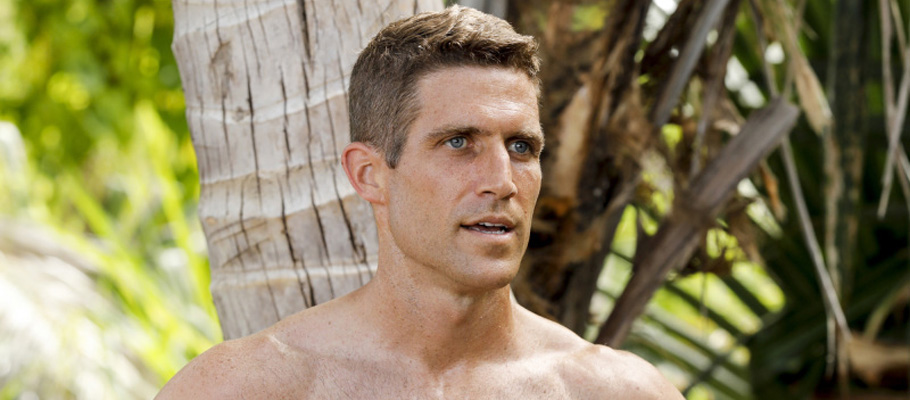 John Powell: Is there anything in your edit that you wish viewers would have seen more of?
Brendan Shapiro: "I think during those first six days I felt like I had made some pretty strong connections. I had an alliance with Libby [Vincek], Michael, Jenna [Bowman] and Stephanie but I also was in an alliance with Gonzalez, before she went and I was in an alliance with Laurel [Johnson], Donathan [Hurley] and James [Lim]. I felt like I had some real relationships there in which these people trusted and believed in me and vice versa. You don't really get that from watching the show. It would have been nice to see that and there is little stuff. Everyone wants to get credit for everything they did but the reality is none of us are going to get all the credit we want. There were things I was sure were going to make the edit like Gonzalez calling me the lion in front of the whole tribe at the end of the first episode. I thought there was no chance that wouldn't make it to air! I will say this; I have no right to complain for the way I was edited. I thought I was made to look like… who I am."

John Powell: I thought you played a pretty solid game. Would you play again and if so, what would you do differently, if anything?
Brendan Shapiro: "I would play again in a heartbeat! I loved every second of it and I feel like I have some unfinished business out there. As far as what I would do differently, it sounds simple but I would come in five pounds heavier. I got to a pretty rough spot out there; I was a little too lean. Having those extra pounds would have given me that little bit of extra energy that I needed."
Watch Survivor: Ghost Island Wednesdays at 8 et/pt on Global.
MORE SURVIVOR