Survivor's Carl Boudreaux on Being a Godfather and a Father Figure
Survivor's Carl Boudreaux on Being a Godfather and a Father Figure
John Powell – GlobalTV.com
Look out, Rob Mariano. Survivor: David vs. Goliath has a new Godfather and his name is Carl Boudreaux.
While he will admit he was outspoken about whom he wanted voted out and why, Carl is not sure why he was labeled the Godfather when others were just as adamant and just as vocal.
"We were playing the game. We would come up with an idea, sit down as an alliance and talk about it. We would strategize about it to see if it was the move we wanted to make. I wasn't the only one coming up with names to vote out. Others had their input as well. It just so happens that I got labeled as the Godfather because I was straight-forward with my ideas," guessed the truck driver from Texas.
Carl also figures there is another reason why he was branded with the moniker and that was a way for people to cleverly cast him and his gameplay in a negative light and make it easier for people to vote out a common enemy.

"Everybody has to go so you do what you have to do to get someone out of the game. Gabby [Pascuzzi] and whoever else came up with calling me the Godfather it worked for them because it helped turn others against me. It helped people believe I was dictating things," he said.
Carl lasted a month in the game and says even though that wasn't shown on the early episodes he hit the ground running developing bonds and strategies with others like Gabby and Christian Hubicki. Carl admits that he one big mistake though was how he orchestrated the last vote.
"If I could do anything differently I would have had say Nick [Wilson] or Davie [Rickenbacker] go up and talk to Gabby and Christian about the Alison [Raybould] vote instead of myself doing it. I knew that Alison and Gabby were pretty close. Ultimately, I thought we were closer. Obviously, that wasn't the case. If I had gotten Nick or Davie they might have felt a little more comfortable about the situation instead of hearing it from me," Carl said reviewing his game.
One thing he doesn't regret are the suds he enjoyed as part of the reward. According to him he wasn't the only one "getting hammered" and that everyone who went on the reward came back to camp "feeling good."
"You are all drinking alcohol and not eating very much. It doesn't take much alcohol to get you over the top," he laughed.

Although he didn't head to the island with a strategy to be a father figure to the other players, he did take Jessica Peet under his wing early on when they were been battered by the elements, which included them being evacuated due to a tropical cyclone.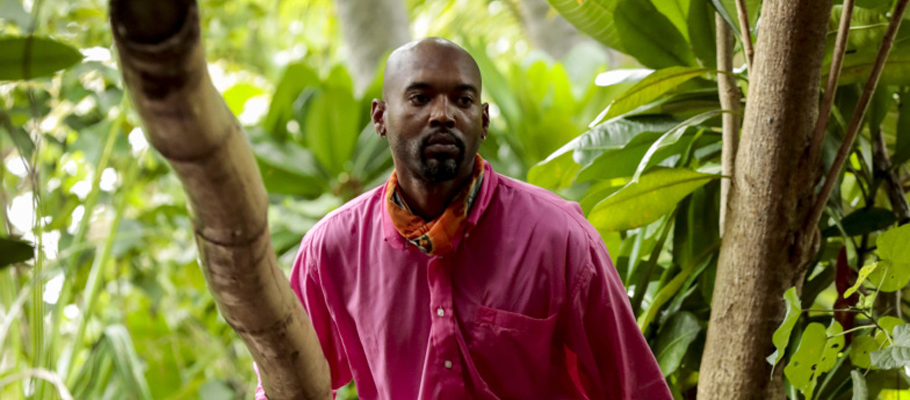 "That just came naturally, man. I have two daughters. I have a 22-year-old and a soon-to-be 18-year-old. Jessica fell right in-between them so it all came naturally to me. We were struggling hard in the beginning. Jessica didn't bring a whole lot of clothes to the island and we were constantly getting dumped on with rain. We were all so cold. It was just my fatherly instincts to do something to help her," he recalled.
RELATED:  Survivor's Jessica Peet Dishes on Her Relationship With Carl Boudreaux in Post-Tribal Exit Interview
Now a member of the jury and having seen all the episodes at home, who does Carl think is playing the best and worst games? Carl doesn't believe there is a worst player because everyone who is still out there has played a solid game in his eyes. As far as the best, he has a pick.
"As far as who is playing the best in my eyes, I would have to say probably Nick. At that point, Nick was cool with people on both sides. I would have to say Nick," he said.
Watch Survivor: David Vs Goliath Wednesdays at 8 et/pt on Global.
CATCH UP NOW:  Watch Survivor Season 37: David vs. Goliath Full Episodes Online
MORE SURVIVOR: