Survivor's Bradley Kleihege Says "Dom Got Me Before I Could Get Him"
Survivor's Bradley Kleihege Says "Dom Got Me Before I Could Get Him"
John Powell – GobalTV.com
It was a classic Survivor blindside. Backstabbed by his own alliance members Bradley Kleihege had his torch snuffed right before the merger. As a devoted fan of the series and the game, Bradley may be supremely disappointed by how his time on the island ended but he respects and appreciates Domenick Abbate's move.
"Dom deserves a lot of credit. He is a very great and a very savvy Survivor player," said Bradley of his ally turned rival.
"Dom is a player. He is smart enough to know that if I was only doing what you see on TV, just annoying people, he would have taken me to the end. I would be the perfect person to sit next to. I was loyal to him and I wasn't going to get any votes if I was really that obnoxious," Bradley continued. "The deeper reason was that Dom thought I was voting out all of the parents because I thought they were jury threats. He also figured if he didn't get me I was going to get him, which was probably true. I have to give him credit for that move. He maybe did it earlier than he had to but in Survivor if you have the chance to take out a threat you take advantage of the opportunity."
Bradley was clearly portrayed as one of the Survivor: Ghost Island villains and he has no issue with that at all. In fact, it was part of his strategy, his Survivor plan.

"I went in with the intention of playing the villain. That is the character I loved to watch. That is what I wanted to do going into it. My goal, besides wanting to win, was to be as entertaining as possible. As big fans of the show we like to hyper-analyze it from a winner's edit and who is playing the most strategic game but at the end of the day it is a television show and it needs to entertain us as we sit on the couch," he said revealing now only his tactics but how he thinks the tribal dynamics will evolve after the merger.
John Powell: With the merger coming up do you think the game will stay down tribal lines?
Bradley Kleihege: "I think there are a lot of cracks in the Naviti Alliance. The hard part for me is if I was still in the game and in Dom's position right now you really cannot afford to let too many Malolos keep going through the game because we have voted so many of them out by virtue of one of them surviving it would be a slam dunk case in front of the jury. Take Michael [Yerger] for instance, he is playing a fantastic game, he is a very savvy player. I would be concerned about Michael."
John Powell: Kellyn Bechtold was one of your closest allies in the game. Tells us about your relationship with her.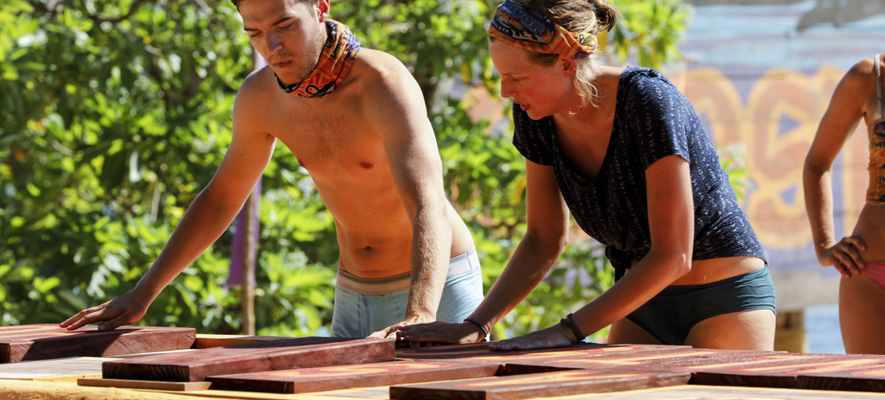 RELATED: Compete Against Your Friends & Family in the Survivor Fantasy Tribe Pool
Bradley Kleihege: "Kellyn is fantastic. Before the game started we were meeting with producers, they started to warm us up, how confessionals and stuff was going to go. They asked us a few questions like…Who sticks out to you? I didn't know her name but I said Kellyn looks like the most boring person in the entire world. She looks like a Sunday school teacher or a librarian. She was super quiet, very bookish, not very interesting. Boy, was I wrong! Kellyn is fantastic. I am so thankful I got to play the game with her. She was my closest ally in the game and she is a great friend outside of the game. Any time I would start to grump about anything or complain she would jab me in the ribs with her elbow at camp. That was part of our dynamic. She was constantly following behind me and try to make sure I was behaving."
John Powell: Many people come back from their Survivor experience having learned a lot about themselves. They have a new outlook on life. How have things been for you?
Bradley Kleihege: "Just a better understanding of what I want, what I like, what I want to do. I know on the show it is kinda funny as I talk about wanting to be a great lawyer and now I don't want to be a lawyer. When I went in pre-game I was telling people I was studying geography and I wanted to be a professor that is much more in tune with who I want to be and the life I want to have. It is funny since I was playing the lawyer bit up in confessionals. I am at a bit of a crossroads. I am graduating two weeks before the finale and there are a lot of big life choices. Survivor helped out so much. It was so fantastic to have the opportunity to step away from law school and find myself again."

Watch Survivor: Ghost Island Wednesdays at 8 et/pt on Global.
MORE SURVIVOR: