The Young and the Restless Stars Celebrate 45 Years!
The Young and the Restless Stars Celebrate 45 Years!
The Young and the Restless cast and crew came together to celebrate the show's 45th Anniversary on March 26 — and it was one tasty cake party! Here's what showrunner Mal Young, stars Peter Bergman, Tracy Bregman, Sharon Case, Christian LeBlanc, Christel Khalil, Bryton James and Kate Linder and returning faves David Lago, Kelly Kruger and Lauren Woodland had to say about Genoa City's major milestone.
RELATED: Celebrate 45 Years — Forever Young and Restless: Help Us Decide The 10 Most Memorable Moments
"45 years — this is fantastic," raved Peter Bergman (Jack), and as everyone posed for anniversary pics, onscreen sis Eileen Davidson (Ashley) had to agreed it was "pretty epic." Christel Khalil, who's basically grew up playing Genoa City's Lily, added that it was, "really cool to be part of such a legendary show."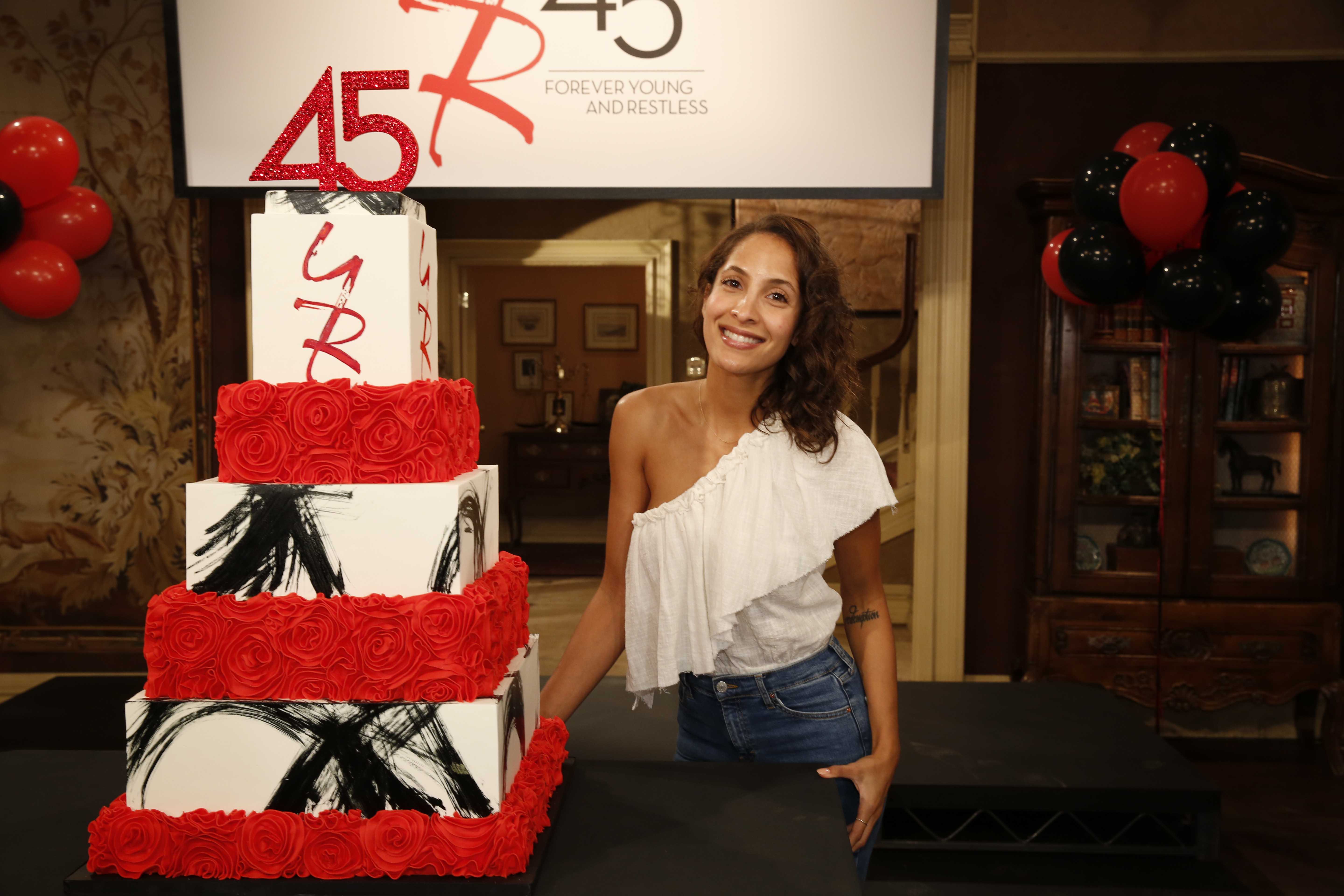 While not everyone partook in the sugar fix, that doesn't meant they didn't appreciate it. "Another cake is always great," smiled Bryton James (Devon). "It means we're still going strong. It's an honor to be part of the show that has this kind of legacy and these events remind me how lucky I am."
Y&R's Secret Sauce
When asked how The Young and the Restless has managed to last four and a half decades, everyone went straight to the vision of show creators William J. Bell and Lee Phillip Bell. "It was always a multigenerational story told against the backdrop of a family and real people," explained Christian LeBlanc (Michael). "You don't have to blow things up — although that's nice and has its place! But when you go there, it only works if there is a relationship between two human beings that matter to the audience."

Current showrunner Mal Young aims to carry on that tradition, along with another one. "I never stand still," he said. "That was Bill Bell's vision. He took soap and did something different with it. He was relevant. He told issue-driven stories."
"For a show 45-years-old, you've got to find a way of respecting the past — because everything comes from the DNA that he created — but then you also have to be thinking about how you can surprise the audience," Young continued. "We decided we would load up the episode before the 45th week with Sharon and Nick kissing, Victor going down the stairs and Dina exposing Jack's paternity. I just wanted to give you a punch in the face… and another one… and another one! If you're screaming at the TV, I'm doing my job properly."
As fans know, The Young and the Restless also paid homage to the past when Jack found Victor unconscious. "I wrote that scene specifically to echo the big scene where Victor stepped over Jack, and we shot it the exact same way," Young said. Of course, there was one big difference! "Jack realized he had to go back in. I felt the long-term viewers would respect that and have fun with it."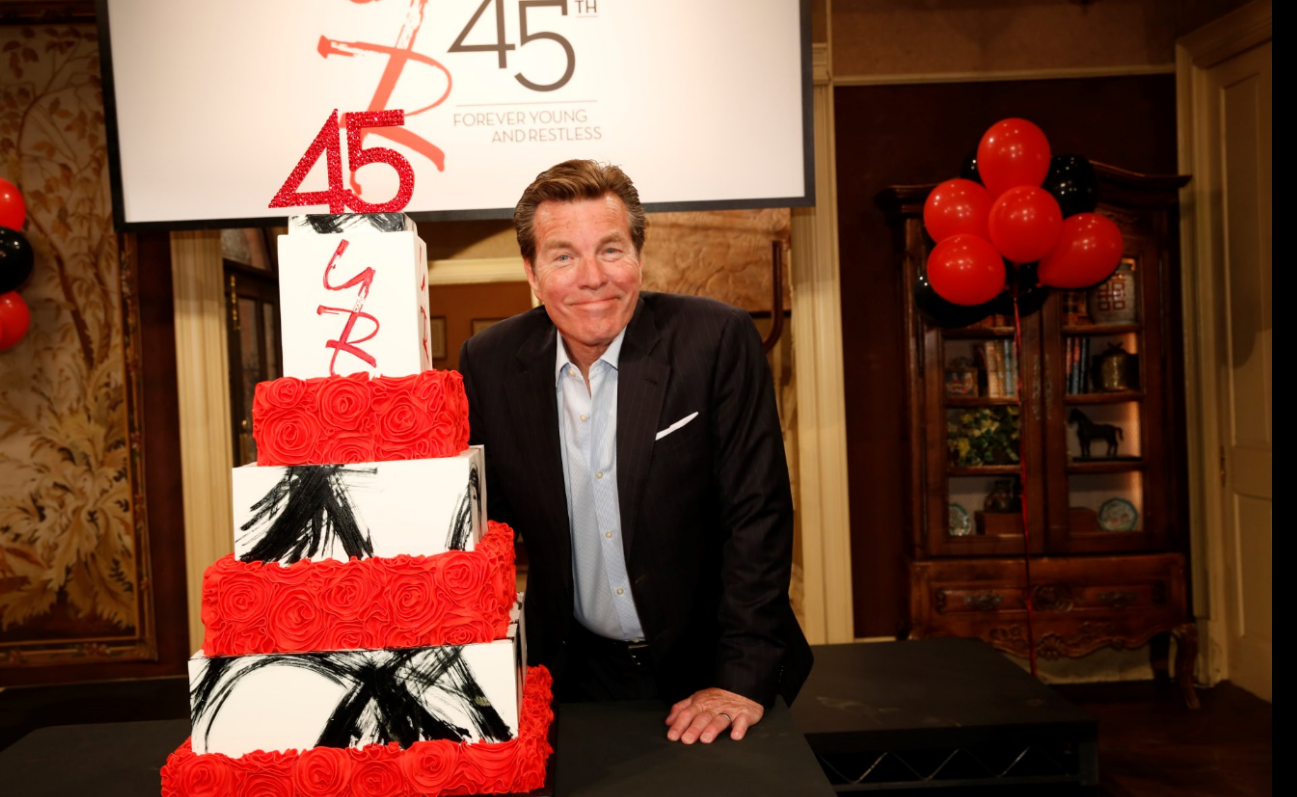 While everyone can agree The Young and the Restless' success comes down to story, relationships and respect for a long, ongoing history, there's also a team of legacy players who've brought Genoa City to life for decades. "Eric Braeden (Victor), Melody Thomas Scott (Nikki), Peter Bergman… these people, when they're on full blast, can hold their own with anyone in the business, not just soap opera," LeBlanc insisted, "They've got the goods. We have a core of players that knows what an ensemble is. And we had Jeanne Cooper as an 80-something-year-old pulling major storyline… and everyone loved every second of it! Not many shows can say that."
Speaking of Cooper, Kate Linder (Esther) made sure The Young and the Restless' late grande dame was at the cake party, in spirit. "I'm wearing a ring Jeanne gave me — I brought her with me," shared the veteran, who got emotional over a digital photo album that was running during the event. "I'm seeing all these pictures I've never seen before. It's wonderful and amazing. It brings tears to my eyes."
The Returns
For the big anniversary week, The Young and the Restless brought home classic characters of yesteryear. While it was great fun to see Jaime Lyn Bauer (Lorie Brooks), Janice Lynde (Leslie Brooks) and Meg Bennett (Julia Newman Martin) come home, for many, the highlight was the reunion of the Walnut Grove kids — it certainly was for Kelly Kruger (Mac), David Scott Lago (Raul) and Lauren Woodland (Brittany)!
"It was awesome," raved Woodland, who's been a practicing lawyer for 7 years, but would be thrilled to return to The Young and the Restless again. "To slip back into that imaginary world of Genoa City was like coming home. You walk out of the sets and it just feels right. I miss acting so much! And I feel very flattered I was remembered and asked to be part of it too, because it's a special anniversary."

Kruger, who teases we might see more of Mac after this, was floored by the experience. "Between the emotion of coming back and seeing everyone and the emotions of what actually happened in the scenes, I could not move on Saturday," she admitted with a laugh. "I was on my couch, physically exhausted. I've never had that experience in my life. I've worked on a bunch of different things, but there's nothing like the feeling of waking up in the morning to come to work here. It's the best, because of the people, the writing and everything."
Lago, who didn't want his return to end, was honored to be back… and touched by the ongoing support of The Young and the Restless fans. "The entire time I've been off the show, they've been there," he noted. "They drop us lines, say hello and wish us well. And now, because of the 45th anniversary, the amount of love and support has been insane. It's overwhelming."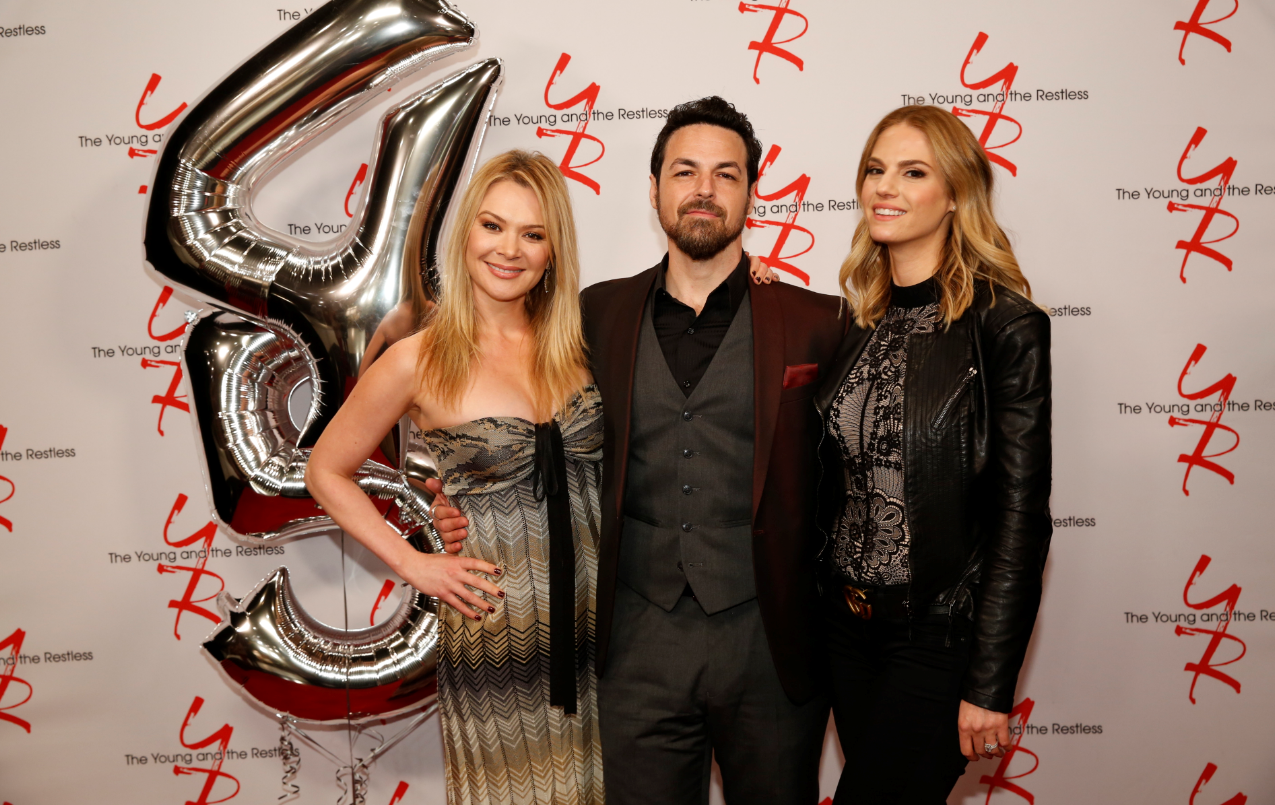 Fan Fare
While the stars were quick to honor their writers, producers, costars and crew, there was also a lot of love for the viewers who tune in daily.
"The audience was brought up with us, so we're all in this together," says Tracey Bregman (Lauren). "If it weren't for you, we would not be here and we wouldn't get the chance to do what we love to do — and let you watch what you love!"
Sharon Case (Sharon), for her part, already has her eye on the future. "In 5 quick years, we're at the 50th," she marveled. "I'm just thrilled for all of us. Thanks to the fans for sticking with us all these years. We hope to keep you with us for several more decades!"
"Just keep watching," chimed in onscreen daughter Camryn Grimes (Mariah). "It's your enthusiasm that keeps it alive. We just love you so much. There aren't any fans in the world like The Young and the Restless fans."
Amen!
What happens next on The Young And The Restless? Find out weekdays on GlobalTV.com or the Global Go app!