'The Late Show With Stephen Colbert' Begins Russia Week
'The Late Show With Stephen Colbert' Begins Russia Week
July 17th marks the beginning of Russia Week on The Late Show with Stephen Colbert!
Fans of The Late Show have been anticipating footage from his trip to Russia for weeks. News of his "top-secret" trip first broke from Colbert himself, in a reply to a tweet from President Donald Trump.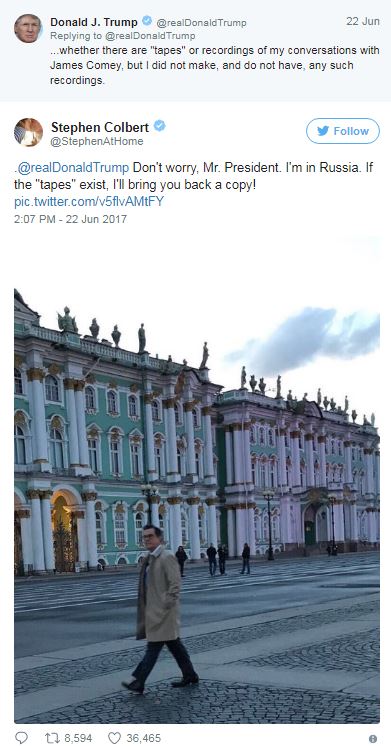 The tweet had people buzzing about what exactly Colbert was doing in Russia and what kind of footage he would reveal on his show. To add to the anticipation, his trip came at a time when Colbert was catching heat from an enraged monologue where he said some shocking comments about Russian President Vladamir Putin. The monologue ultimately led to an investigation by the Federal Communications Commission. Also, let's not forget that President Donald Trump was knee-deep in a feud with former FBI Director James Comey, who testified against him in an ongoing investigation into Trump's Russian ties. After weeks of editing, the footage is finally ready and will be broadcast throughout the week of July 17th to July 21st. Here are the guests who will be joining Colbert in the coming days.
Monday, July 17: Former Vice President Al Gore; actress Issa Rae; musical performance by Sufjan Stevens, Nico Muhly, Bryce Dessner & James McAlister
Tuesday, July 18: comedian Keegan-Michael Key; actor Cillian Murphy; stand-up comedy performance by Matteo Lane
Wednesday July 19th: James McAvoy; Kenneth Branagh
Thursday July 20th: Jason Bateman; musical performance by Muse
Friday July 21st:  Kenneth Branagh; Cara Delevingne
Colbert brings the jokes, but the Russians certainly weren't joking around with him. There was plenty of surveillance to keep an eye on what the late night talk show host was up to.

After his trip, Colbert released this mysterious teaser on his show…
Watch the Russia Week special on
The Late Show with Stephen Colbert
weeknights at 11:35 ET/PT!