SNL Recap: Bill Hader hosts; John Goodman and Fred Armisen Cameo
SNL Recap: Bill Hader hosts; John Goodman and Fred Armisen Cameo
Former Saturday Night Live cast member Bill Hader hosted this weekend, and welcomed a barrage of cameos including John Goodman, Fred Armisen and John Mulaney.
Bill Hader immediately broke out one of his old sketches from his eight years as a cast member. While doing the monologue, which was a bunch of obvious "did you knows" about the show, Hader ended it quickly to dive right into the next sketch: The Californians. The stage hands changed his wardrobe right there on stage and wham bam the next thing you know the sketch had started.

Hader was funny, as usual, and was given freedom to dominate the sketches he was in. It's funny seeing old cast members hosting the show – when they were in the cast, they a) weren't in almost every sketch, and b) weren't always given the main comedic role (well, with the exception of Will Ferrell, but he's an exception). The episode played more like a "Best of" Bill Hader special, because it was Bill, Bill, Bill all the way through.
The episode opened with the usual: typical Trump stuff, but sans Alec Baldwin this week. No, the big cameo was John Goodman, playing the recently dismissed Secretary of State Rex Tillerson. Along with Goodman cameoing, Fred Armisen also showed up to reprise his role as Michael Wolff – alongside Bill Hader's Anthony Scaramucci, which he first busted out on the Saturday Night Live Weekend Update Summer Edition.

Hader broke out some of his best impressions for the episode, too: besides Scaramucci, we got to see his spot-on Alan Alda, Clint Eastwood and over-the-top Al Pacino.
Now, everyone loves a good crack up. It's live TV, SNL is, and the performers are working with some pretty zany material. They break character and laugh frequently – and the live audience loves it. Hader couldn't get through his old-man-pushing-the-cast-across-the-stage-in-an-electric-whelchair routine without breaking.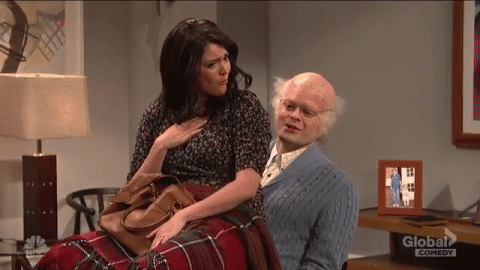 And, in case you were just looking for confirmation on something that you already knew: yes, Hader brought Stefon back to Weekend Update. His other recurring segments were a toss up (and it's still a little disappointing that "What Up With That?" didn't get its due) but it was more or less guaranteed that Stefon would show.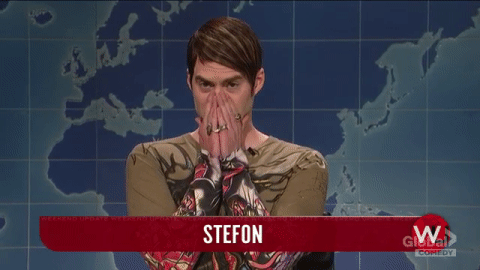 It was during the Stefon segment that John Mulaney (he's a former SNL writer, you know) had a walk-on cameo.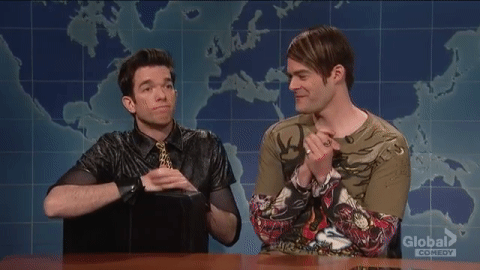 Hader broken while doing Stefon, as well. Almost constantly, actually.
Saturday Night Live returns live April 7 with host Chadwick Boseman and musical guest Cardi B. Be sure to catch Saturday Night Live airing Saturdays at 11.30 et/8.30 pt on Global, and watch the latest episodes online here on GlobalTV.com/SaturdayNightLive!