SEAL Team's David Boreanaz talks stunts and fists with Colbert
SEAL Team's David Boreanaz talks stunts and fists with Colbert
This is a David Boreanaz-heavy week here at Global! Boreanaz is doing double duty as Stephen Colbert's guest on The Late Show with Stephen Colbert, and with his new series SEAL Team premiering this week. It's just full Boreanaz fever. You could say it's like a Boreanfluenza – and it's highly contagious.
So here's a treatment: five cool thing about the star of the brand new series SEAL Team. This'll be sure to hold you over for a little bit, at least until you catch the premiere of SEAL Team Wednesday September 27 at 9et/pt, or steam it here on GlobalTV.com.
1. David Boreanaz is a man of few characters.
While that might seem like a personal slight at first, consider this: over the past twenty years, he has worked as a lead actor consistently, playing two characters over four televisions series. Boreanaz's breakout role was the evil-vampire-turned-good-turned-evil-turned-good-turned-evil-turned-etc-etc, Angel, first appearing in Buffy The Vampire Slayer in 1997. He eventually got his own spin-off, Angel, in 1999 which concluded in 2004. After that he could be easily recognized as Agent Seeley Booth from 2005 to 2017 in the hit series Bones.  Plus, he's managed to squeeze in a few guest appearances and movie roles here and there.
WATCH: Exclusive Behind-the Scenes of SEAL Team | Season 1
2. Boreanaz had one of the coolest Late Show arrivals.

Who knows what he's doing, really, but it's unique and super fun!
3. He's never, ever going to do a Buffy the Vampire Slayer remake.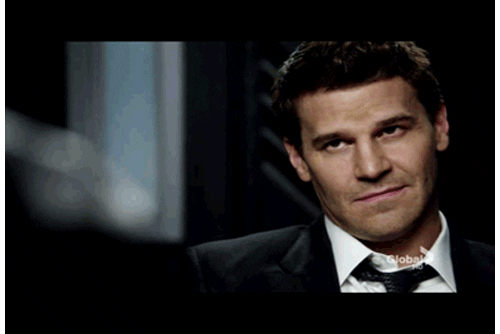 Fans of the hugely popular vampire show Buffy the Vampire Slayer have had hopes that the cast would get together to do a remake, but David Boreanaz has firmly shot those hopes down. In the current era of TV remakes, Boreanaz is not "a big reunion guy." saying in a 2017 interview with Parade, "No, never; that's done, see ya, next. "
WATCH: Sneak Preview of SEAL Team Premiere!
4. Seeley Booth met the Ichabod Crane.
As previously mentioned, Boreanaz played two characters over four series. What was that fourth series? It was when Agent Seeley Booth appeared in Sleepy Hollow. In 2015, Bones did a crossover with Sleepy Hollow, wherein the protagonists appeared in each others' series as part of a two-part episode. While it's fun and exciting to see characters from different shows interact, this opens a whole can of worms for the Bones universe, as it confirms the existence of a whole bunch of freaky ghosts and other supernatural stuff.
5. David Boreanaz is a method actor… sort of.
He had some issues with a stunt on the set of SEAL Team, and well, sufficed to say, his struggles made it seem all the more real.

What a charming fellow, and a hard worker – you'd think after being on one TV series or another for 20 years straight, he'd want to take a rest. But nope – he's jumping right back into it with
SEAL Team
. Good for him, but even Kelsey Grammar took a bit of a break.
Be sure to Catch more of The Late Show with Stephen Colbert airing weeknights at 11.35 et/pt on Global, and watch the latest episodes online here on GlobalTV.com! And don't miss SEAL Team, airing Tuesdays at 9 et/pt on Global!