Live Feed Spoilers: The house settles on a target, worries about tonight's fallout
Live Feed Spoilers: The house settles on a target, worries about tonight's fallout
By John Powell – GlobalTV.com
After flipping back and forth like Olympic gymnasts all week long the houseguests seem to have finally decided who they are giving the boot to this week and that appears to be Reilly Smedley, the 24-year-old bartender from Tennessee.
Izzy and Felicia chatted in the kitchen before the others woke up this morning.
"This is the right thing I think," said Izzy of evicting Reilly.
"If we remove her they have no game," said Felicia about Jag, Matt and Blue.
"They realize that even though they are in an alliance they aren't in the room when conversations are taking place. You cannot believe that people think they are party of an alliance when they are never included in anything," Felicia said of the others like Jared and Cory.
To Izzy, Reilly is the brains of that alliance.
"I think Jag is smart but he doesn't know what to do here so to me he and Blue aren't threats," she said.
"He has a constant conflict between his heart and his head," Felicia said of Jag.
Izzy then went to greet Cirie in the Comic Book Bedroom.
"We are doing the right thing," said Izzy.
"I know," replied Cirie.
Cirie hopes that today Cameron will stop following her around as he has done all week long.
"Leave me alone!" she laughed.
Jared and Cory discussed how they could explain things to Jag when Reilly leaves instead of Cameron.
"He is going to feel slighted because we told him it wasn't going that way," worried Jared.
"This is our explanation: Reilly was saying Izzy's name and that's the fact of the matter," said Cory.
They wonder if after today's vote whether they can move forward with Blue and Jag or if those bridges have been burned.
"I hear what you are saying but Jag is very intelligent. Jag will be of the impression that we are voting for her then after we did him wrong we come back and explain that we were never going to vote with him anyways? I just don't think that's going to work. It wouldn't work with me," said Jared.
"We aren't going to win him over and making a final three. It is about giving him something to think about in case he wins HoH," said Cory.
Blue and Izzy met up in the storage room while preparing to make breakfast. Blue reassured Izzy that if Reilly goes she will not take it personally.
"I won't be upset," said Blue.
"I am still just weighing everything," replied Izzy searching through the fridge for cream cheese.
"Week One was rough. Week Two was rough. Now, we all want to get to a place and restart," said a hopeful Blue.
"I have been honest to you about everything," said Izzy.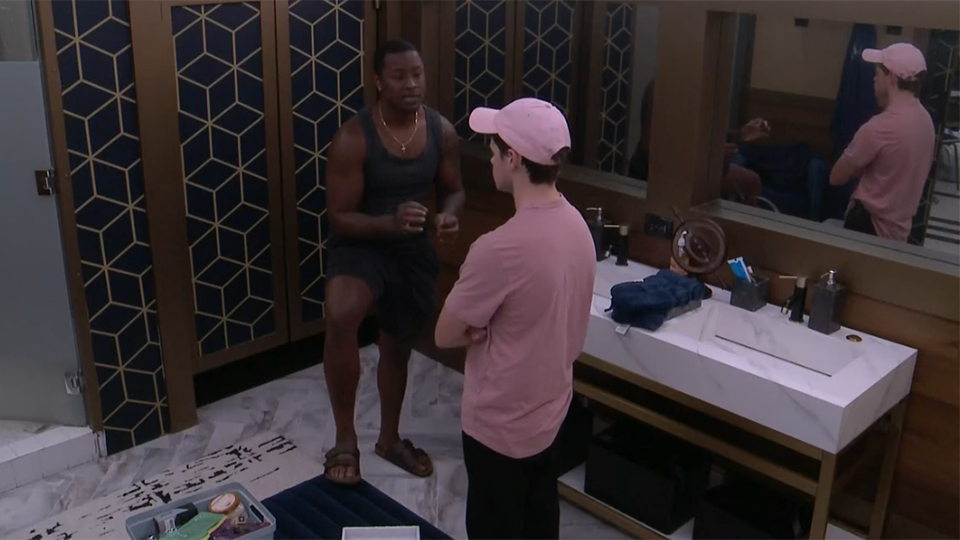 "I understand where you guys are coming from and we all had a hand in it. It wasn't just her. It wasn't just Hisam," said Blue.
When Izzy left the storage room Blue spoke to the cameras alone.
"Nothing has been the same. Everything changes. People change. It is really entertaining. I didn't see this coming. Me and Izzy working together again? Who would have thunk it? You really don't know people until they get into a position of power. With great power comes great responsibility. If you don't use that power well, s—t just blows up in your face," she said of Reilly and the game.
Check back for all the latest Big Brother news and interviews.
Big Brother airs Sundays and Wednesdays (8:00-9:00 PM, ET/PT) and Thursdays (9:00-10:00 PM, live ET/delayed PT), featuring the live eviction show hosted by Julie Chen Moonves, on Global TV.