Justin Timberlake Brings Sexy Back to The Late Show with Stephen Colbert
Justin Timberlake Brings Sexy Back to The Late Show with Stephen Colbert
Stephen Colbert hosted one fifth of the 1990s boy band *NSYNC. Don't worry, it's Justin Timberlake – the best fifth. At least Stephen seems to think so, because they got all close and cuddly on The Late Show with Stephen Colbert .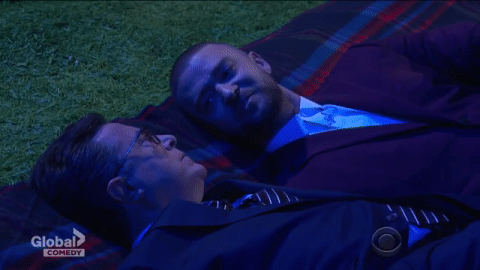 That's right, JT (short for Justin Timberlake, for you very young 'ins and slighter-older 'ins out there) joined Stephen on the iconic plaid throw blanket for another segment of Big Questions with Even Bigger Stars. Timberlake did his fair share of asking and answering life's quintessential queries.

But the biggest and most important deep thought was presented by Stephen, and could really only be answered by Timberlake himself: if Justin brought sexy back, where did it go in the first place? A question that has plagued many for over a decade has finally been addressed and answered, in what you should, in blind faith and without follow-up, assume is completely sincere.
After that little snuggle fest, they moved on to the normal interview, which was 
not
boring, considering that primo sketch it had to follow. It started off with a bit of family drama. Justin's wife, actor Jessica Biel, confessed to Colbert a few months ago on 
The Late Show
that their son is very messy. Timberlake thinks he deserves a bit more credit for a two-year-old, but also, credit where credit is due – it's probably his fault to begin with. There's nothing like a celebrity couple airing their dirty laundry, months apart, on a late night talk show like 
The Late Show
, through a moderator like Stephen Colbert.
Justin Timberlake, while a bit of a Renaissance Man with his acting and many music ventures, is best known for his singing. Now, if you know Stephen Colbert, you know that he fancies himself a singer, too. And he ain't bad (but he's no Justin Timberlake). Anyway, Justin has some tips for aspiring singers out there. Do: start singing in church, if that's your thing. Don't: start singing with the American national anthem, "The Star-Spangled Banner," because it's really tough. So to show off, Stephen jumped at his proposed suggestion that they do a duet of said anthem. What ensues is TV magic that you just can't manufacture, or find anywhere else, really.
This Justin Timberlake episode is one for the books. He and Stephen seem to get along quite well, and Timberlake himself is so, so charming. Interestingly, this may have been one of Colbert's 
least
political episodes, with President Donald Trump not even receiving a mention during the lead interview with Justin Timberlake. Usually Stephen can't help himself but to get a few jabs in on the orange Commander-in-Cheetos, but that didn't happen this time. And it's fine, really, because there wasn't a moment wasted as it is, and there isn't a single Justin Timberlake moment worth trading.
Be sure to Catch more of The Late Show with Stephen Colbert airing weeknights at 11.35 et/pt on Global, or watch the latest episodes online here on GlobalTV.com!