Survivor: Brochacho Blindside Pins World Champion John Hennigan
Survivor: Brochacho Blindside Pins World Champion John Hennigan
John Powell – GlobalTV.com
The mayor of Slam Town has been pinned. A victim of the rarely seen Brochacho blindside maneuver, veteran professional wrestler and actor John Hennigan became the seventh person voted out this season and the second member of the Survivor: David vs. Goliath jury.
"I didn't take it personally at all. Honestly, I was trying to blindside Christian [Hubicki]. The Davids made a better play than the Goliaths did. I got blindsided instead so why would I be mad about that? They made a better play than me. I found in life it is better to laugh at a situation than cry. Being on the show meant a lot to me and believe me, I wish I was still in the game. Pitching a fit, being angry and upset doesn't lead to anything positive," said the current Impact Wrestling World Champion of his departure from Survivor.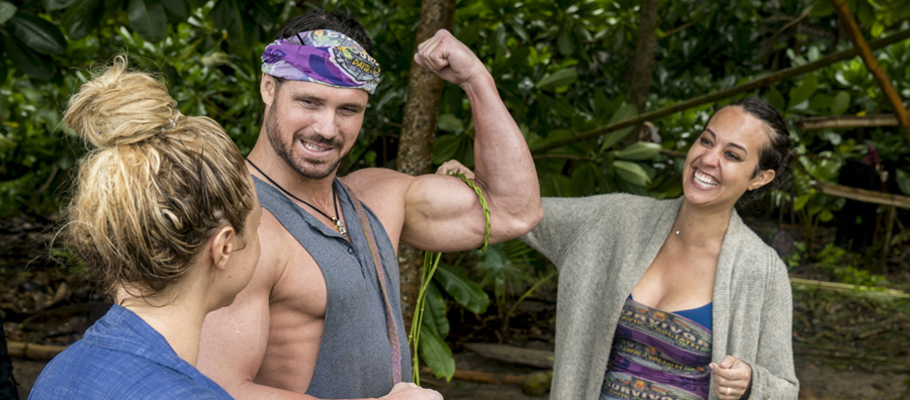 Since the Davids were unable to get to their true target Dan Rengering as he had won immunity, they took down his partner in arms, Hennigan, instead by using a Hidden Immunity Idol to save Christian. They then split their votes between Goliaths John and Angelina Keeley with Christian, Davie Rickenbacker and Nick Wilson voting for John and Carl Boudreaux and Gabby Pascuzzi voting for Angelina. When all was said and done, Hennigan didn't botch any moves. He just happened to be in the wrong alliance and teamed with the wrong partner.
"I could have done a lot of things differently and made different decisions that could have kept me in the game but I am going to let it ride for this interview. You are right, there isn't a whole lot I could have done," laughed Hennigan who agreed wholeheartedly with this reporter that there wasn't much he could have done to avoid his fate.

Eliminated by a Hidden Immunity Idol how does the long-time Survivor fan feel about twists in the game?
John Powell: Twists and advantages have become commonplace in Survivor. Your game was ended by one. As a fan and a viewer how do you feel about twists and advantages?
John Hennigan: "Twists are necessary. They evolve naturally in the game and the game was becoming stale as it used to be you just formed an alliance, secured the numbers and took control of the game. Survivor does a really good job of trying to keep the game fresh with new advantages but still keeping the integrity of the game intact. The part of Survivor that is most interesting for me to watch is the social game, the politicking, the scheming and who is in cahoots with whom. At the same time when everyone has an advantage it becomes too gimmicky and becomes a different kind of game."
John Powell: As a juror what attributes are you looking for in a winner?
John Hennigan: (Clearing his throat in a dramatic fashion) "The technical considerations we jurors make are based on 'Outwit, Outplay and Outlast' but for me personally it is important to recognize who played the best game. There are some seasons where a physical threat can take over based on how people are performing at challenges. A mental threat can take over based on strategy. It is hard for me to say what I am looking for. I am just there to observe and then at the end when the power switches hands I am going to interrogate those bastards who are left! Muahahaha!" (Laughs)
John Powell: Whether it be a special moment, a bond or gameplay, is there anything you wish they had included in your edit?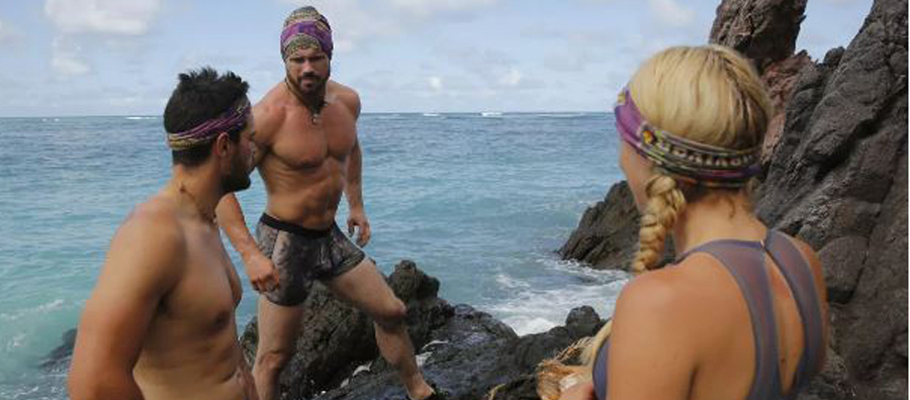 John Hennigan: "It would have been cool if they would have shown more of the conversations me and my best friend Jeff Probst had. (Laughs) That would have been nice! We were trading stories about bench pressing. (Laughs) I don't know, there were several moments that I remember with people like Alison [Raybould], Gabby, Christian and Dan. They weren't relative to the narrative and there is only so much time on an episode but there were some little things which would have been fun to see."
John Powell: Who do you think is playing the best game at present?
John Hennigan: "Right now, I am really impressed with the Davids, just in general. I now see how hard they were working. They had plans. They had an idol. They made sure not to tell anyone about it. They were working really hard. They are playing a great game."
John Powell: Why was there so much chaos in the Goliath Tribe?
John Hennigan: "A lot of the people on the Goliath Tribe could have been Davids and a lot of people on the Davids Tribe could have been Goliaths. Every member of the Goliath Tribe had Davidy elements to them, me included. There were a lot of strong personalities, a lot of alphas, and a lot of people who are in positions of authority in their daily life so they were playing the game hard. From my perspective in the wrestling world if I have an idea and I want to do something I just have to convince people it is the best thing to do and that is what we do in our business. The same was true for most of the people on the tribe. That is what you are seeing."
Next time on Survivor…