Bill Freaking Murray Crashes The Late Show!
Bill Freaking Murray Crashes The Late Show!
Last night, on The Late Show with Stephen Colbert, Bill Murray unexpectedly burst into the Ed Sullivan Theatre while The Late Show taping was in progress and began launching t-shirts at the audience (it has yet to be confirmed exactly what was printed on the alleged t-shirts – though they look to be official The Late Show with Stephen Colbert shirts).
It's not like the fact that Bill Murray himself was there was the surprise. He has been slated to appear on the show for weeks now… but he interrupted Colbert's post-monologue segment about Ivana Trump versus Melania Trump with an attention-getting all-American outfit (including the ol' Uncle Sam hat) and the aforementioned garment gun.

But who cares because Billy freaking Murray gets a pass when it comes to breaking the rules (actually, he gets a pass on a lot of things – like those two Garfield films he participated in last decade). Stephen respects this aspect of Bill Murray, as shown by his lack of attitude toward Bill for the interruption, and by the slightly unprofessional cocktail they shared shortly after Bill's arrival.

The Saturday Night Live alumnus is more than just an actor/comedian… he's also a recently published musician. He's teamed up with world renowned cellist Jan Vogler to release the current number one classical music album. Here's how it all happened:

But before we wrap up, Bill has one question for you… 
who wants a t-shirt?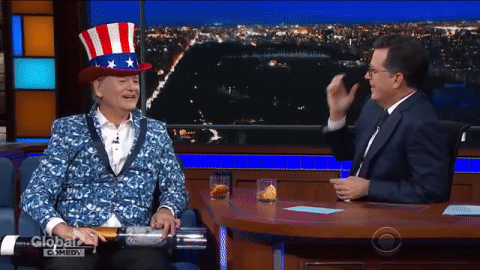 Be sure to Catch more of The Late Show with Stephen Colbert airing weeknights at 11.35 et/pt on Global, or watch the latest episodes online here on GlobalTV.com!