Big Brother Spoilers: Veto Meeting Detonates An Already Explosive House
Big Brother Spoilers: Veto Meeting Detonates An Already Explosive House
By John Powell – GlobalTV.com
It was only a matter of time but the Big Brother house has finally exploded.
Michael used the Power of Veto taking himself and his partner in Festie Bestie twist, Brittany, off the block at today's meeting lighting a fuse on many combustible elements in the house.
True to his word to the Leftovers alliance Turner fanned the flames into an inferno when he nominated Ameerah and her partner Terrance in their places instead of Taylor and Nicole as some in the house had expected and anticipated.
The shocking blindside has stunned and confused everyone who isn't in the Leftovers alliance. The Leftovers are Turner, Kyle, Joseph, Monte, Taylor, Brittany and Michael.
Terrance, Jasmine, Alyssa, Nicole, Ameerah, Brittany and Michael took stock of the state of the game in a bedroom following the ceremony.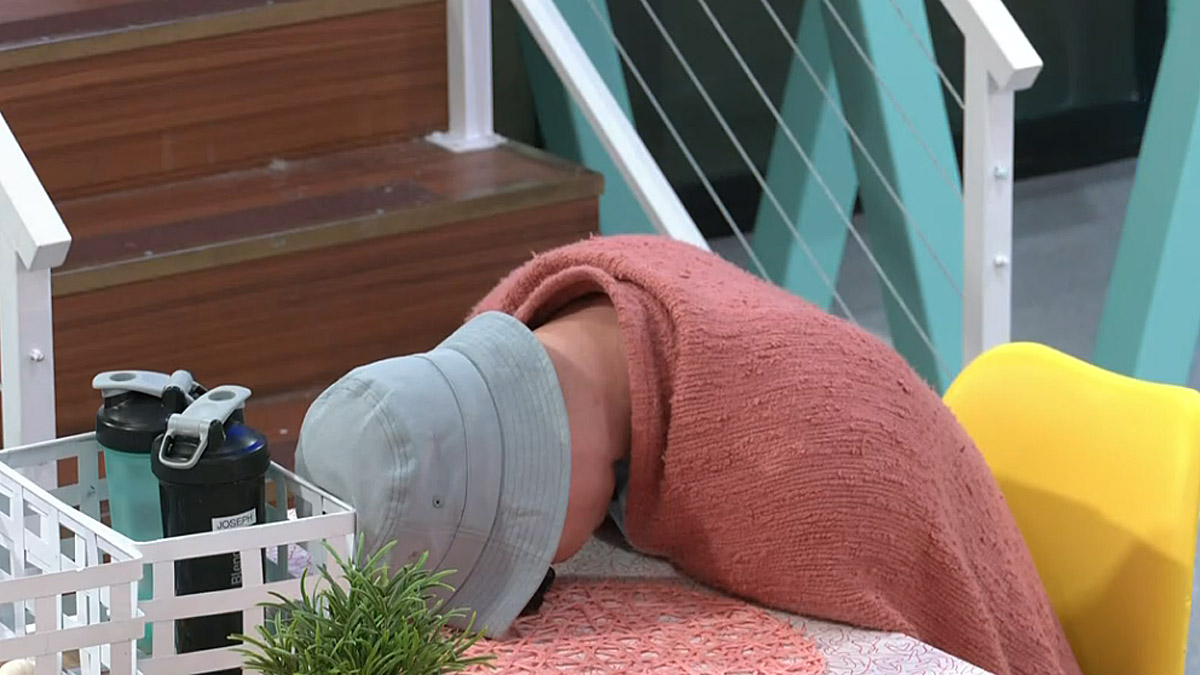 "I thought he would have talked through it with me but there was nothing," said an angry Jasmine about Turner's choices.
"I talked to him already. I am not campaigning against Ameerah. I want Ameerah to stay over me and that's it. Don't even worry about that s—t. You feel me?" Terrance said to a sobbing Ameerah.
Upstairs, Nicole and Daniel held an emergency alliance meeting. Daniel didn't exactly tell the truth though to his 'ride or die' in the game.
"Holy s—t!" shouted Nicole in the Have-Not Room.
"I had zero clue," said Daniel.
"I know you didn't know but I had a feeling," said Nicole shaking her head. She had thought for sure Alyssa and Indy would have been nominated.
"Part of me thought I was going to go up. I never thought it would be those two," sighed Daniel.
As Daniel and Nicole sorted through the wreckage of Turner's HoH upstairs, Terrance asked everyone to leave the bedroom downstairs so he could speak to Ameerah alone.
"Why did he put us up? Me and you? We weren't even targeting Turner or anything?" said Ameerah.
"I don't know how he came to that conclusion but it was influenced," said Terrance suggesting it was Indy who got to Turner. Terrance is sure that Indy wants him gone.
"I am cool with going home. I didn't get in deep with them. This was on a whim. It was just some funny s—t to say… Okay, I'll do it! This is your passion. This is your f—–g game," he said hugging her.
Before the actual meeting, Turner called Daniel into a private meeting in the HoH room to let him know what was about to go down.
"I am only telling you this because I care about us being friends over anything else but I don't think I am going to put Taylor on the block. I have thought about this for the past couple of days," Turner said not wanting Daniel to feel blindsided.
"I wanted to give you a warning and I decided this, this morning. It sucks and I hope you aren't mad," he said.
Outside the HoH room, two members of the Leftovers alliance, noticed Daniel meeting with Turner.
"They are going to keep checking in on him because they want him to think like they want him to think. They probably suspect something," said Monte to Joseph.
Catch up on Big Brother episodes here.