Big Brother: Celebrity Edition Recap & Highlights – Episode 2
Big Brother: Celebrity Edition Recap & Highlights – Episode 2
By: Cristina Deguara – GlobalTV.com
Omarosa dishes on the Donald!
Last night the complex rules of the recast gift bag were revealed. If a celeb opts to open the bag to see if they have an HOH (Head of Household) advantage, it'll be right before the nomination ceremony. If more than one player shows interest, a random draw will be held to decide who gets the opportunity. My bet is that CBS has put recast envelopes in everyone's bags – otherwise the whole thing will be a big letdown.
CATCH UP NOW: Celebrity Big Brother Season 1, Episode 2
Marissa Winokur puts on her cutesy thinking ears (is she trying to look like a child on purpose?) and realizes the women need to play the odds and ALL go for it. It takes the men a little longer but eventually they figure it out as well.
This episode was all about strategy and Shannon Elizabeth was front and center. It finally dawns on the women to bring in one of the men as a spy and Ross Mathews crosses over; except he isn't much of a spy and he hasn't really crossed lines. The men haven't included him at all up to this point so really it's not so much strategic as it is just beefing up their numbers. Ross is lying low, playing a smart game; exactly what you should be doing at this point in the game.
We find out Chuck Liddell and James Maslow have a friendship outside the house and they decide they're going to create a secret alliance, only everyone already knows they're working together so not much of a secret. In the spirit of Big Brother James decides they need a clever name and comes up with "The Celebrators". Welcome to preschool. Is this really our best work?
One of the key takeaways from last night's episode is how awkward and uncomfortable the vibe in the house is. It's like watching kids at a middle school dance. The girls stand on one side of the gym wall and boys stand awkwardly on the other. Any time there is a male/female conversation, it's PAINFUL! If you had the volume on mute you'd be certain they were speaking different languages. Is this how people in Hollywood communicate? No wonder celebrities do everything through their publicists – someone needs to balance out all that weirdness and get stuff done.
Later that day Metta, Chuck and James are working out in the gym and we get this gem:

James, sweetie, I know you're not intentional trying to be funny, but this was my LOL moment of the night. The two men and the mouse realize they need to get in with the women and head upstairs where Chuck lets the women turn him into the Incredible Hulk with a green gooey facial and Metta allows the women to give him fake nails.
Men, if you give us the opportunity, we will mess with you. We will paint your face, do your nails, slap a pair of heels on you and let you borrow our best dress. It doesn't mean we're bonding or connecting. It means you are the butt of a joke. It's not a nice thing that we do, but we can't resist. Don't give us that opportunity because we will take it every time.
I'm a little disappointed there aren't more singles in the house. Where's the flirting? The sexual tension? The closest we've come so far is James telling us he wants to get into "Nadia's" pie. Eww and gross. Although he does seem like someone who'd have tried it out after the movie. Also, he's a terrible liar. This isn't the first time a young hottie has lied to get into that pie and Shannon's not falling for it. Dammit, now I want pie.
Halfway through the episode Omarosa makes an appearance and goes head to head with Keshia Knight Pulliam saying they're no different – that they both defended people who were the creators of social shitstorms. Omarosa says she couldn't see the destruction because she was stuck in the middle of the hurricane.
And that's where you've lost me. Keshia worked with Cosby when she was a toddler. I can see how she wasn't privy to his personal life and as a result won't speak out against him. Omarosa, you're a grown-ass woman. "Woe is me" isn't exactly going to work here and her diary room confession afterwards clearly reveals that she's still the manipulative villain we all knew and hated on The Apprentice.
From here we cut to what is quite possibly the most sincere and human thing that's happened so far in the Celebrity Big Brother house. Metta opens up to Shannon about missing his family and kids.  There are tears. The man wants to go home. Be still my beating heart.
RELATED: Celebrity Big Brother Spoilers – Nominees Fight to Stay, One Houseguest Wants to Leave
And now we're back to the Omarosa show. Ross and Omarosa are having a cozy convo about how thankful they are that there's no cattiness in the house. This is the exact opposite of what we want. Come on, guys! This is literally the only reason we tune in!
Ross channels his inner Barbara Walters and pries details out of Omarosa about her time in the White House. With tears in her eyes she says she regrets sticking by the POTUS.  If this is a play for sympathy, it's working. Omarosa says it was "a call of duty" (I call BS). She was serving the country, not him (also BS). Omarosa, you're not that stupid but you are a good actress. Here's the bit that put viewers in a panic last night:

Wait! What?! Way to settle the panic that's been slowly spreading over every human in this WORLD. In real time, twitter is literally exploding and we now have a dilemma. Do you switch off the show and check out Trump's twitter account? So tempting! Wait, he won't go off about it until the middle of the night so check back later.
I still don't believe there was a lot of sincerity in that conversation. Ross might win the award for journalism but Omarosa's got her eyes on an Oscar.
It's finally time for the recast twist to play out. Chuck is shaken. There's a war raging in his head and he makes the desperate move of a desperate man. He's the first to take the bait and a long line of women trail him to make sure he doesn't get the advantage. Marissa throws a curveball and secretly goes her on own way. Come on, girl, way too early be running as an independent here.
Brandi Glanville shows up and it looks like she has just stepped out of magical a time machine. What Big Brother witchcraft is this and how do I sign up? Is it the magical pore strips under your eyes?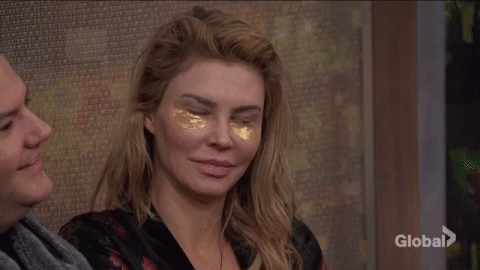 The guests move to the dinner table for the nomination ceremony. Keshia is the lucky winner and opens her bag to find a golden envelope. Ariadna Gutierrez looks panicked (don't worry, there's no beauty queen announcement here). Keshia nominates James (yes!) and Chuck (also yes!). But what about the man who desperately wants to go home to his family? Apparently you need to be strategic to stay in the game, and doubly strategic to get voted out! Going forward his eyes will be on the prize. I'm looking forward to him bringing some excitement to the next round.
Shannon is playing a killer smart game – too smart. She needs to tone it down or she'll be enemy #1 with both the women and men.
Friday night is a special 2-hour episode where the first celebrity is evicted. Will James get back-doored? Has Brandi finally learned what this means? So many questions.
RELATED: Celebrity Big Brother Full TV Schedule on Global