Big Brother 19 Spoilers: More Bickering After HOH Win
Big Brother 19 Spoilers: More Bickering After HOH Win
By: John Powell – GlobalTV.com

Even though Josh Martinez has won HOH (Head of Household), Big Brother 19 allies are still at each other's throats.
Immediately after the live eviction show Mark Jansen and Alex Ow were involved in a heated argument.
Alex accused Mark of relaying information from the rest of the house to his friends Jessica Graf and Cody Nickson.
"Why are you trying to start s—t Alex?" asked Mark who defended his friendship with Cody. "I am surprised you are coming after me."
WATCH: Big Brother After Dark Online – Season 19 Full Episodes
Alex told Mark when she sees him hanging out with Jessica and Cody it makes her "nervous" and she doesn't trust him.
"Guys, I don't think we have do this. We can just chill out," said an awkward Josh.
"Everyone has been saying you have a problem with me and are trying to get me out," Alex accused.
Mark said he has experienced the exact opposite.
Alex then said she has seen Mark and Cody go get their microphone batteries in the morning together. At that allegation, Mark was dumbfounded.
Alex claimed Mark has been aggressive with her.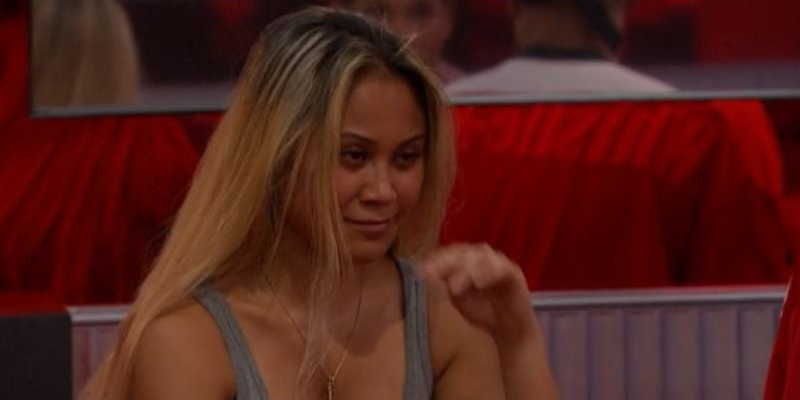 "Even little things you are aggressive with me," said Alex not naming any particular situation when Mark asked her to.
"You are the only person who is aggressive with me," she said.
"Do you not see yourself as an aggressive personality?" Mark asked.
"You don't think you give that aggressive vibe to people?" he continued.
"I am 5 foot, Mark and weigh 100 pounds. How aggressive can I be?" Alex snapped back.
"I am not talking about size because I get that s—t all the time," Mark said.
Mark and Alex eventually made peace and agreed to speak directly with one another if they hear of any other accusations.
"Thanks for clearing the air with me," Mark told Alex as they hugged.
Meanwhile, in the kitchen celebrating his HOH win, Josh warned everyone that his badgering shenanigans would be returning.
"Production we're going to need some earplugs. It's going to be a very loud week," Josh promised.
Watch Big Brother online the day after broadcast on GlobalTV.com/BigBrother or on the free Global Go app for iOS and Android.
CATCH UP NOW ON THE LATEST EPISODE: Big Brother Season 19, Episode 18