Bi stung by Survivor injury
Bi stung by Survivor injury
John Powell – GlobalTV.com
There are two factors no player in the history of Survivor has ever managed to master: the weather and their own personal well-being, their health. When your body breaks down unexpectedly you have to put it before the game. For Bi Nguyen, an MMA fighter, last night's decision to leave the game was heart-breaking.
"I am not a crier and you are going to make me cry right now. (Laughs) There were two tough parts of my decision. One was leaving the David Tribe. I was new to the show. I wasn't a superfan. I wasn't sure of how much it was going to affect the team until I saw the episode. Even though I believe Davids function best with a chip on their shoulder. I feel bad now knowing I affected their numbers. The second thing is I was in a good place and I was playing a certain way. I was playing the dumb jock and I wanted them to underestimate me and my social game until it was time to make big moves. But, that time never came. (Laughs) The time didn't come so there is a lot of unfinished business. I wonder how far I could have gone and the mayhem I could have caused?" she wondered.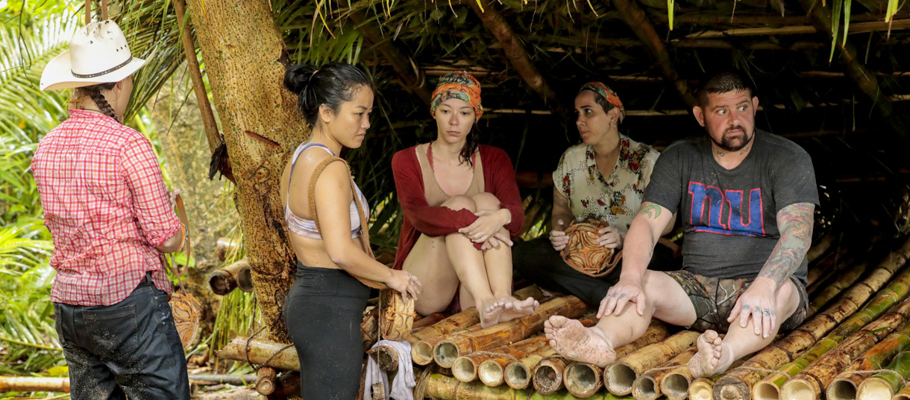 In our interview, Bi was the complete opposite of the stoic figure we saw on the show. Bi wished viewers would have seen more of her laid-back personality and not so much of her getting in the zone for challenges.
"I am a lot goofier and happier than I appeared on the show! I am a fierce competitor so during the challenges I had a straight face. I had a really good and fun bond with Gabby that they didn't show. I also spear fish and the whole world will not know that! I dove into the ocean and speared fish!" she exclaimed.
Bi had to give fishing up when she injured her knee during a challenge.
John Powell: How did the injury happen and what was going through your mind?
Bi Nguyen: "Oh, man. Let me walk you through my day. (Laughs) During the challenge I knew something was wrong when we got to the puzzle, when the adrenaline kinda dumped. My knee was unsteady and there was a lot of pain. I had torn that same MCL a couple of months before I went on Survivor. You can imagine how I was feeling."
John Powell: What happened after the challenge?
Bi Nguyen: "I went to see the medic. Dr. Joe said it was definitely sprained, hyperextended but it wasn't a tear so it didn't warrant an evacuation. He wrapped it up to try to ease the pain. He gave me pain pills but left the decision up to me."
John Powell: It must have been such a hard choice to make. When did you come to the conclusion that you had to leave?
Bi Nguyen: "I spent the whole day thinking about everything. I weighed the risks. At night, I told the tribe that I may be leaving the game. I was going to wait until morning. I woke up with a baseball as a kneecap! I then made the decision as everyone saw on television."
John Powell: Last July you fought for the King of the Cage atomweight world title. How is your knee now?
Bi Nguyen: "It is okay but it is not as strong as it could be. Mostly that is because at Ponderosa I took the time to rehab it. I took time after the show to heal and the problem is I went right back into MMA camp. It was for the championship. I couldn't turn the opportunity down. My awesome team got my knee better. Right now, I am focused on strengthening it and getting it back to be what it was."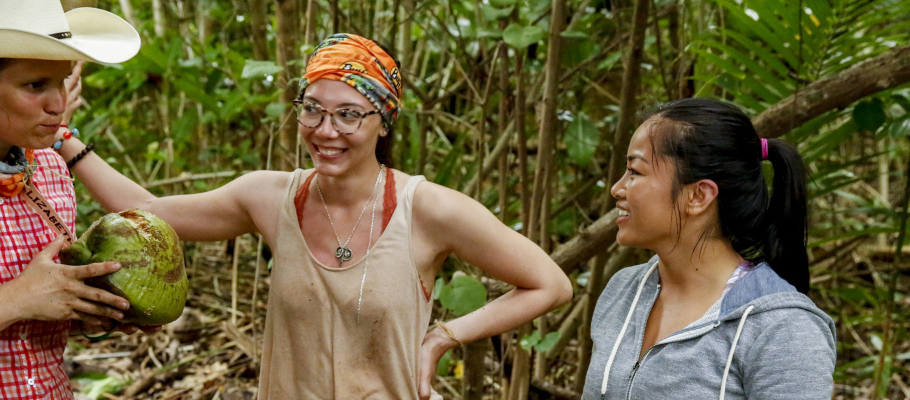 John Powell: One of the most touching scenes this season was you sharing your story of abuse with Jessica. Have you gotten any feedback about that?
Bi Nguyen: "I have gotten hundreds of messages saying thank you for opening up. Many have told me their stories and it is incredible. For me, it was healing to tell my story. I felt that Jessica needed that but what I didn't realize is that I needed that too. I am happy that part aired and it made some kind of impact. I couldn't ask for anything more."