Big Brother 20 Spoilers: Veto Ceremony Fallout Rocks the House
Big Brother 20 Spoilers: Veto Ceremony Fallout Rocks the House
By John Powell – GlobalTV.com
A surprise blindside at today's Big Brother 20 Veto Competition has brought some houseguests to tears and infuriated others.
Although not shown on the live feeds, at the ceremony Tyler Crispen used the POV (Power of Veto) on Scottie Salton, saving him. HoH (Head of Household) Kaitlyn Herman then put up Chris "Swaggy C" Williams in his place to set-up their backdoor scheme.
Either Swaggy C or Winston Hines will be evicted this week.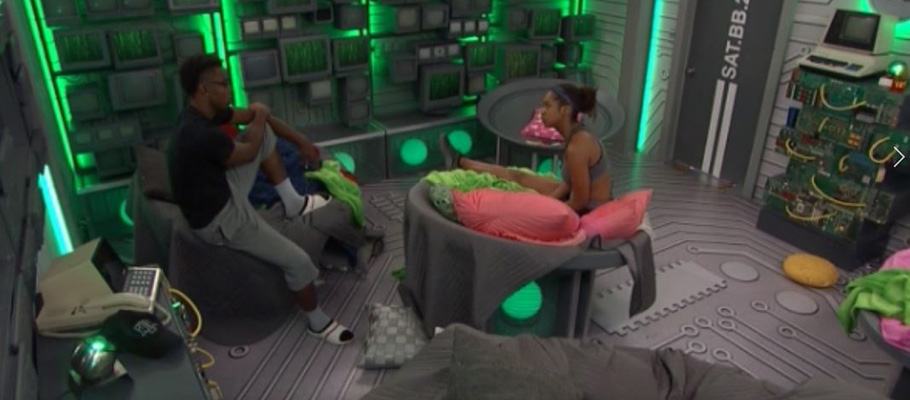 When the live feeds returned Kaitlyn was crying and being comforted in the HoH room.
"You are a tough cookie, Kaitlyn. I am proud of you. All of the other girls out there in America who haven't stood up for themselves are proud of you too. You set a good example for them," said Brett Robinson.
WATCH: Big Brother After Dark Online – Season 20 Full Episodes
"That is for sure. They are watching you now," added JC Mounduix. "You know very well that if you hadn't won that HoH you would probably be on the block right now and you know that for a fact."
Downstairs in the Have-Not room, Bayleigh Dayton and Swaggy C took stock of things, planned their next move.
"He was running around talking s—t about me all week and I am not going to let it fly. I am just like…Are you f—–g kidding me?" said Bayleigh of Kaitlyn's accusations against Swaggy C.
"I am not surprised. I told all of you guys yesterday this would happen. It was a possibility," said a low-key Swaggy C about his nomination. He claimed Kaitlyn lied to him the entire week and now he is trying to calculate the best way to move forward in the game.
Swaggy C believes he has five votes guaranteed. Bayleigh thinks they can turn Rachel Swindler and JC to their side.
"I think everyone will be sympathetic you were blindsided," said Bayleigh.
"I am pissed," declared Bayleigh as she gave Swaggy C a hug.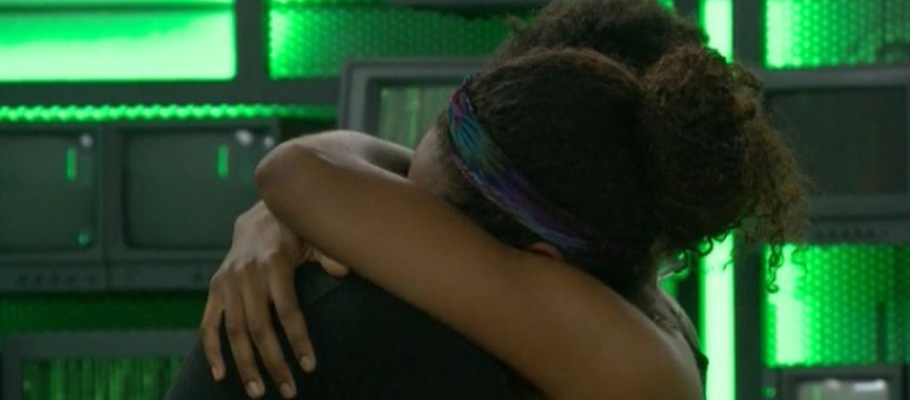 As Bayleigh left to speak to Kaitlyn, Scottie and Faysal Shafaat entered the room and chatted with Swaggy C.
"I am not panicking. I trust you guys 100 percent," said Swaggy C.
"The best thing to do is foster relationships," advised Scottie.
In the HoH room, Kaitlyn continued to cry.
"Eviction is not until Thursday, I cannot look at him," Kaitlyn told Brett, JC, Kaycee Clark, Tyler and Haleigh Broucher.
"It is a game at the end of the day and I think both of you understand that. He will eventually if he doesn't right now. It is the point of the game, get people out who are trying to get you out," said Haleigh.
"From a game perspective I obviously made the best move that I could. I didn't have a choice. I didn't think I would ever have to be in the position that I would have to step away from who I am," she sobbed.
"From a personal perspective you made the right move too. He was coming at you personally," said Brett.
Once everyone left the HoH room Bayleigh came to speak to Kaitlyn.
"Last week really hurt me," said Kaitlyn about what Swaggy C had said about her.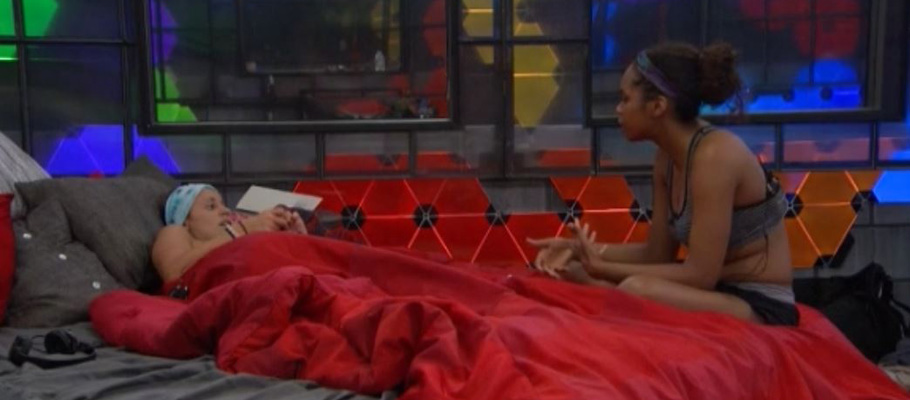 "Absolutely. When I told you I thought it was going to be an internal thing. I cannot believe it has blown up to this proportion because what was being said was never…Kaitlyn is this! We hate her! It was just we don't want Kaitlyn to blow up. We don't want Kaitlyn to feel we are talking about her," said Bayleigh as they both sat on the HoH bed.
"I think it was the words and the language that he used against it. I wish it wasn't him. I wish it was Winston," said Kaitlyn.
"But it sucks because you know from Day One I have been on Swaggy C about how he says things," said Bayleigh.
"I wish I could get past it but I can't," admitted Kaitlyn.
Big Brother airs Wednesdays and Thursdays at 9 et/pt and Sundays at 8 et/pt on Global. Watch Big Brother online the day after broadcast on GlobalTV.com/BigBrother or on the free Global Go app for iOS and Android.
CATCH UP NOW: Big Brother Full Episodes – Season 20