The Young and the Restless Celebrates Eric Braeden's 40th Anniversary
The Young and the Restless Celebrates Eric Braeden's 40th Anniversary
News
News
With Eric Braeden celebrating 40 years as Victor Newman, The Young and the Restless favorites like Melody Thomas Scott, Peter Bergman and Doug Davidson were joined by the actor's friends and family for a party to remember!
That was exhausting… but wonderful," raves Braeden, who did cry a few times during the celebration — but only because he was laughing so hard! While emcee Doug Davidson (Paul) kept things light and got plenty of jabs in at his old friend, the first moment that had Braeden reaching for a tissue was when his onscreen daughters took the stage in classic German outfits and introduced a blooper reel that went back to his early years. "I absolutely adored that!" Braeden grins. "I just love Amelia Heinle (Victoria) and Melissa Ordway (Abby), and how sweet of them."
Costar Mellissa Claire Egan (Chelsea) enjoyed the video, as well. "There's nothing like an Eric blooper," she grins. "Eric doesn't mess up a lot… but when he does? He's hysterical! He's such a great actor and that's what he's known for, but my favorite Eric memories are just him being so funny."
Peter Bergman had to agree the clips were a highlight. "You saw how much fun Eric has on the set," Jack's portrayer explains. "It's fantastic.
"This guy and I have had this ongoing feud for more than 30 years," he adds. "I think it's the oldest feud in the history of all television! And I'm very grateful for it. It never gets old, because underneath is genuine dislike. No, I'm just kidding! I don't know why it works. But I'm very glad it does."
News
Making It Last
Melody Thomas Scott – who celebrated her 40th as Nikki last year – admits she was just glad to be honoring someone else this time. "It's so much less pressure," she cracks. "But welcome to the club, Eric! You know, we're actors. We're used to tramping the streets, getting a job, working for 3 days… and then going out to find another job. Actors don't think in terms of longevity — which makes this so unique for both of us.
"Longevity is one of the great things that this show gave us," she continues. "They're stuck with us. We're on their TV whether they like it or not. And it's all over the world. It just an astounding opportunity we had no idea we had been given when we first started."
It turns out, Braeden might never have even taken that opportunity and brought Victor to canvas on February 8, 1980, if not for his old tennis partner, Dabney Coleman — who was at the big party. "I'd been approached by my agent about joining Y&R and I said, 'What's Y&R? What's daytime television?'" Braeden recounts. "I'd never watched it. I had no idea. But Dabney said, 'Do it. You'll love it.' Based on that, I came here. And the rest is history!"
News
Love, Laughter And Honor
With Braeden in the hot seat, speakers who took the podium to honor him ranged from his onscreen family, Kelly Kahl, President, CBS Entertainment, executive producer Anthony Morina and co-executive producer and head writer Josh Griffith, to ESPN Commentator Stephen A. Smith and The Bold And the Beautiful executive producer Bradley Bell — who was there to represent his iconic family. Former showrunner turned B&B supervising producer Edward Scott also honored Braeden's trajectory from growing up in Germany's darkest era as Hans Jörg Gudegast to building a life in America – as well as a career that boasts over 120 TV series and films!
And while Joshua Morrow (Nick) had Braeden gasping for air with his wild behind the scenes tales, his humor was touched with respect and affection. "Listen dude, you are one of the most interesting men in the world," Morrow concluded, adding that his 95-year-old grandmother prays for Victor every night during grace. "You touch people in a million ways and I love being your son on this show. Your friendship means everything to me."
Braeden's infamous work ethic and commitment to excellence was also a common theme. Alum and This Is Us star Justin Hartley, for example, recalled how he'd stormed onto set hoping to impress Braeden and "reinvigorate him" when he'd first joined Y&R as his onscreen son, Adam. "I swear to God, you have more energy than everybody in this room!" cried Hartley, who went on to praise Braeden for protecting Victor in every moment of every scene for four decades and bringing, "the passion, the fire, the heart to this character — the same thing you bring to your family and your friends."
Braeden can't disagree with that description of him. "I'm never satisfied," he confides. "I always want to be better. That's how I approach life. I never rest on my laurels and I never have. And I don't look back."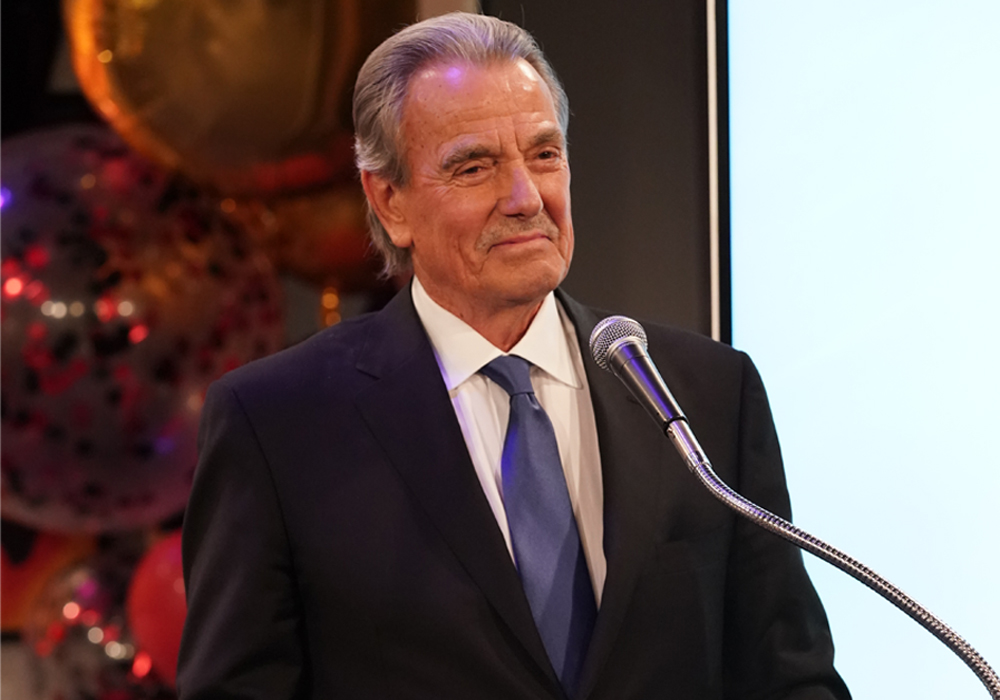 While Braeden admits he also expects the best from everyone else, he spent a good portion of his speech thanking all those who put up with his perfectionism – from his family, friends and Y&R co-stars to every single crewmember (by name!), his former soccer team The Maccabees and his colleagues from The Man Who Came Back. Braeden also spoke to his iconic love story with Scott's Nikki and that juicy enmity he shares with Bergman's Jack, before honoring the hard work, commitment and diversity of the Y&R cast and crew — as well as that of the country he has made his own.
After all the speeches, lunch, cake and photos, it was back to work for Y&R. But this anniversary had been an affair to remember. "We usually do these cake parties on set and they take 30 or 40 minutes," Sharon Case (Sharon) says. "It's just part of the lunch hour. But Eric's party was 2 hours long. Because he knows a lot of people and there was a lot to talk about. He had a really big party and it was a lot of fun!"
Tune in to The Young And The Restless airing weekdays at 4.30et/pt on Global, and watch the latest episodes and clips online here on GlobalTV.com or the Global TV App!