Big Brother 20's Swaggy C Not Mad at Scottie, Admits He Couldn't Always Be Himself
Big Brother 20's Swaggy C Not Mad at Scottie, Admits He Couldn't Always Be Himself
By John Powell – GlobalTV.com
It was one of the most brutal betrayals of the Big Brother 20 season thus far. Scottie Salton wears a Swaggy C T-shirt, pledges his allegiance to him then he summarily votes him out of the house on the live eviction show.
It may have been a nasty move but surprisingly Swaggy C (AKA: Christopher Williams) doesn't have any hard feelings towards Scottie at all.
"Honestly, I am not mad at Scottie. At that point, he was trying to appeal to my side wearing the Swaggy T-shirt and then still voting with the other side. I am not mad at him. I am mad at Kaitlyn [Herman] and Tyler [Crispen]. Scottie did his best campaigning for me all week, whether it was fake or not. He is HoH (Head of Household) now so he is clearly playing a good game," said Swaggy.
As one of two African-American houseguests this season, Swaggy definitely felt he couldn't be himself for fear of feeding into reality show stereotypes and real world stereotypes that some people have. Bayleigh Dayton confided in him that she felt the same way.
"I don't think I got evicted because I was black, not in the slightest bit. I know that Bayleigh and myself couldn't say certain things that other houseguests could. For example, Kaitlyn and I had a little argument and when I told her about the side deal with Brett [Robinson] she automatically yelled…Who am the BLEEP am I going to tell? Why the BLEEP didn't you tell me? All I said to her was…Don't talk to me like that. I am a grown man. She literally started saying she was a 12-year-old girl. I was scaring her. I am like…Don't play that game. That is why Bayleigh and myself knew we couldn't say things everyone else can but do I think I was evicted because I was black? No," he explained.
After having some time to reflect on things Swaggy admits he is still bitter about how he left the game.
WATCH: Big Brother After Dark Online – Season 20 Full Episodes
John Powell: When it comes to Tyler and Kaitlyn what are you feelings towards them as players and people or can you ever make that separation at this time?
Chris 'Swaggy C' Williams: "I cannot really make that separation because Kaitlyn makes emotional decisions in the game which means she makes emotional decisions outside of the game. She is so easily swayed when someone else talks to her. Because of that, I cannot make that distinction. The fact is they backdoored me but they knew if I won, they would have been 100 percent safe. I was going after Angela [Rummans], Brett, Winston [Hines] and Rachel [Swindler]. I wasn't going after them. The fact that they did it so early put a target on their backs with my side."
John Powell: We saw you fight hard to stay. Why do you think they kept Winston over you?
Chris 'Swaggy C' Williams: "I don't know. They keep saying the threat thing but at the end of the day I wasn't detrimental to their game. That is why if Angela, Winston or Brett would have gotten me out I would have looked them in the eye, shook their hands and walked out because I am their enemy and that is their job. The fact that someone from my own alliance evicted me? I just don't understand it. I wasn't a threat to their game. They were very, very safe if I won HoH. I still don't get it."
John Powell: We have seen Big Brother players in the past sacrifice their games in favour of causing drama, playing a character in the house. Do you think you played that way?
Chris 'Swaggy C' Williams: "I didn't go there focusing on a persona. That is just who I am. I am Swaggy C in the real world. I didn't go in there to sell Swaggy C shirts. I didn't go in there to sell a brand. I came in there for myself. I didn't come on the show to display a fake personality. Cameras on, cameras off. Microphones on, microphones off. I am Swaggy C. I never focused on Swaggy C more than the actual game."
John Powell: If you could go back what would you have done differently?
Chris 'Swaggy C' Williams: "Kaitlyn and I had a two second argument just a few days before she won HoH. She never got over it. That is the only decision or gameplay move that I regret. I don't regret coming in as Swaggy C. I don't regret having a showmance. I only regret that argument because clearly that is what got me out."
John Powell: Big Brother can be like speed dating to the extreme, so people become really close in the house very quickly. Would you be interested in having a relationship with Bayleigh outside of the house?
Chris 'Swaggy C' Williams: "Yeah, we both talked about it the night before my eviction. If I got evicted we both agreed to head to L.A. and see how it goes. We both agree that outside of the house we are the same people."
John Powell: What really drew you into her? What brought about the feelings you have?
Chris 'Swaggy C' Williams: "Her personality for sure and she is beautiful. She looked after me. She made sure I dropped the bad habits I had like biting my fingernails; she made sure I was always okay. It was the little stuff too. She was really trying to take care of me. Those are probably the things that drew me closer to her."
John Powell: So, we heard you drop a few wrestling references. You mentioned some of the houseguests were "sawft" and you quoted Bret 'Hitman' Hart in your speech last night. Are you a big fan? If so, that would explain your Diary Room sessions.
Chris 'Swaggy C' Williams: (Laughs) "Yo, like, I wasn't trying to do wrestling promos but I get that the way I talk is a promo, all the way. I have watched wrestling for 20 years. It is so regular to me. You cannot watch it every single Monday and Tuesday without it being on your mind. It is something you might think about when you talk when the cameras are on."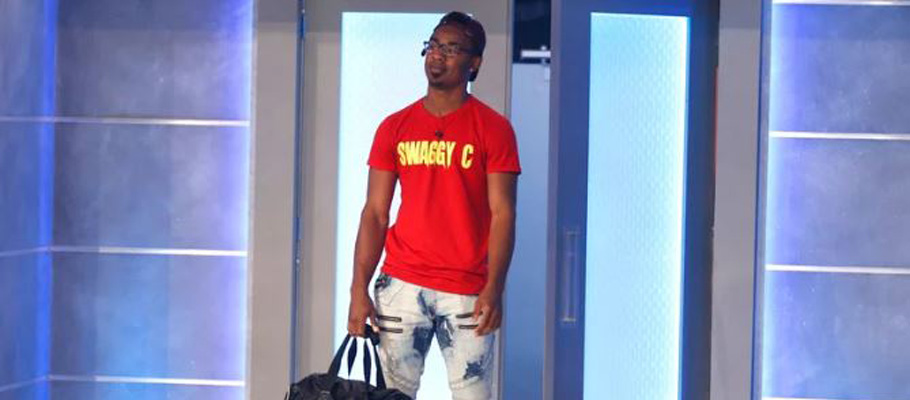 John Powell: Going into the house was there an extra burden on your shoulders to represent well because you are an African-American?
Chris 'Swaggy C' Williams: "It is a burden you have to carry on your back. For example, you are telling stories than nobody in the house can relate to. It is hard having that burden on you but I wouldn't have it any other way. That is just how you have to be."
John Powell: What really shocked you about the experience overall?
Chris 'Swaggy C' Williams: "The difference between game and the personal factor. The house was exactly as I thought it would be. The cameras and microphones were exactly how I thought they would be. The competitions were exactly how I expected them to be. What I didn't expect was how personal it can get. I always said that if I came into the house and ended up losing, getting backdoored, I would never get bitter. Now, I am glad I am not on the jury because there would be nothing Tyler could say to get my vote."
Big Brother airs Wednesdays and Sundays at 8 et/pt and Thursdays at 9 et/pt on Global. Watch Big Brother online the day after broadcast on GlobalTV.com/BigBrother or on the free Global Go app for iOS and Android.
CATCH UP NOW: Big Brother Full Episodes – Season 20