Sterling K. Brown Gets Emotional During His SNL Monologue
Sterling K. Brown Gets Emotional During His SNL Monologue
This weekend Sterling K. Brown hosted Saturday Night Live – such an incredible honour, that he could barely keep the tears back.
Holy smokes, Sterling K. Brown may have just proved himself as one of the most competent hosts the show has seen. He had it all: energy, timing, he wasn't staring at the cue cards the entire time, he was natural. Well, except that one time he almost broke during the Black Panther sketch when Keenan Thompson was goofing around with The Lion King's opening song, holding aloft a barbecued lion burger. Come on. It's funny.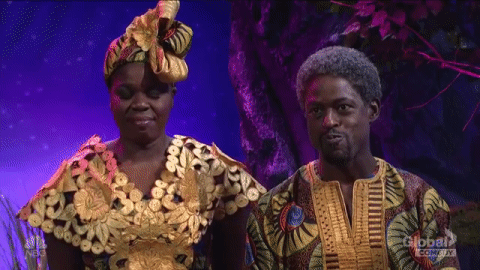 Brown may have even been significantly better than much of the regular cast (everybody breaks at some point – heck, look at it, even Leslie Jones is laughing). This guy is an extremely talented actor who definitely deserves his recent rocket to stardom. He even busted out his surprise mimicry skills. He did a spot on Ben Carson, and rockin' Chad Kroeger and a hilariously accurate Keenan Thompson in his opening monologue – throughout which he was just trying to keep his emotions in check:

Sterling K. Brown would be a welcome one of "those" hosts. You know the ones that host every season or two, regardless of whether or not they're promoting anything – your Walkens, your Goodmans, your Martins, your Baldwins (well maybe not Baldwin
s 
– just Alec). Sterling K. Brown would be a fine addition to the Five-Timers Club, and it should happen as soon as possible.
Onto more topical areas, the episode opened with a different kind of cold open – a more solemn, lower energy cold open than what we usually get. In a parody of The Bachelor, Robert Mueller (played by Kate McKinnon in an extraordinary amount of facial prosthetics, whist not altering her voice at all – why bother, nobody knows what this dude sounds like) is having to let on of the contestants know that he just doesn't have the collusion that she's looking for.

It was a well done sketch, considering how much of a side-step it was from their usual schtick. It could have gone south at any moment – there were a lot of long silences, but it was punchy enough to land hard. Hopefully they continue to venture forward, just enough outside the box to keep it fresh, but stay true to 
Saturday Night Live
.
Saturday Night Live returns live March 17 with host Bill Hader and musical guest Arcade Fire. Be sure to catch Saturday Night Live airing Saturdays at 11.30 et/8.30 pt on Global, and watch the latest episodes online here on GlobalTV.com/SaturdayNightLive!