SNL: Natalie Portman raps; Andy Samberg, Tina Fey cameo
SNL: Natalie Portman raps; Andy Samberg, Tina Fey cameo
It was a star-studded, cameo-laden Saturday Night Live this weekend as Natalie Portman hosted, with cameos from Tina Fey, Andy Samberg, Rachel Dratch and Alec Baldwin.
To "kick off" the Superbowl weekend, so to speak, a sketch involving America's founders from New England and Philadelphia talking smack and flexing each other featured classic cast cameos. A fantastically funny sketch of cheap but hilarious insult comedy, it was only made better by the return of former SNL cast members Tina Fey and Rachel Dratch.

With last week's cameo from Tracy Morgan, the Will Ferrell hosted episode, and Darrell Hammond as the show's announcer, Tina Fey's and Rachel Dratch's appearance makes them the fourth and fifth members of the season 27 cast – the best SNL cast – to appear this season. SNL is just 10 cameos short of having a complete collection of the 27th cast cameo (though it seems unlikely that either Dean Edwards or Jeff Richards will make an appearance). Add this season's earlier cameos from Jason Sudeikis, Fred Armisen and Bill Murray, that's a whole lot of former cast member cameos! Heck, throw Steve Martin in there, too, because while he was never a cast member, he's definitely appeared in more episodes than some of the current cast has.
Natalie Portman is going two for two in amazing raps for her Saturday Night Live appearances. Her first one, titled "Natalie's Rap", was a viral sensation when she hosted back in 2006. This one, "Natalie Raps II", can only be just as potent. Since the original was a Lonely Island song, it's only fitting that Andy Samberg returns to reprise his role as some viking guy who is the father of Portman's child. And while Beck Bennett was great as the interviewer, it's a shame Chris Parnell didn't reprise his role/become 27's number six.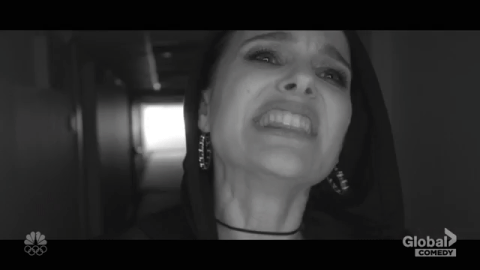 Alec Baldwin made his comeback as the President, Donald Trump this week (both in character on SNL and a bit on the meta level, unfortunately, by defending accused child molester Woody Allen and calling Allen's detractors "unfair and sad" – very Trumpian language indeed). This is Baldwin's first appearance on SNL this year, last showing up in the White House Christmas sketch in the Kevin Hart episode last December.
This time, we see a fully-realized version of Trump that everyone has been talking about since the White House tell-all book Fire and Fury dropped earlier this year: a pyjama'd Trump in bed with a McDonalds' cheeseburger. He's phoned in to FOX News' Fox & Friends – his very favourite TV show if you didn't know – simply to brag and blow a lot of hot air. As per usual.

What a party this weekend's Saturday Night Live was. With the next new episode a month away, it will be a long, cold February.
Saturday Night Live returns live March 3 with host Charles Barkley and musical guest Migos. Be sure to catch Saturday Night Live airing Saturdays at 11.30 et/8.30 pt on Global, and watch the latest episodes online here on GlobalTV.com/SaturdayNightLive!